Agger reveals home truths about 'headless' Liverpool
Liverpool 0 Swansea 0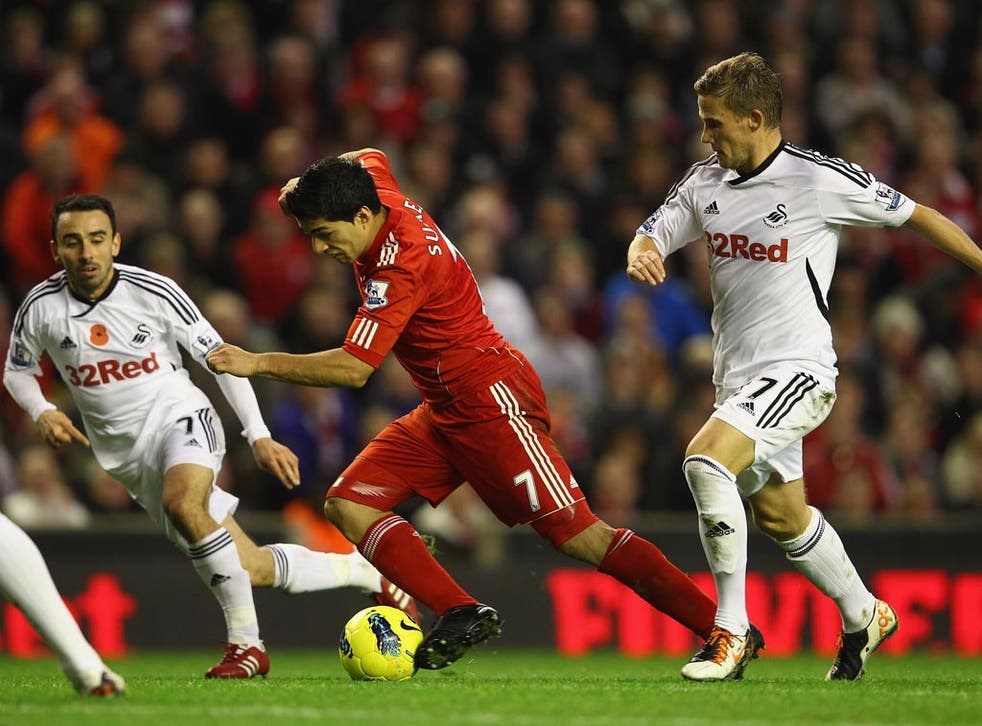 Squandered opportunities continue to haunt Liverpool. They may be unbeaten in six Premier League matches since the sending-off of Charlie Adam prefaced a 4-0 thumping at Tottenham but that sequence includes six points dropped at home, of which only the two surrendered to Manchester United can be excused.
Swansea joined Norwich as the second promoted club to hold them at Anfield after a Liverpool performance that leaves a number of questions still unanswered, not least those relating to the premium prices paid for Andy Carroll and Jordan Henderson, neither of whom completed the 90 minutes.
Henderson lasted only one half before giving way to Dirk Kuyt, and while Carroll at least survived until the final 16 minutes it was the memory of the miss of the afternoon that accompanied his departure.
Kenny Dalglish, frustrated by the failure of his £100m team, again missing the injured Steven Gerrard, called the performance "unacceptable" but you suspected he was suppressing his real thoughts. Daniel Agger, though, clearly was not, branding Liverpool "headless chickens".
"We were really, really bad," the Danish centre-half admitted. "When we got the ball we lost it straight away. We were not sharp enough, we did not press well enough. There were so many things that were really disappointing, especially after we played OK last week.
"Sometimes we looked like headless chickens running around after the ball. Winning two games out of six at home is a record that speaks for itself. It is far from good enough. It is not an excuse [to say the team is still gelling]. We have to win these type of games, no matter which kind of team we put out.
"If we are to make the top four, we have got to move up a level or two. I won't say it is not possible, because it is. But it is up to the players. We definitely have to do a lot better."
While it is true that Carroll – who managed to hit the crossbar from just four yards out after Stewart Downing had set him up to give Liverpool an eighth-minute lead – is facing a task almost as steep as the former Sunderland midfielder Henderson to ever look value for money, there are some reasons to believe that Liverpool, collectively, are closer to becoming a power than some would accept.
The measure of a team's ability is often to be found in the number of goal chances it creates and, by that reckoning, Liverpool, with former Blackpool captain Adam increasingly pulling the strings, are already in the leading group.
Only Manchester City and Chelsea, marginally, have mustered more shots on target this season. No individual, meanwhile, has had more goal attempts than Luis Suarez, who would have added to his tally of seven goals so far had Swansea's Michel Vorm not been in brilliant form.
The Dutch goalkeeper saved twice from the Uruguayan and once, superbly, from a last-minute volley by Glen Johnson that almost stole the game.
Swansea looked a dangerously creative force themselves when Joe Allen, a fine central midfielder, and the wide players Nathan Dyer and Wayne Routledge were involved. They performed very well and probably deserved their point. But the margin between that and a Liverpool win, in fact, was a narrow one.
Substitutes: Liverpool Kuyt 7 (Henderson, h-t), Bellamy (Carroll, 75). Swansea City Sinclair 6 (Routledge, 72), Agustien (Gower, 90).
Booked: Liverpool Adam, Agger.
Swansea Taylor, Williams..
Man of the match Vorm. Match rating 7/10.
Possession Liverpool 44% Swansea 54%.
Attempts on target Liverpool 10 Swansea 3.
Referee P Dowd (Staffordshire).
Attendance 45,013.
Join our new commenting forum
Join thought-provoking conversations, follow other Independent readers and see their replies