Alan Pardew is 'gone' if we lose to Stoke, says Newcastle United owner Mike Ashley... but then claims it's a 'joke'
EXCLUSIVE: Newcastle owner says manager 'has one more game' to save his job, but later issues a statement to say it was a joke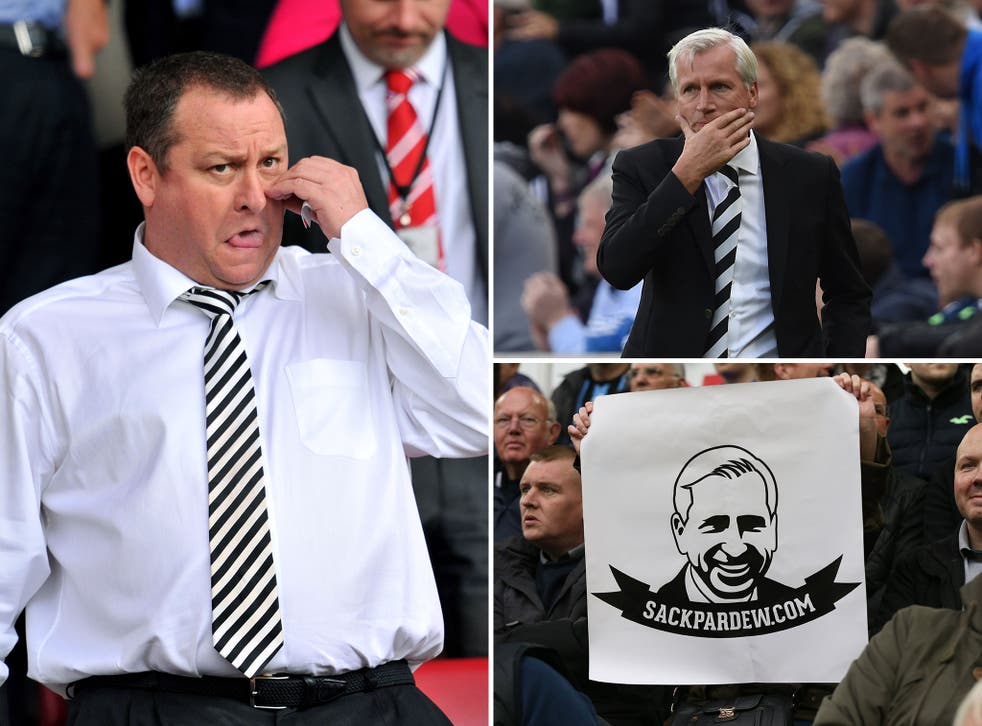 Mike Ashley has broken his silence on Newcastle United manager Alan Pardew's future and told The Independent that if he loses the Premier League game at Stoke City on Monday night he is "finished".
On Friday night, the billionaire club owner's lawyers, insisted those comments, which were made late on Thursday night in a London bar, were a joke and intended to be tongue in cheek.
But the strength of the remarks will still shock Newcastle fans, whose team are bottom of the Premier League.
"He's got one more game," Ashley said. "If we lose against Stoke on Monday night then he's gone. I have had enough."
Making a throat-cutting gesture, Ashley added: "Dead. Finished. Over. One more game then that's it. What would you do? I have spent a lot of money on that club, it's cost me a lot. I won't put up with it any more. Honestly, answer me, what would you do? One more loss and he's gone, he's over, finished."
Ashley was speaking outside The Golden Lion pub in London's Soho district on Thursday night where he was having a drink with a friend.
When asked if he had informed Pardew about his decision or lined up any replacements, the billionaire said: "That's all I'm prepared to say about it and now that I've said it, it's out there. You can do what you want with it. There's only so much I can take."
Newcastle have secured only three points all season and have won only five matches in the whole of 2014.
Until now, Ashley has backed Pardew, who was appointed in 2010. The two held "clear the air" talks only two weeks ago but Ashley's comments will add further pressure on the beleaguered manager.
Pardew signed an eight-year contract with the club in September 2012 but there is a break clause in the deal if Ashley decides to sack him. Last week Newcastle fans launched a protest campaign against Pardew with more than 30,000 leaflets demanding his sacking before the 2-2 home draw against Hull City.
Ashley's lawyer on Friday night added: "Mr Ashley responded, tongue in cheek, that Mr Pardew had two more games before being sacked. To put this into perspective, over the past few weeks certain reporters have stated that they believe that Mr Pardew has two more games before being sacked. Mr Ashley was therefore 'humouring' your reporter."
Join our new commenting forum
Join thought-provoking conversations, follow other Independent readers and see their replies