Alex Oxlade-Chamberlain's path to the top eased by father's brave fight
Arsenal winger recalls how his dad rose above racial abuse to make it as a top professional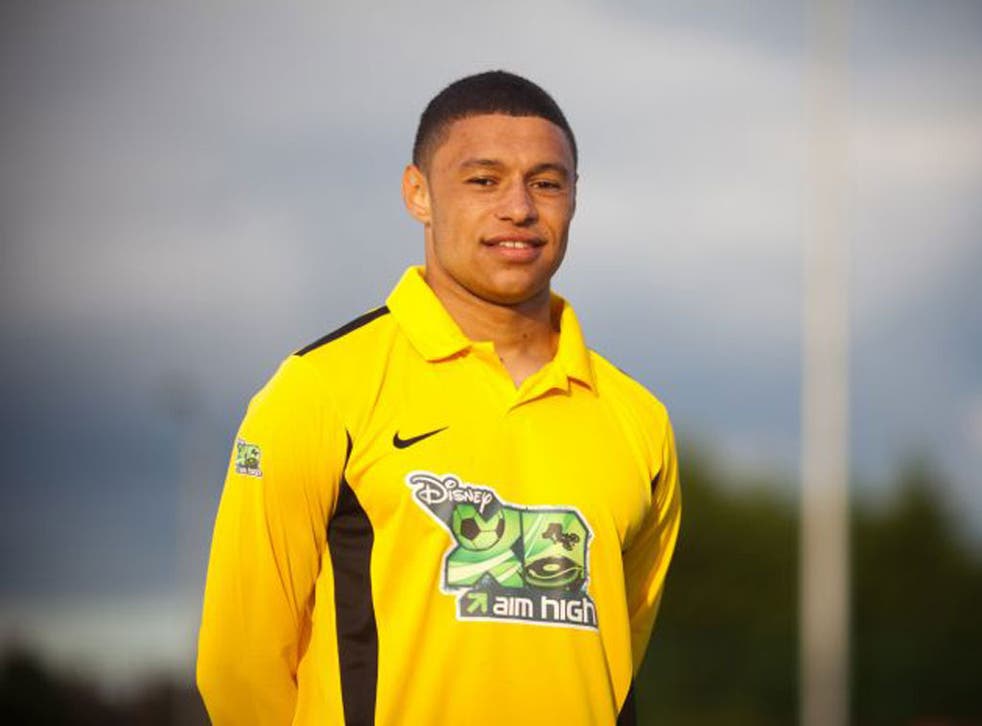 He might be the second England international from his family, but Alex Oxlade-Chamberlain is under no illusions as to how different his life so far has been to his father Mark's career as a professional footballer in the 1970s and 1980s.
The 19-year-old Arsenal winger credits his father with having given him the extra push to become a professional footballer when, on two occasions, he came close to being released by Southampton's academy. Mark, who won eight England caps, and was an academy coach at his son's first club, never spared his son the reality about what it takes to make the grade.
Speaking on Thursday evening, Oxlade-Chamberlain admitted that his father was still yet to acknowledge the goal he scored in the League Cup against Coventry the previous night. "He hasn't even mentioned it and I've spoken to him three times on the phone. I'm waiting for him to say: 'Not a bad goal.' He hasn't said a word!
"That's just how he is. He'll be on at me to get an assist or telling me I need a goal. He always pushes me, tries to make me do better and maybe that's what gets the best out of me."
Oxlade-Chamberlain was speaking on behalf of the Disney XD's mentoring scheme, which he hopes will inspire young footballers. He has experience of developing as a player. The move from Southampton's academy to Arsenal on a £15m deal last year is a world away from his father's experiences growing up in Stoke as the son of Jamaican-born Banny and Anastasia, who had moved to England in the early 1960s.
In John Barnes' 1999 autobiography, he describes how he, Chamberlain and Viv Anderson were racially abused in 1984 by four National Front members who had booked the same flight as the England squad during their South America tour that summer.
Oxlade-Chamberlain's eyes widened in disbelief as he read the passage in the book. "My dad is one of those who doesn't care," he said. "I remember him telling me a story about someone throwing a banana at him during a game. He picked it up, peeled it and said thanks – then just carried on playing. He just doesn't care.
"He used to tell me that he'd walk home from school with his sisters, they used to get stones thrown at them. They had to fight and protect themselves but you have to get on with it.
"That's what he did. He used to go to England trials on his own, not knowing anyone. The other boys were at Aston Villa, Arsenal and Everton. He was at Port Vale. He had to overcome loads of stuff like that. That's the sort of character he is. He just gets on with what he's got to do and doesn't worry too much about what everyone thinks."
Oxlade-Chamberlain is not a certainty to start against Chelsea this lunchtime but a battle to get into the Arsenal team is a long way from the times when he thought he may not have a career at all. As recently as four years ago he was warned by Southampton that he was not in line to get a scholarship and had fallen behind team-mate Lamin Sankoh, now at Bishops Cleeve in the Evo-Stik Southern Division.
Earlier in his teens he had been sent back down an age group because his size put him at such a disadvantage. "The Arsenal boys were massive. Emmanuel Frimpong was so big at 14, he was a man," he said. "The lads used to say 'I bet he's driven here today'.
"We got to the knockout stage of a tournament and were on the Xbox in the games room. Frimpong told me: 'Get off, we're on here'. The Arsenal boys swooped in and pushed me off. I spoke to Frimpong about it recently. He said: 'Yeah, I can remember that but I can't remember you!'"
Alex Oxlade-Chamberlain is a mentor for Disney XD's Aim High, which offers fans the chance to take part in one-on-one mentorships. For more information, visit http://www.disneyxd.co.uk/aimhigh
Join our new commenting forum
Join thought-provoking conversations, follow other Independent readers and see their replies