Alexandre Pato: Why did Chelsea sign striker if he's not going to play?
Comment: 'It's a normal situation,' claimed his agent. But it's not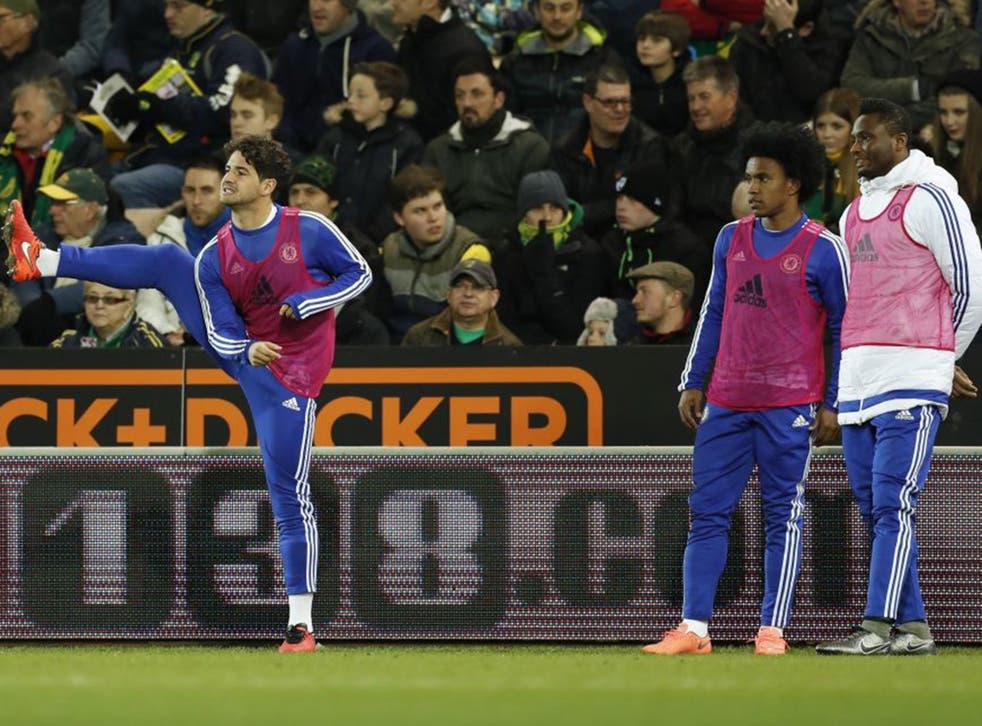 It has been 42 days, six weeks to the day, nine matches and 810 minutes of football since Chelsea signed Alexandre Pato on loan from Brazilian club Corinthians.
So far, Pato has given them what exactly? Zero minutes on the pitch; zero goals; zero assists. He may only be on £30,000-a-week, but Chelsea are paying the entirety of his wages. That's already £180,000 of the club's money down the drain.
His lack of first-team activity was, at first, understandable. Pato had not played a meaningful game since November, in the Brazilian Serie A for Sao Paulo, and was not match fit, especially for the fast-paced rigours of the Premier League; while he was also adjusting to life in a new country and city.
Interim manager Guus Hiddink explained that the Blues were being careful in not rushing Pato straight into action, a reasonable decision given his lack of understanding with team-mates and his lack of fitness and sharpness.
That time has passed. Pato, by Hiddink's own admission, is fully fit, with the Dutchman naming the former AC Milan striker on the bench in each of the last two games.
But Pato is still to make his debut, while Chelsea fans have seen the talented Bertrand Traore, a 20-year-old winger, play 128 minutes in that time. Pato's agent has tried to explain the situation.
"England is not like Brazil, where you sign someone and immediately have to play them," Gilmar Veloz told Radio Bandeirantes. "The manager was clear and said two or three times that Pato has to wait until he's reached the [fitness] level of the other players.
"He had four weeks of special training. After the third, he was already starting to get up to speed and waiting for his moment to be in the squad. But since he arrived the team has been winning, with the attackers scoring goals."
"There's no issue, it's a normal situation. We have to wait."
It's not a normal situation and alarm bells should be ringing.
Against Norwich City the impressive Traore started on the wing, giving Willian, an extremely hard-working player badly in need of a rest, time on the bench.
After an hour, with the Blues leading 2-0 against a team stuck in a relegation battle and without a win in seven, Hiddink decided to make a change, taking Traore off. But it was not Pato, who Chelsea fans had been told could also play on the wing, who would get off the bench but fellow Brazilian Willian, given just an hour to rest his weary legs - strike one.
At the weekend, Chelsea faced Stoke City at home and star striker Diego Costa, who has been rejuvenated under Hiddink, was ruled out because of a minor tendon injury.
Who would Hiddink choose to replace his main man? It was not Pato - strike two. Traore started in place of Costa. The 20-year-old, who now has four goals and an assist in his last five appearances, deserved to keep his place in the team and scored a superb first-half strike that would have given Chelsea all three points but for Thibaut Courtois' error. Traore's performance was pretty good, he showed some great touches and mobility to go along with that superb goal, but Chelsea struggled to keep possession without their usual focal point up front.
His withdrawal on 68 minutes was a precaution for the Paris Saint-Germain game on Wednesday, cementing his place as Hiddink's No 2 option if Costa doesn't return to play in the Champions League clash (he's very likely to start even if he's not 100 per cent).
That said a lot about Pato's place in the Chelsea striker hierarchy. The third and most obvious knock against Pato also came at this moment; Hiddink elected to replace Traore with Loic Remy. Pato remained stuck to the bench.
Let us remind ourselves that Remy's last appearance for Chelsea came two days before Pato signed for the club, in the 1-0 win at Arsenal on 24 January. Since then he has been the subject of intense speculation that he was to leave in the transfer window, while he has also been missing these past six weeks because of injuries.
Indeed, many saw Pato's signing as a sign that Chelsea had seen enough of Remy, who has been useless this season. In his 18 months at the club Remy, when fit, had proven himself a pretty useful, if forever offside, second-choice striker. He scored nine goals last season as Chelsea won the Premier League, including vital goals against Manchester City, Hull City and Stoke City.
But this season the injuries have mounted and his effectiveness, and interest, has waned mightily. He has just one Premier League goal this season, in Jose Mourinho's final game at Leicester City, and against Arsenal he looked disinterested and his confidence shot, wasting an excellent late chance that would have sealed the game, even if it ultimately didn't matter.
Yet Hiddink decided Remy was a better option than Pato to close out the game against Stoke City.
Does that seem like a "normal situation"? He's had two excellent chances to play in the past week and Hiddink has looked at other options.
That seems ominous. So why did Chelsea sign Alexandre Pato?
In the past year the Chelsea decision-making committee - Bruce Buck, Eugene Tenebaum, Marina Granovskaia and Michael Emenalo - have shown themselves to be severely lacking.
Just look at the signings: Radamel Falcao, Nathan, Baba Rahman, Papy Djilobodji, Michael Hector, Pato and Matt Miazga (no sign of him yet, either). Extremely useful players such asd Petr Cech and Filipe Luis were sold. The sacking of Jose Mourinho, though now justified through improved performances and results, showed Roman Abramovich's confidants were completely out of touch with the desires of the fanbase and in how to build a team ready to successfully defend the Premier League.
Mourinho was clearly agitated at the lack of transfer activity in the summer. His infamous and unnecessary outburst against club doctor Eva Carniero came on the first day of the season.
Was the Pato signing a distraction for a fanbase angry that Mourinho - the greatest manager in the club's history, a man who had six months previous won Chelsea's first title in five years - had been sacked? Pato's starry name generated excitement for a team that, at the time, were still stuck in the relegation battle. The chase of Pato proved a welcome distraction from the gloomiest spell in decades at Stamford Bridge.
Mourinho's sacjing has paid off for the club, with Hiddink's excellent managerial skills steering Chelsea to safety.
But the Dutchman, although he will never say it, has proved with his actions that Pato must be mentioned alongside Kim Kallstrom (played four games for Arsenal but had a broken back) as one of the worst January signings of all time. A crucial home tie against Paris Saint-Germain is not the place for Pato to make his Chelsea debut.
Join our new commenting forum
Join thought-provoking conversations, follow other Independent readers and see their replies