Antonio Conte knows N'Golo Kante's worth but insists Chelsea's success won't be just down to him
Conte said every club would spend £100m on Kante if he guaranteed them a title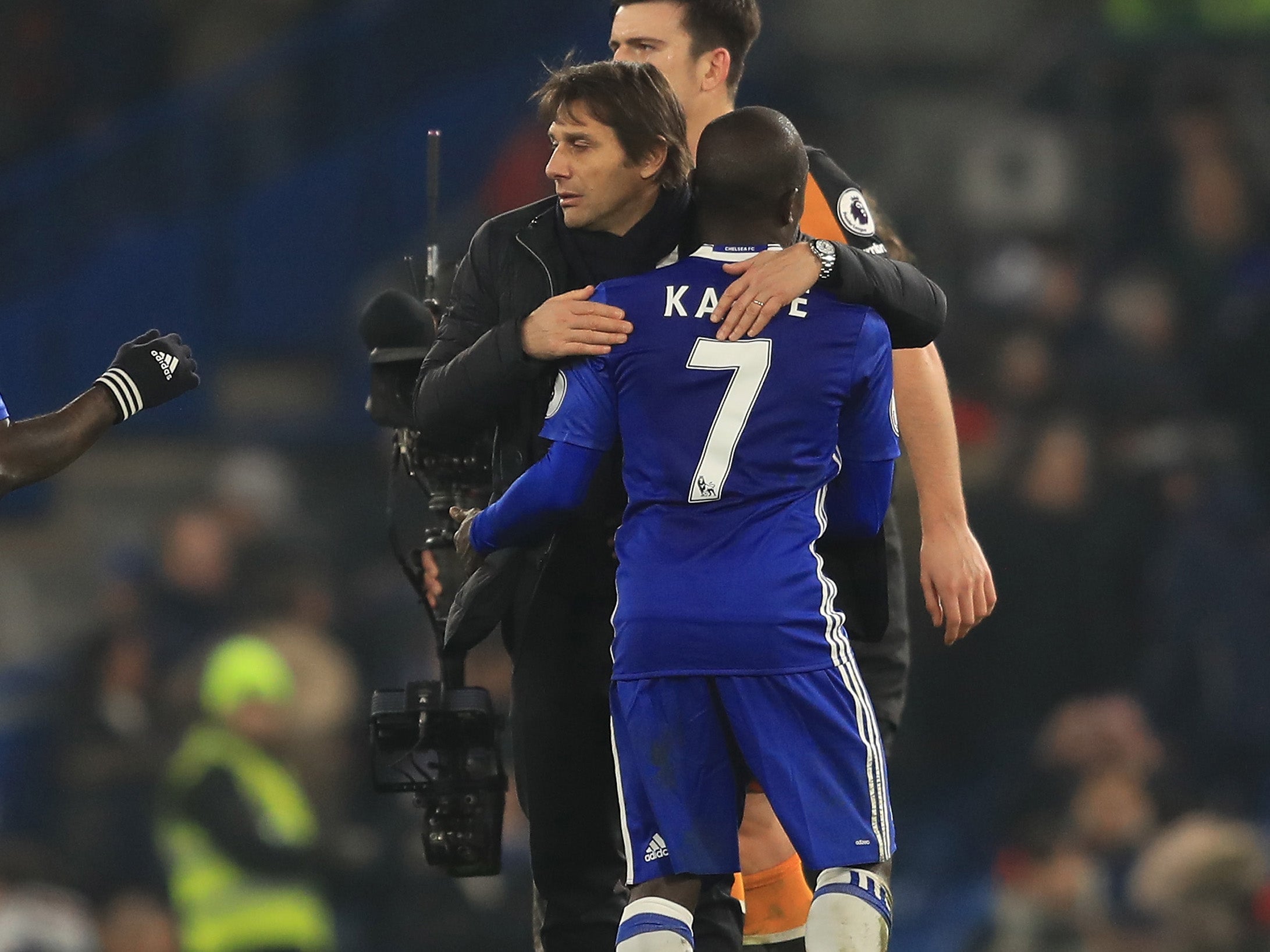 For anyone watching the Premier League over the past 18 months, or indeed Chelsea's 1-1 draw at Liverpool, it would be difficult to think of any way that N'Golo Kante could possibly get better.
The 25-year-old completely dominated the Anfield pitch on Tuesday, putting in a sensational 14 tackles. To put that itself in some kind of perspective, his average per game for the season is 3.5, and that is third to the highest average of Everton's Idrissa Gueye with 4.9. This was a player winning everything, and but not just as regards challenges.
Kante's overwhelming influence has regularly been argued as the main factor in Leicester City winning the title last season, and Chelsea looking highly likely to follow them this season.
Antonio Conte isn't anyone, though. He is the perfectionist in charge of this Chelsea, and disputed both notions. Most frighteningly for everyone else, he feels the "outstanding" Kante can still improve. Conte believes that the French international can offer more going forward.
"N'Golo is playing very well," the Chelsea manager said. "I think, in the last game, he played in an outstanding way. I'm working also with him to improve him. I think he can improve a lot still, to try to look always forward, to try and play forward. In this situation, he can improve.
There is merit in what Conte says, despite Kante obviously performing so supremely. Chelsea don't use him in the primarily defensive and ball-winning way that Leicester did, as illustrated by the fact that he has actually made fewer tackles (down from 4.7) and fewer interceptions (down from 4.2 to 2.5) than last season.
A cornerstone of Conte's football ideal has also been to always have hard-running central midfielders, who will swiftly and seamlessly transition from defence to attack. It did initially take Kante a little bit of time to get used to that - as a poor and surprisingly jaded performance in the October 3-0 defeat to Arsenal displayed - and, while the 25-year-old has obviously more than adjusted to the former, there are still elements lacking from the latter. Kante still doesn't play many truly penetrating balls, and hasn't yet offered a single assist to go with his one goal.
Praising his player's superb attitude, though, Conte also spoke about how willing Kante is to develop.
"He's a fantastic guy. He's humble. It's very important. He wants to improve and show he deserves to play with Chelsea every game. That's fantastic, this. He wants to improve in every game."
More light-heartedly, Conte insisted you couldn't just put Chelsea's season - and Leicester's decline - down to Kante's move in the way so many have done.
"If it is so simple, every team would pay £100m for N'Golo and would be sure to win the title," Conte laughed. "If football is so simple, I'll try to keep him for our whole life in Chelsea and we'd be sure to win the title every season. First of all, we didn't win the title this season [yet].
"I hope we have at the end of the season. For sure, if this happens, for N'Golo it would be a great achievement for him. But I don't trust in the theory that you can win only because of one player. That doesn't happen. Ever. Win, draw or lose, the team is together. I'm sure about this."
Join our commenting forum
Join thought-provoking conversations, follow other Independent readers and see their replies