Antonio Conte: New Chelsea manager promises to forge 'blazing inferno' from the flickering flame at Stamford Bridge
Jose Mourinho and Pep Guardiola were unveiled in Manchester last week and Conte, for all his achievements, cannot quite match them for profile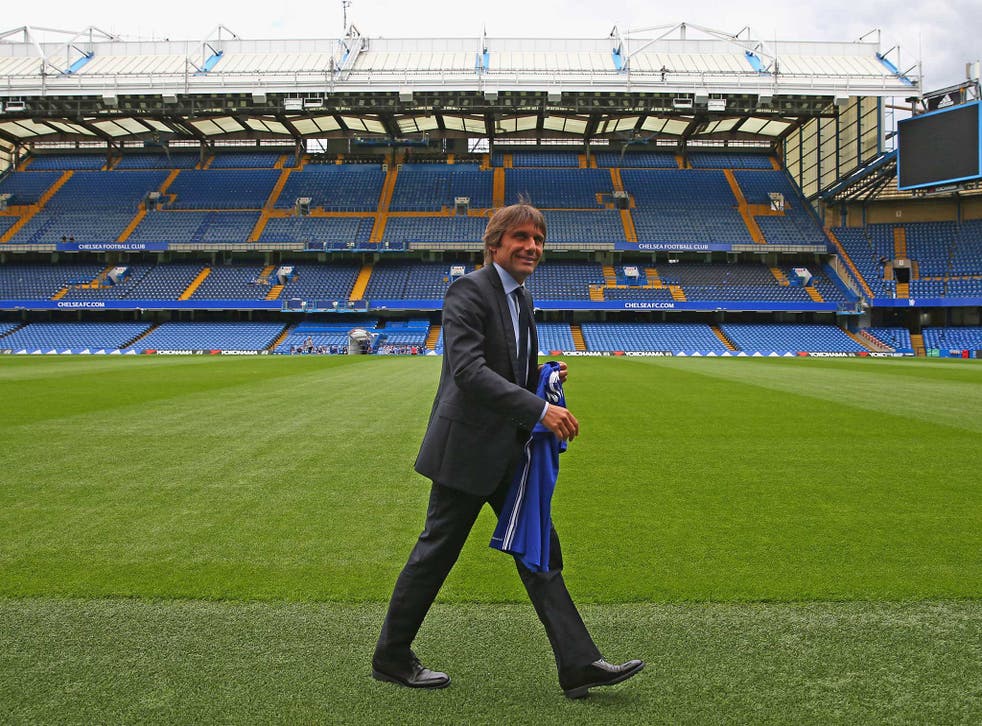 There is an expectation with Chelsea managers now that they award themselves with a nickname on arrival. Antonio Conte did not want to do that this afternoon at Stamford Bridge, but he still managed it.
Conte was asked whether his Chelsea team would play in the 3-5-2 system he used with Juventus and Italy. "This question is fantastic," he smiled, as he did all afternoon. "When I was in Italy I liked to say that the coach is like a tailor. A tailor who must make a dress, the best dress for the team. You have to respect the characteristics, the talent of the players. Then you decide."
Everyone had been waiting for their snappy characterisation of Conte and there it was. He was later asked to give himself a name in the tradition of 'The Special One', 'The Happy One', and Andre Villas-Boas' 'The Group One'. But Conte declined. After 'The Tailor' he did not need to.
Even if it was a throwaway answer from Conte it clearly revealed two things about him. The first is the quality of his English. Conte spoke almost faultless English for over an hour this afternoon. He understood almost every question and expressed himself clearly, with a range of vocabulary that made him look like he has been using it for years. For a manager who has never worked in English before, it was impressive.
Of course Conte has had a few months since his taking this job was confirmed to the world. But those months have been spent preparing for Euro 2016 and coaching Italy there. He has not exactly been swimming in free time. And yet he has achieved a level of competency that Fabio Capello never reached. That says something about Conte's workaholism and intelligence.
The second lesson is that Conte is a pragmatist, who will come to Chelsea with a clear idea about how he wants his team to play, but a flexibility about how to get there. "When I arrive at a new team I evaluate to find the right positions for the players," he explained. "Three at the back, four at the back, it's not important. What is important is the right spirit."
That is why fans should not expect Conte to unleash that Italian 3-5-2 – at times 5-3-2, at others 3-3-4 – at Stamford Bridge this season. Conte had tried almost every conceivable formation during qualification for Euro 2016 and only landed on that system just before the tournament. It was not an ideological decision but a pragmatic one, building on the fact that in Leonardo Bonucci, Andrea Barzagli and Giorgio Chiellini he had one of the best ready-made back threes in modern football. The same was true at Juventus.
But at Chelsea Conte will have to work with far more meagre defensive resources. The club only decided in the final weeks of last season to keep John Terry but Conte admitted yesterday how important he would be this season. "He is a great player with a great personality, with great charisma," Conte said. "I like to speak with him because I know that he knows the club, the right spirit to play in this club." With Kurt Zouma still injured, Terry and Gary Cahill are likely to continue at centre-back. Conte is at least as likely to use a 4-4-2 system than a 3-5-2.
This is what Conte meant when he described himself as "tailor". He knows that he will have to adjust the cut and the fit to match the characteristics of the players he has at Chelsea, of the players he can buy, and the demands of the league. But he also knows exactly what he wants to dress to look like.
Because Conte teams, regardless of formation, all play a similar way. They are physical, direct, aggressive and uncompromising. Like all good teams, they wear the imprint of their coach. And these are the principles that Conte is committed to installing at Chelsea.
"The most important message is that I'm a worker," Conte said. "I like to work, and I know only this road to win. For this club to get back into the Champions League, to get back to winning the title, I only know this way: work, work, work."
Conte was giving this press conference on his second day with the Chelsea players. It took place in between two training sessions. On his first day they did two sessions as well. Conte is a ferociously hard worker, who likes to drill his team into shape. Not being in Europe this season, while embarrassing for the club, could work in Chelsea's favour, giving Conte more time to "transfer his ideas", as he puts it, to his players at Cobham.
In another summer, the arrival of Conte to the Premier League would have been huge news. But Jose Mourinho and Pep Guardiola were unveiled in Manchester last week and Conte, for all his achievements, cannot quite match them for profile. But he does not sound like he particularly minds that.
"We may be a bit under-rated, we may go under the radar," Conte said, this time in translated Italian. "I hope there's a small flame flickering here that can hopefully grow into a blazing inferno."
Join our new commenting forum
Join thought-provoking conversations, follow other Independent readers and see their replies