Arsenal have taken a huge gamble - Arsene Wenger must now roll with the times to silence his critics
The Arsenal hierarchy have spoken at length of 'moving forward'. For Wenger, this means playing catch-up with his more progressive, outward-looking Premier League rivals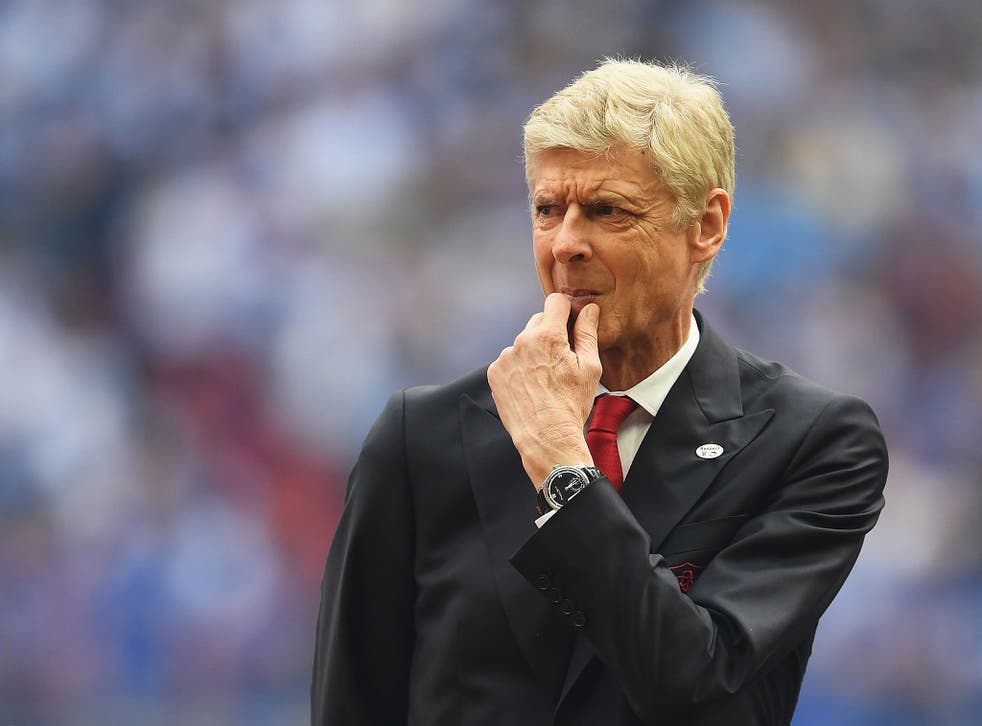 Ivan Gazidis left no doubt about where he thinks Arsenal Football Club should be heading over the next two years of Arsene Wenger's contract. The chief executive, explaining today's news to Arsenal's own website, only wants to go in one direction.
Five times Gazidis spoke about 'pushing forward', five times about 'moving forward', four times about 'looking forward'. Three times he said that football is "constantly evolving". And Arsenal's job was not just to be evolving with it, but to be ahead of the curve.
All of which is surely true. But it does raise the question why Arsenal have just given a new two-year deal to a man who has been in his current role since October 1996.
Arsene Wenger's best moments as Arsenal manager

Show all 15
Gazidis has spent years pushing for reform behind the scenes, bringing Arsenal up to date with the sides who routinely finish ahead of them in the Premier League. His challenge has been to square that process with the fact that the most important decision-maker at the club will still be the same man it has been for almost 21 years.
That is why Gazidis said in April that Wenger must be a "catalyst for change", comments which the Frenchman publicly said he did not understand. It was one of his many frustrated digs at the board as this difficult internal process rumbled on through the second half of the season.
Gazidis has been able to make plenty of changes at Arsenal over the last few years, especially in the field of data analysis, with the company he bought StatDNA taking a bigger role analysing players and matches. There is a belief at Arsenal that marginal gains will make the difference and drive them over the edge, as they did for Leicester City when they won the title more than one year ago.
"The differences can be down to small details," Gazidis explained today. "Periods when you are in bad form but find a way to fight through, a player who is available as opposed to injured, the right mental decisions and right mental approach through the year." He pointed to the new facilities that have been built and new improvements for the support staff.
But ultimately all this is tinkering around the edges if the coaching is outmoded, and Gazidis must know that. There is a strong critique to be made of Wenger that his management style is at least 10 years out of date, if not 15.
Arsene Wenger: 'Happy and excited' about new contract
The trend in coaching now is for complex, mechanised, systematic football, with players rigorously drilled in detail, especially when it comes to defensive shape and aggressive pressing. Nothing is left to chance and little to the imagination. That is the way, to varying degrees, of Pep Guardiola, Jose Mourinho, Jurgen Klopp, Mauricio Pochettino and Antonio Conte.
But Wenger is different. Not just because he is much older, although he is, but his football is more about creating the right atmosphere, trusting his players to express themselves and work it out on the pitch. His coaching is more about cultural development than individual development. More about ethos, less about detail.
That is a critique shared by plenty of the current first team squad. There is so much personal loyalty to and admiration for Wenger. Every Arsenal player owes his career at the club to the boss and while some of them would have been top players anyway, many of them might not have been.
But that respect and gratitude is tempered in many cases with a frustration at how Arsenal are falling behind the teams with more modern managers. Arsenal players see their rivals and friends at teams where an advanced approach to injury management, for example, bears obvious fruit. Which is why so much of the first team are still thinking about their futures.
Of course, the final few weeks of this season, and the FA Cup semi-final and final wins against Manchester City and Chelsea, felt like a repudiation of that view. Not least because it was not done playing Wenger football – it never could have been – but playing a different way. Arsenal's 3-4-2-1 made them more solid at the back, not conceding the preventable goals that Arsenal give away far too often. "In football you have to adjust," Per Mertesacker said before the final. "If that's necessary for Arsenal, we do it."
Wenger certainly felt that the FA Cup final was the perfect argument that he could change, stay relevant, and prove his continued suitability to the job. That is why he told the Arsenal board to watch back the video of the final if they were still deciding on his future last Saturday night.
But the cup final, as good as it was, was still just one game. The challenge for Wenger next season is to keep pace with Conte, Pochettino, Guardiola and the rest over the whole 38-game slog. They will have new methods, new ideas and new energy, all part of football's constant evolution. Arsenal have been backed into gambling that this time Wenger will be able to keep up.
Join our new commenting forum
Join thought-provoking conversations, follow other Independent readers and see their replies