Arsenal crisis worsens with Petr Cech and Laurent Koscielny out for Saturday's crucial north London derby
The pair will not feature in the trip to Tottenham Hotspur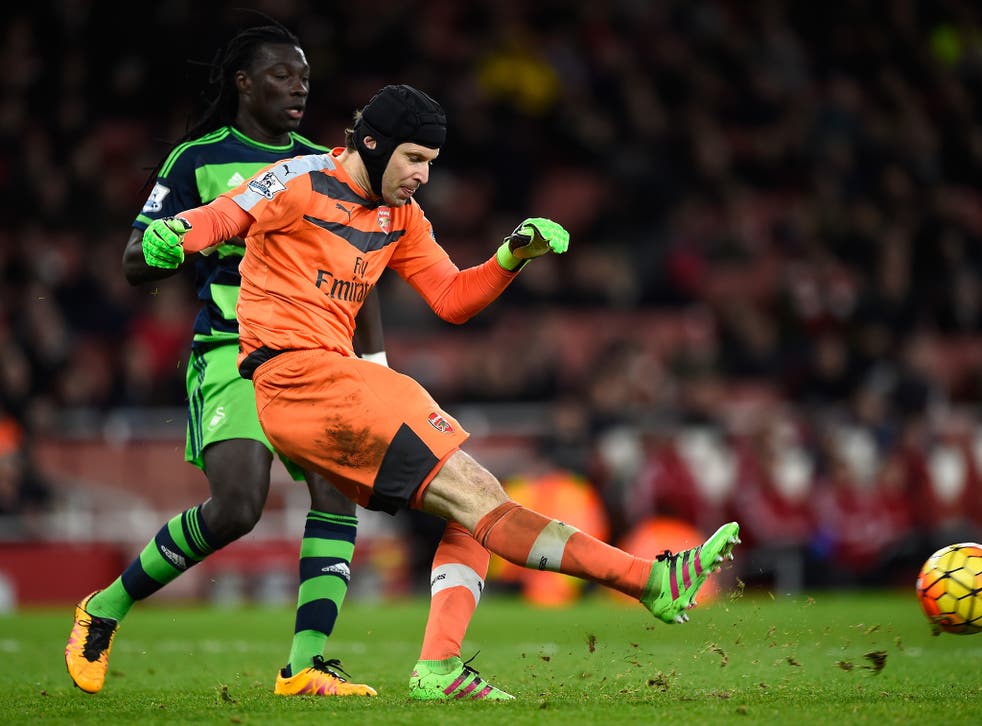 Arsenal will be without Petr Cech and Laurent Koscielny for Saturday's north London derby. Both players have calf strains and must also be doubtful for next week's FA Cup fifth round replay at Hull. The goalkeeper, who was at fault for Swansea City's winner at the Emirates, suffered his injury during the game while Koscielny was ruled out before the start.
Wenger dismissed suggestions that Cech's injury worried him saying of his understudy: 'I trust completely [David] Ospina."
Beyond stating the title race was 'very unpredictable and 'everybody drops points' Wenger said he was 'not in the mood' to talk about Arsenal's title chances and was focussed on winning at Tottenham after three successive defeats. Arsenal are three points behind Spurs and six behind leaders Leicester City.
"We must concentrate on our job and come back, reminding ourselves we have some quality as well," said Wenger. "We must analyse and bounce back. We have lost three games, that is always very difficult for the team. It looks a little bit as if confidence is a problem. We have to go back to what we do well, do the basics.
"I think it was a very unlucky defeat," he added of the Swansea match. "We created many chances, we were unlucky in our finishing, they had two shots on target in the whole game. It is a very disappointing result. The players are very down, but we have to respond."
Swansea head coach Francesco Guidolin missed the match having been detained in a London hospital with a respiratory infection. Assistant Alan Curtis, who stood in for him, said Guidolin had followed the match and left a message of congratulations.
"We showed we are still a good team," said Curtis, whose team are now six points clear of the relegation zone. "When we got the ball down we played some good football."
Curtis, who admitted the team was picked with a view to Swansea's forthcoming fixtures - Norwich City, Bournemouth and Aston Villa, added: "We have set a standard today, it is important we carry that on."
Register for free to continue reading
Registration is a free and easy way to support our truly independent journalism
By registering, you will also enjoy limited access to Premium articles, exclusive newsletters, commenting, and virtual events with our leading journalists
Already have an account? sign in
Register for free to continue reading
Registration is a free and easy way to support our truly independent journalism
By registering, you will also enjoy limited access to Premium articles, exclusive newsletters, commenting, and virtual events with our leading journalists
Already have an account? sign in
Join our new commenting forum
Join thought-provoking conversations, follow other Independent readers and see their replies