The Independent's journalism is supported by our readers. When you purchase through links on our site, we may earn commission.
Arsenal goalkeeper Wojciech Szczesny keen to move on from Tottenham defeat
The Gunners lost 2-1 at White Hart Lane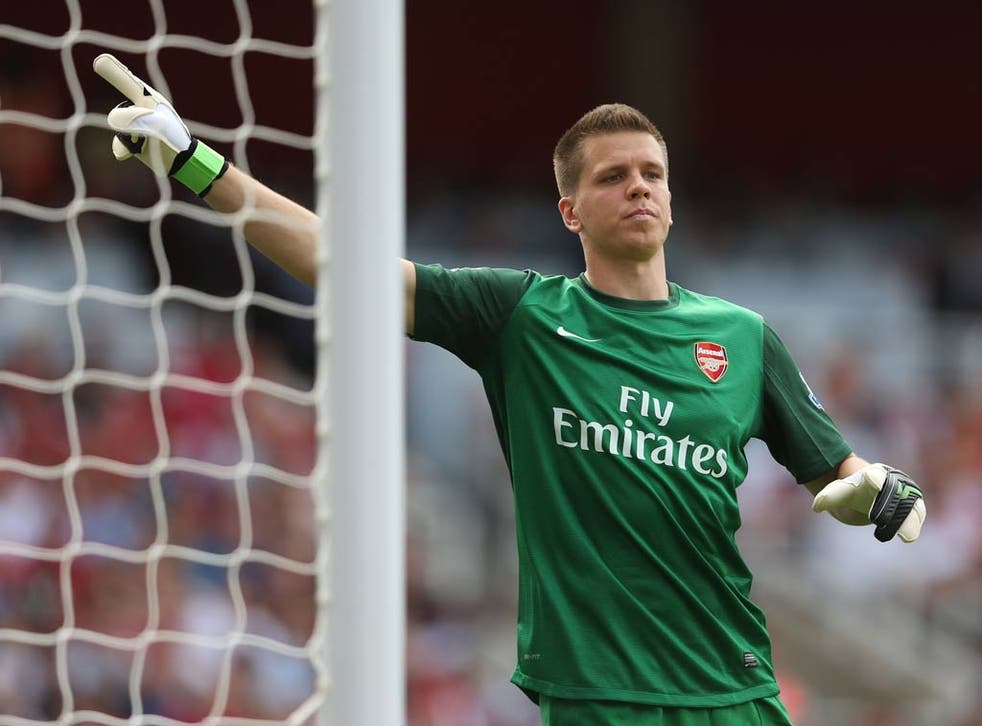 Arsenal will use the next 10 days to alter their mindset ahead of the trip to Bayern Munich in the Champions League, according to goalkeeper Wojciech Szczesny.
The Gunners slumped to a frustrating 2-1 defeat at arch rivals Tottenham on Sunday in a match which they dominated for long spells, but were severely punished by two lapses in defensive focus just before half-time.
They have no FA Cup quarter-final tie to look forward to this weekend after they crashed out at home to npower Championship side Blackburn, with scheduled Barclays Premier League opponents Everton still in the competition.
So Arsene Wenger's battle-weary squad will at least have some extra time to prepare for what looks an impossible mission in Germany when they will attempt to overturn a 3-1 last-16 first-leg deficit.
The players were back at the club's Hertfordshire training complex today as the group aim to refocus for the run-in, which Wenger accepts will provide a "massive challenge" if Arsenal are to somehow force their way back into the Champions League qualification places.
Szczesny, though, insists no-one can afford to dwell in any self-pity as they aim to tackle those seemingly lost causes head on.
"Every time we lose a derby there is going to be disappointment, but we have to pick ourselves up. We have 10 days until the next game so we have to make sure we are prepared for that," the Poland goalkeeper told the club's official website, http://www.arsenal.com.
"We have a lot of time to prepare for that game and if we manage to get a good result and hopefully qualify for the next round, that would be a massive boost to have a good run in the Champions League."
Much has been made of Arsenal's defensive shortcomings this season, with former Gunners centre-back Steve Bould stepping up into an assistant role alongside Wenger in the dugout.
German international Per Mertesacker, however, insists the team have it within themselves to rectify any tactical issues.
"Of course there is potential, but we have to show that on the pitch," said Mertesacker, whose headed goal at the start of the second half against Spurs failed to bring about an expected late rally.
"That is what is needed over the next few weeks: to go to Munich and take our chance there, then we have to take care of the league and go for all the points."
Elsewhere, Arsenal midfielder Emmanuel Frimpong has been linked with a permanent move to Fulham after his season-long loan this summer.
However, the 21-year-old Ghana-born player - who joined the Gunners aged nine and came through the Academy alongside Jack Wilshere - branded the reports as "lies" in a post on Twitter this morning in response to a direct question from a fan.
The post was subsequently deleted from his timeline.
Arsenal, meanwhile, are investigating the possibility of playing a pre-season match in Vietnam, it emerged this afternoon.
Chief commercial officer Tom Fox and marketing director Angus Kinnear have travelled to Hanoi for discussions with the Vietnam Football Federation and relevant organisers to see if the club can organise a game as part of their Asia tour in July,
"Initial negotiations have gone very well and we are hoping to announce developments on our pre-season tour activities in the near future," Fox said on the club's official website, http://www.arsenal.com.
"The club and the players have hugely enjoyed successful pre-season visits to Asia in the past two years, and we are all looking forward to bringing the team to this region again this year."
Arsenal have already confirmed a friendly in Jakarta, Indonesia, with other dates set to be confirmed.
PA
Join our new commenting forum
Join thought-provoking conversations, follow other Independent readers and see their replies