Arsenal hit with injury concerns ahead of north London derby against Tottenham
Lukas Podolski certain to miss derby, with Aaron Ramsey and Jack Wilshere also concerns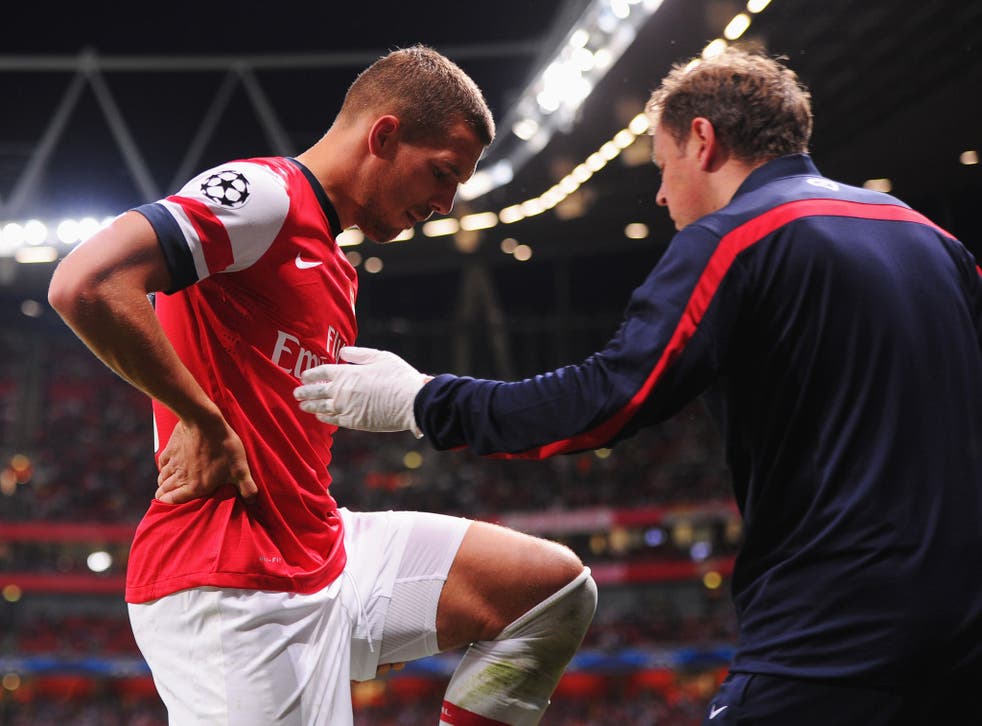 Arsene Wenger's need to strengthen his Arsenal squad further was emphasised once more as injuries overshadowed progression to the Champions League group stages for a 16th successive season.
Lukas Podolski will miss Sunday's North London derby with Tottenham and faces three weeks out after suffering a hamstring injury in Tuesday night's 2-0 defeat of Fenerbahce which completed a 5-0 aggregate triumph and saw the Gunners advance to Thursday's draw.
Aaron Ramsey scored twice but finished the match on the bench with a groin problem after Arsenal had used all three substitutes, while fellow midfielder Jack Wilshere's fragile ankle was a cause for concern after he was the victim of some meaty tackles.
"We paid a heavy price on the injury front because we lost Podolski," said Wenger, who had wanted to haul Wilshere off before the end for his own protection, but the England midfielder refused.
"Podolski's definitely out for 21 days. I don't know how bad Ramsey is. I don't know how Wilshere responds. We have to check that (on Wednesday) morning.
"Jack should be all right for Sunday. I'm hopeful on Aaron as well.
"I took him off with three or four minutes to go, but I don't know how bad it is. He wanted to stay on."
With injuries already to Mikel Arteta and Alex Oxlade-Chamberlain, the further fitness concerns throw more scrutiny on Wenger's bid to add to his squad in the final days of the transfer window.
There were reports that Juan Mata Senior, father and agent of the Chelsea playmaker, was at the Emirates Stadium for the match.
Following the Spain playmaker's omission from the Chelsea starting line-up at Manchester United on Monday night, rumours circulated he was available for transfer.
Chelsea boss Jose Mourinho denied those suggestions and Wenger believes recruiting the World Cup winner would be a long shot.
"I like him," said Wenger, who was beaten to the former Valencia playmaker's signature by Chelsea two years' ago.
"I watched the game last night and I've heard, like you, Juan Mata could be on the market.
"There is anyway in England a reluctance to sell to each other."
In recent days, Wenger has preferred to focus on the players already at his disposal.
Provided he can stay fit, Ramsey is beginning to show his true value after being on the receiving end of criticism last term for some indifferent displays.
The Wales midfielder showed a striker's instinct to score in the first half and netted with a half-volley from Kieran Gibbs' cross in the second.
Wenger added: "I like especially his second goal. It was a good finish.
"A year ago he would not have taken that chance the way he took it.
"A year ago many people questioned Aaron Ramsey. He's improving from week to week. That's very positive for us."
PA
Join our new commenting forum
Join thought-provoking conversations, follow other Independent readers and see their replies