Arsenal's majority shareholder Stan Kroenke is more motivated by making money than he is results
When Kroenke is compared to his much-maligned Chelsea counterpart Roman Abramovich, there is little contest when it comes to building something more than just a franchise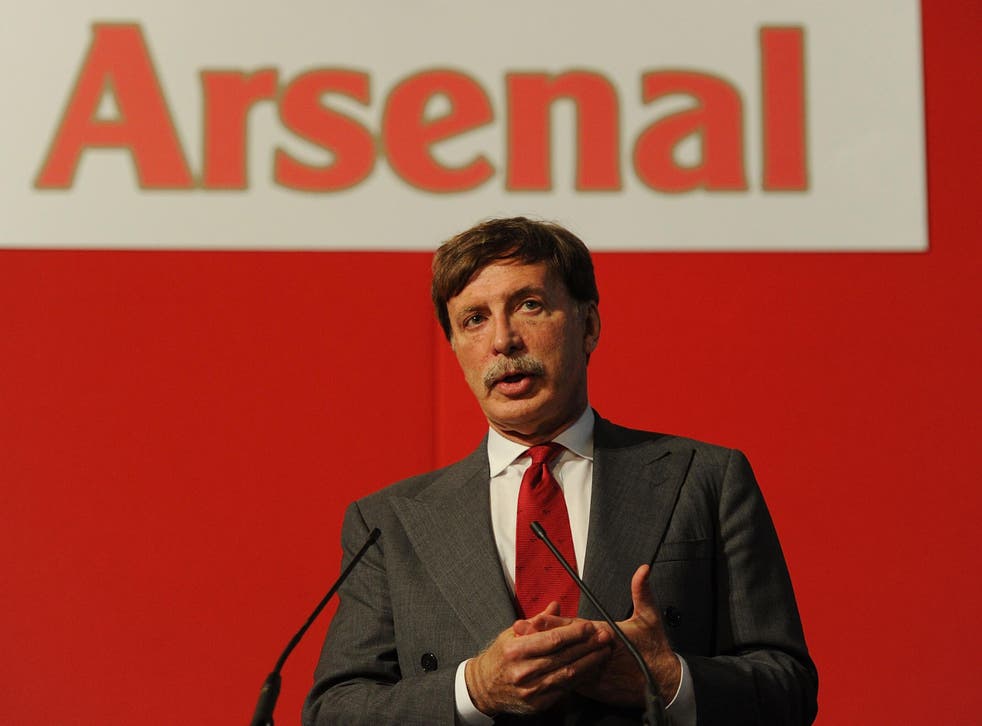 The story of Roman Abramovich, Roberto Di Matteo and the Monaco dressing room does not, at first glance, read like an entry from the text book of how to own and run and football club.
It was five years ago, Chelsea had just lost 4-1 in the Super Cup final in Monaco to an Atletico Madrid side for whom Radamel Falcao was unplayable, and Abramovich arrived among the players to look into the whites of his manager's eyes.
It was apparently excruciating. Abramovich said nothing and Di Matteo could summon no words, either, but the experience was enough to tell the Russian he must seek a ninth manager in as many years, which he did, three months later.
Though Abramovich's modus operandi has been denigrated often across the course of 14 years, Arsenal's much vaunted alternative – "stability" – looks considerably less attractive when you assess what that period has brought the respective clubs in trophies.
Arsenal won their last league title in the year the Russian arrived in town and the silverware score-line since has been 13-3 in Chelsea's favour. Which rather goes to show that there are merits in an owner whose black mood you can read from the stands.
Arsene Wenger will tell you that Stan Kroenke has never looked into the whites of his eyes. As usual, he wasn't on the premises for the annihilation by Bayern Munich on Tuesday which felt like a paradigm shift, and if the disconnect were not bad enough from the supporters perspective, then there is evidence that he views this as an entirely healthy part of running a club.
When Kroenke speaks about Arsenal, there is always utter equanimity. He is no more worried about the dearth of titles and European progress than a supermarket manager whose stores turn a profit but don't win industry gongs.
The argument runs that if the economic model is strong - £12.6m profits and £123.7m cash reserves, at the latest count – the club works.
Arsenal 1 Bayern Munich 5 player ratings

Show all 22
There was no more graphic evidence of an owner out of step than the rare interview he granted to the Associated Press last October. "We are all very high on Arsène" he said, because Arsenal were at the time offering some of that ephemeral promise we are so familiar with.
Kroenke – asleep on the bridge as Arsenal drift towards the seas of irrelevance – has not the remotest comprehension of the state they are in. He is a billionaire football club proprietor for our times: physically and emotionally removed, lacking the remotest inkling of the sentiment of those supporters for whom those attachments run deep.
And he is quite clearly unwilling to bestow some of the autonomy which might have allowed a chief executive, Ivan Gazidis, to get a grip, and call time on Arsene Wenger's time in a way which might allow him to go gracefully.
There are plenty of people in Colorado for whom this will strike a chord. Kroenke owns the Denver Nuggets basketball franchise, as well as the Colorado Avalanche ice hockey franchise, and even this week the local Denver Post's sports pages were filled with testimonies to the entrepreneur's real obsession and its seeming contribution to the drift.
Since Kroenke began his pursuit of the full ownership of the St Louis Rams football team in 2010, with the aim of relocating them to Los Angeles, his son, Josh, has been running the Nuggets, also taking over as Avalanche president five years later. Both teams languish.
"Are the Kroenkes part of the problem when it comes to building a winner?" the Post asked, not unreasonably.
Arsenal certainly feels like one more commodity on a shelf of products and it is that which has contributed to an unfathomable lack of imagination as to what this extraordinary entity might be.
Arsene Wenger's worst Arsenal defeats

Show all 8
They are the biggest club in Europe's biggest and most glamorous city and yet find themselves sucked into a pit of elite mediocrity – actually content that a third or fourth place domestic finish and continental irrelevance is acceptable.
The Manchester clubs will tell you that it would be no contest with Arsenal in the transfer market if the allure of the location was actually matched by a level of professional competitiveness.
From the US, a source familiar with Kroenke testified on Wednesday that the 69-year-old "does think through the running of a sports franchise, emotionally and logically", with the imaginative LA Rams' appointment in January of Sean McVay, as the youngest head coach in NFL history, testament to that fact.
Arsenal should be so lucky. There remains no sense that the incumbent 67-year-old will be moving on, with 16 points currently separating their team from Chelsea, whose maligned owner has been alive to change, again and again.
Join our new commenting forum
Join thought-provoking conversations, follow other Independent readers and see their replies