Arsene Wenger wants another season but hopes Mesut Ozil won't follow Alexis Sanchez out Arsenal exit door
Wenger is resigned to losing Sanchez - be it in January or in the summer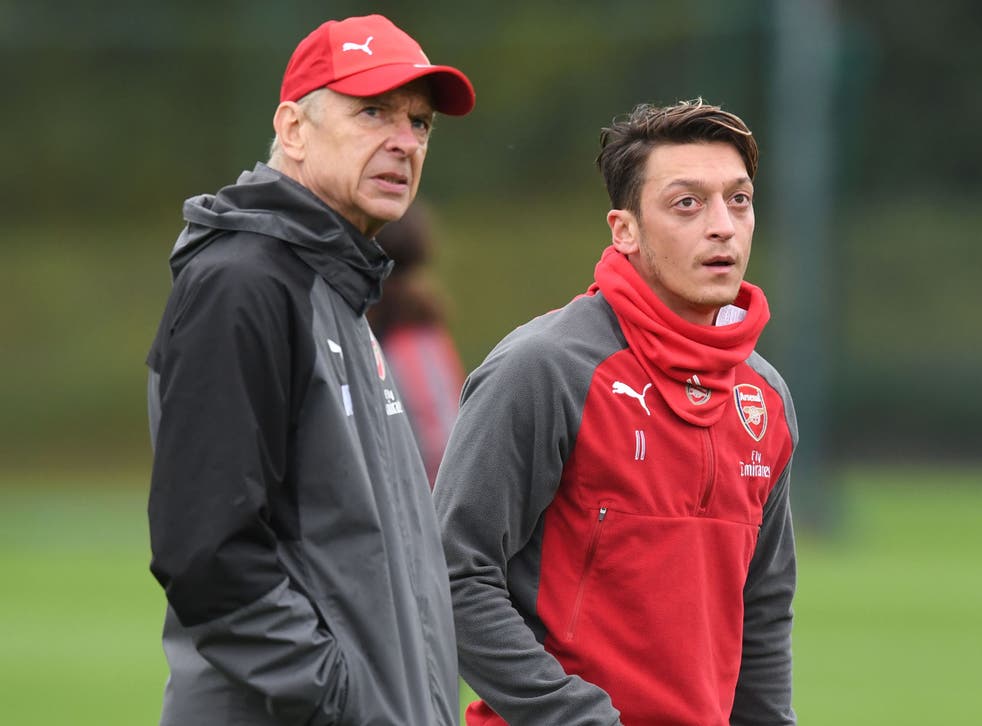 Arsene Wenger is determined to stay on for another summer of rebuilding at Arsenal, and still hopes that he will not have to replace both Alexis Sanchez and Mesut Ozil at the same time.
Admitting for the first time that Sanchez's departure is inevitable, whether this month or in the summer, Wenger sounded more positive about his two other stars with six months left. He claimed he is increasingly optimistic of reaching a deal with Ozil, if they can agree a salary, and also wants to tie down the fit-again Jack Wilshere to the club.
If Ozil and Wilshere can be secured then Wenger hopes that "the rebuild will be less deep", and it will not be so hard to launch the club's 2018-19 Premier League challenge, a job that Wenger is already relishing.
Transfers: Players that are out of contract in 2018

Show all 43
Next season will be the second of the two-year deal Wenger signed last summer and the questions are already mounting about whether he wants to see it through. But at his Friday morning press conference he insisted – Arsenal fans have heard this one before – that he has never walked out of a contract, and is not going to start now.
"I am always committed, I am here for 21 years," Wenger said. Asked whether he would be considering stepping down at the end of the season, Wenger said that he would not be going anywhere. "My contract clarifies that", he said, pointing to the fact it lasts for next season too.
"Did I ever walk away? Never." Would he change the habit of a lifetime in the summer of 2018? "Why should I change?"
So Wenger is bedded in for another year, and he knows that this summer will be harder than any Arsenal have had perhaps since 2011, when they lost Cesc Fabregas, Samir Nasri and Gael Clichy. That is inevitable with Sanchez, Ozil and Wilshere all in their last six months, and plenty of other players tied only for the 2018-19 season.
For months Wenger has been insisting that Sanchez is open to staying, or could be persuaded to, but on Friday morning he admitted for the first time that will not be happen. "It looks like Sanchez will not extend his contract," Wenger admitted. Which means he will either be sold to Manchester City or perhaps Manchester United this month, or go for nothing in the summer.
That only makes it more important to keep Ozil at the club, although he is in no rush to stick around either. Ozil has so far refused to sign anything Arsenal have offered, and while that has been taken as a sign he will leave on a lucrative free transfer, Wenger is more optimistic. While he did not want to go into details, Wenger confirmed that he is still talking with Ozil and that his departure is not inevitable. "There is still an opportunity for him to stay, talks are still alive, very much so."
Wenger said that he is more optimistic now than he was in the summer about Ozil. He just has to prove that Ozil can win more trophies, and earn plenty of money.
"These guys want to win, and they want to make money as well," Wenger said. "So they want a combination of the two, that big clubs can give them. Incidentally he's won trophies with us. So he wants to fight as well for the Premier League, that's normal, when you are at that level."
Even after Ozil and Wilshere there is the next group of players, whose contracts expire in 2019, for whom Wenger will have to find a solution sooner or later. That includes Petr Cech, Danny Welbeck and Aaron Ramsey, and just means that the big rebuilding job he has taken on is only going to get harder. "Some will go to the end of their contract or leave before the end," Wenger confirmed, "but some of them, we have started negotiations."
Join our new commenting forum
Join thought-provoking conversations, follow other Independent readers and see their replies