Arsenal vs Manchester United: Jose Mourinho and Arsene Wenger's relationship is entering a new era
Sunday's game will be a genuinely different to all other Mourinho and Wenger meetings before it
Miguel Delaney
Chief Football Writer Comments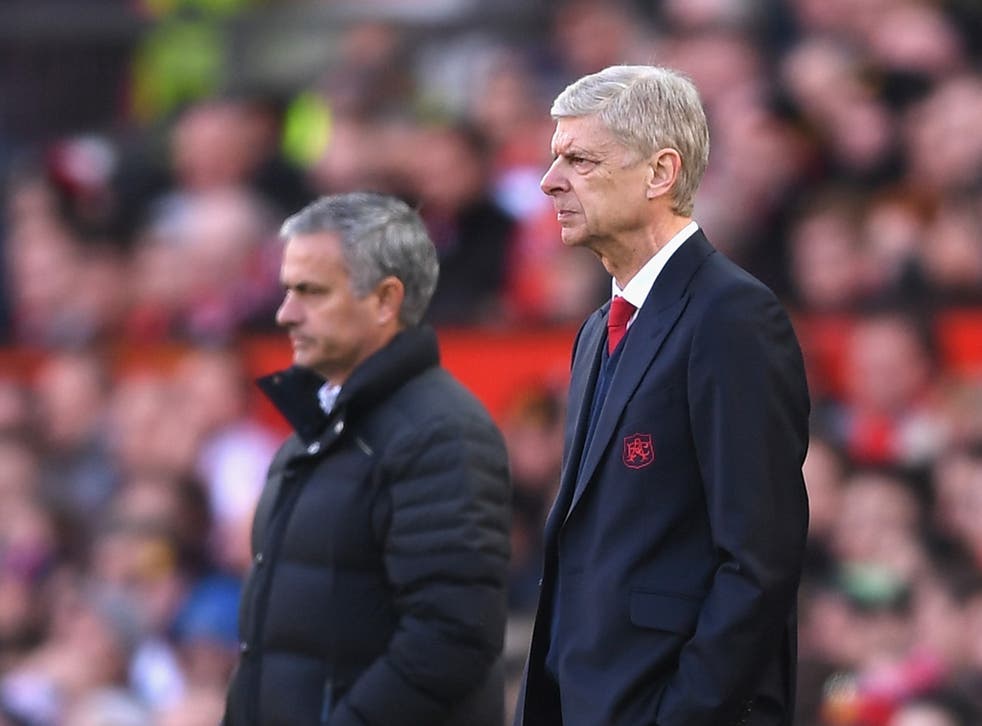 Jose Mourinho is far from averse to a bit of misdirection when it comes to big matches, and it remains to be seen whether he will actually name a much-changed side for Manchester United's trip to Arsenal, but the very prospect has already changed one major element about one of his meetings with Arsène Wenger and that is not entirely unwelcome. It has changed the build-up and tone of it.
Over the past 13 years, there have been two themes that have completely dominated their face-offs. One has been the rancorous rivalry that has often resulted in near-physical, literal 'face-offs' on the sidelines. The second has been the question over whether Wenger can finally beat Mourinho in a competitive match. The repetition of the same topics got tiresome, not least for the Arsenal manager given he couldn't get that win, and all reached something of a comical point for their last meeting back in November.
After Olivier Giroud had scored a late equaliser for Arsenal to claim an undeserved 1-1 draw at Old Trafford that Mourinho admitted felt like a defeat, the United manager was still in a good enough mood to feel like a jibe. "So, finally I lost against Arsenal," the Portuguese said at the end of his press conference, repeating it twice as he walked out.
Mourinho and Wenger's rivalry: in quotes

Show all 11
As typical as that was of the Mourinho barbs that have marked so much of their history, it would be wrong to think that means there is still the same level of animosity. Sources from both clubs say that both managers were being honest when they spoke this week of more "respect" between the two.
Some close to Mourinho actually believe Jürgen Klopp is now the Premier League manager who is his main target in that regard, and that they have heard him make a few comments about the media perception of the Liverpool boss. Chelsea's ongoing progress under Antonio Conte is also bound to irritate such a winner, but the general sense is that he is not too bothered about either Wenger or Pep Guardiola in the way he so obviously used to be.
Perhaps that merely reflects the natural competitiveness in all top managers, in that they will most target their counterparts at the top, but also that all three of those are suffering conspicuous dips so in contrast to the rest of their careers.
In other words, both Wenger and Mourinho have much bigger issues than each other. Whereas these matches used to be encounters that would only energise everything going on around them, this time it feels like everything else is sucking some of the energy out of the match.
The twist for this Sunday is that the opposition are apparently there for the taking for both; that there has seemingly never been a better time to get a potentially momentum-changing win against a major rival.
United are still wavering so much in terms of performance level, with the display against Celta Vigo drastically different to what they produced against Swansea City and Manchester City in the week before.
Arsenal, meanwhile, have completely failed to build on their own defiant FA Cup victory over Guardiola's side. The really worrying thing for Wenger after that was just how routinely Tottenham Hotspur dismissed them; just how easy that victory was for their neighbours. Arsenal are still just drifting a bit.
That is the other curiosity to Sunday's fixture at the Emirates. It should be building to a season-defining game, and still very much could be, but yet feels like it has had a lot of the fizz taken out of it - both by recent results and recent comments.
Wenger, of course, tends to maintain the same measured tone ahead of big games regardless of what is swirling around him, but it was so pointed to hear Mourinho joke that the Arsenal manager would be "really happy" with him because of the changes he plans for his team. This, genuinely, is unprecedented.
It is obviously possible - maybe even highly probable - that this is all a bit of expectation-management, similar to what Mourinho attempted ahead of the recent match against Chelsea. United could fire against Arsenal in the way they did for that fine 2-0 win. By playing down his chances before such a fixture, the Portuguese makes any positive result look even better.
It's still impossible to get away from the idea that Mourinho's fundamental approach to such big away games - a sit-deep-and-counter tactic that itself has been the subject of such debate this season - remains the most naturally suited to negating Wenger's game and defeating him. Like Ferguson, he seemed to very quickly realise that there was a clear blueprint to be followed to beating even the best Wenger sides.
It also makes United's injury problems a bit less relevant, given that Ferguson once beat Arsenal with seven defenders and three of them willing to operate attacking roles, back in the 2011 FA Cup. Jesse Lingard notably struck a different note to his manager, too, when he said the players would be treating this match like "a final". So much for not being in the race, especially since Arsenal feel they are.
Mourinho still needs much more in the final third in such games, given his United haven't scored a single goal in four league and cup matches away to the top six this season.
How Wenger approaches that will be intriguing, given he has shown a lot more tactical improvisation of late himself. But would it be just the Arsenal manager's luck this season to do that when it has never mattered less?
It is equally impossible to escape the feeling that this Mourinho vs Wenger fixture is genuinely different to all of the others, that there are too many variables, too many new elements skewing the old truths. The difference in the build-up only feeds into that - but the wonder is whether any of it will feed into a different result.
Register for free to continue reading
Registration is a free and easy way to support our truly independent journalism
By registering, you will also enjoy limited access to Premium articles, exclusive newsletters, commenting, and virtual events with our leading journalists
Already have an account? sign in
Join our new commenting forum
Join thought-provoking conversations, follow other Independent readers and see their replies