Arsenal vs Tottenham: Mauricio Pochettino is building a bright future for England at Spurs
Accent on youth Wenger planned for Arsenal is succeeding at his closest rivals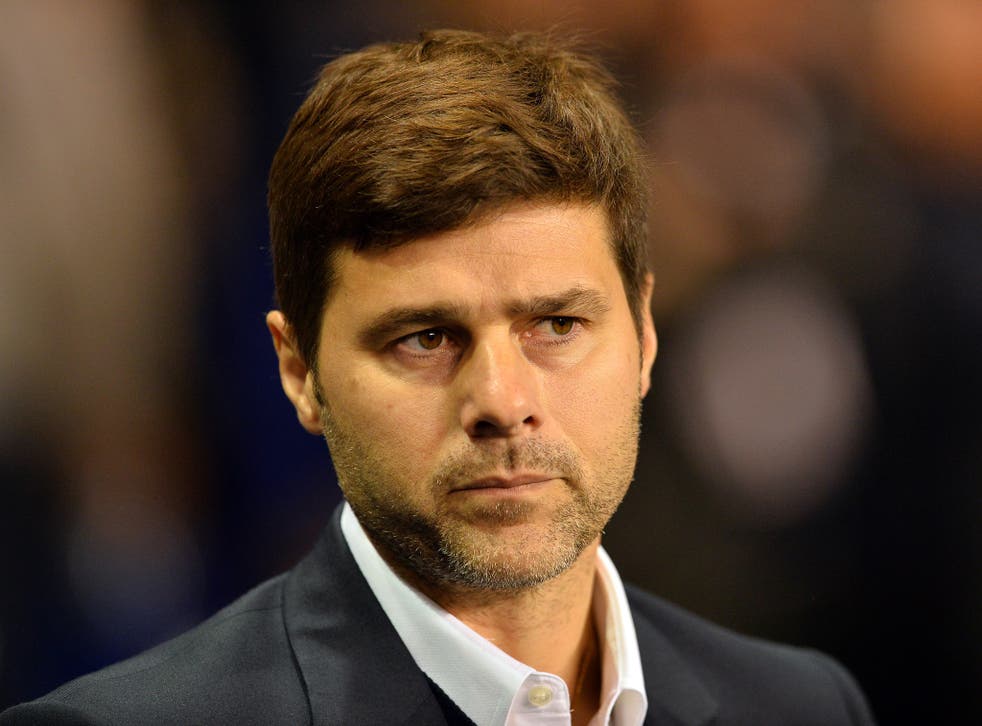 On Wednesday afternoon, as Eric Dier was eating his lunch at Tottenham Hotspur's Enfield training centre, Mauricio Pochettino called the 21-year-old over. The England squad for the forthcoming friendlies against Spain and France was due to be announced the next day, but the Spurs manager had already spoken to Roy Hodgson, and told the player there was a good chance he would be picked.
Within 24 hours Dier knew that he had been, and was thrilled. Yet, while these are giddy new heights for the young defender, chats like that are becoming close to routine for his manager. If Dier makes his international debut in the next 10 days he will be the ninth player to win his first English cap having been moulded by Pochettino. Six of those actually made their debuts while playing under the Argentinian, and Nathaniel Clyne and Calum Chambers did so just months after leaving his Southampton side. It is all the more impressive when you consider those players form over 60 per cent of the country's last 14 debutants.
In other words, much of England's future is being shaped by Pochettino's coaching. He is developing a key English core, and is a manager who should appeal to any young player looking to develop. The fact that Dier's call-up comes in the same week as the north London derby adds a little nuance to Pochettino's fine youth record by virtue of an obvious comparison.
It isn't so long ago that Arsène Wenger made similar claims about developing a core of young players: "Now we have some young British players for the first time in the group – [Kieran] Gibbs, [Aaron] Ramsey, [Jack] Wilshere, [Alex] Oxlade-Chamberlain. We have a core of young players that we want to build on."
That was in September 2012, and the three years since should have been the perfect timescale for that to happen. But it hasn't. Gibbs has been supplanted by Nacho Monreal, Oxlade-Chamberlain is rarely a first choice and Wilshere is regularly injured but wouldn't form part of Arsenal's best midfield. Theo Walcott (below, with Wenger) alternates with Olivier Giroud up front, with Chambers fading from prominence.
Contrast that with Spurs, where players like Dier, Harry Kane and Dele Alli are regular starters and play far more minutes per game (see table). The process that Wenger hoped for at Arsenal has happened at his closest rivals.
Of course, some of this is circumstantial. Wenger has previously been criticised for placing too much faith in existing players and not signing stars, so he deserves some slack for consciously upgrading his squad. Pochettino has also admitted that finance has often forced his hand as regards trusting youngsters.
But there is no doubt that Pochettino has put the development of young Englishmen at the heart of his Tottenham project from its inception 15 months ago. The success of Kane and Ryan Mason no doubt solidified the process, but the contrast between those two and Oxlade-Chamberlain is stark. The Arsenal player has many admirers, Hodgson and Jose Mourinho (who made an inquiry about him in the summer when the Petr Cech transfer was being finalised) among them, but is generally consigned to the bench by Wenger, three years after his England debut.
And there is clearly much more to the Spurs manager's superior youth record than just resources. Taking his career as a whole, Pochettino has given an average of 2.3 academy graduates their debut each season. That is more than anyone else in the Premier League other than Louis van Gaal, whose record stands at 2.75. Arguably more relevantly, though, 67 per cent of Pochettino's debutants get regular football – far more than anyone else. That can be seen in how he has this season put out the youngest team in the English top flight, with an average age of 24.7, and the fourth youngest in Europe's five major leagues.
It says much that, just a few months after Pochettino replaced him as Spurs boss, Tim Sherwood praised him as a manager willing to give young players "an opportunity to play". It comes down to a difference in approach. A few months ago, when his own youth record was criticised, Jose Mourinho said it was up to players to show him that they were immediately ready.
"You don't need five matches in a row," the Portuguese said. "You need 10 minutes."
Pochettino is the complete opposite. He says it is up to the manager to show trust in the young player, because that in turn will give them a further boost, and allow them space to develop.
Premier League Power Rankings: Week 12

Show all 17
"You need to translate the feeling that you believe in them," Pochettino says. "If not, it's nothing. If they feel that you only want to add some names in your list, this is the worst thing you can show. When they feel that you believe, but really believe, in them, it gives them extra.
"For us, it's never to see one player in the Under-18s or Under-21s and say, 'Okay, next game we put him in'. No, it's a process. So Josh Onomah, last season, two or three months before the end, started to work with us and made pre-season with us.
"The same with Harry Winks and different young players that now are with us in the squad, training every day and after, playing with the Under-21s. It's to give them the confidence and trust and to [make them] feel they are part of the squad, and always there arrives the moment they show quality enough to play in the Premier League."
Pochettino is very aware that his approach can give Spurs a different platform, one on which they can develop something truly distinctive. As he says, providing new England caps is "a great thing for the club, for us, and for the supporters", but it can also allow him to integrate fully that young core into his ideas when they are at their most receptive. That can bring individuals on to new levels as a collective.
Meanwhile, the players themselves are delighted. "The manager gives us young players the chance," Dier says. "He believes in us and it's a matter of us taking that chance. If you do that, he sticks with you and believes in you. It is great to have someone like him who gives us the platform to play on."
Join our new commenting forum
Join thought-provoking conversations, follow other Independent readers and see their replies