Arsene Wenger frustrated by Arsenal players' timid approach at home against Manchester City
Manager refuses to blame referee while City appeal against Kompany's red card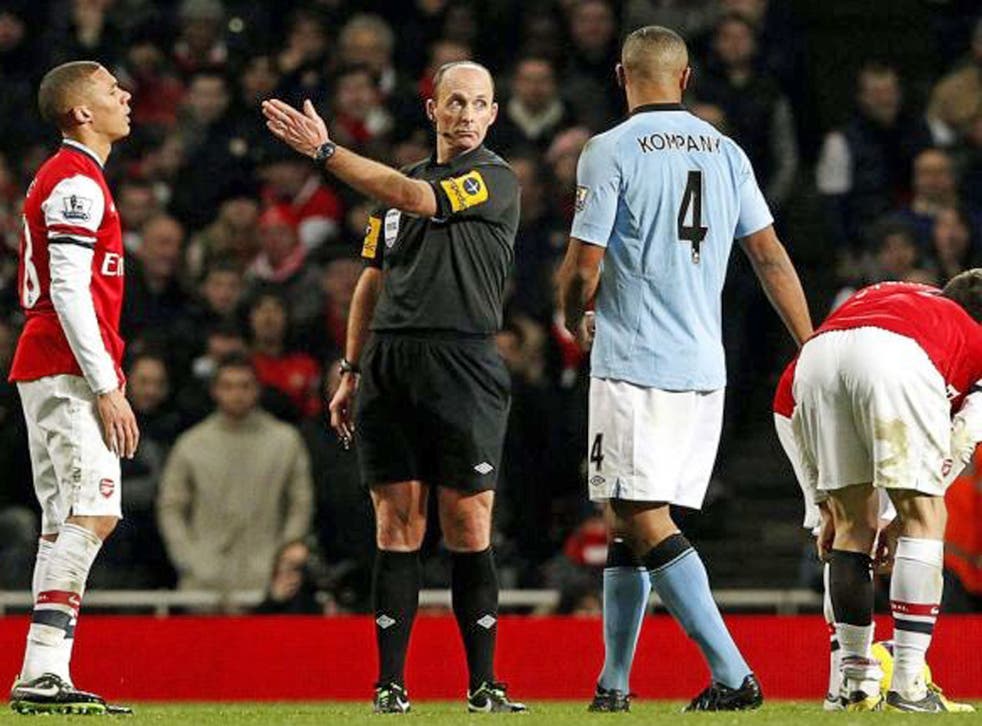 Arsène Wenger chose to blame his players rather than the referee for the 2-0 home defeat to Manchester City. Arsenal played 80 minutes with 10 men after Laurent Koscielny's red card but Wenger said it was a lack of confidence and belief, especially in home games, that was costing his team.
"What I make of the decision is not really important," Wenger said afterwards. "You have to live with the decision. Overall we started too timid, with not enough authority in a game like that, and allowed them to dictate. We paid very early for that. We didn't start with enough confidence or authority. You have to dictate your personality, especially defensively.
"It's frustrating because the team showed great heart and desire after that, but we're a bit too nervous to play in a serene way at home and that is costing us," he added.
This was Arsenal's third home league defeat of the season and Wenger wants his players to assert themselves more at the Emirates, but admitted the anxiety in the stands "does not help" his players.
"It's not anger," Wenger said. "The players want to do well. It's just the fact that we need to be a bit more confident in this kind of game. We want to do so well we are a bit uptight. It's not anger, it's frustration that we do not see from the start what this team is capable of."
Arsenal were missing Mikel Arteta and Wenger revealed his vice-captain will be out for roughly the next three weeks with a calf injury, which he will have scanned today. "Of course it is a blow," he said. "In midfield he gives us stability, experience and tactical knowledge. We will miss that."
When asked whether this would send him into the transfer market this month, Wenger joked: "To find players of the calibre of Arteta, available in January, I wish you good luck."
Roberto Mancini was delighted with a win which keeps the gap between City and Manchester United, who beat Liverpool 2-1, at seven points, but was more critical of referee Mike Dean than Wenger was.
"It was an important victory because I think that it's difficult to play here and to win here, because Arsenal are a fantastic team and have an incredible stadium," Mancini said, before adding that Dean's decision to send off his captain, Vincent Kompany, with 15 minutes left was "absolutely" the wrong one.
"It was absolutely not a red card," Mancini said. "He went into the tackle, anticipating the opponent and took the ball. It was no foul, no red card. This tackle is football. We will appeal."
Mancini was confident City could catch United as they did last season. "It is important for us to be there, close with them, and we will arrive the moment they lose points," he said. "Everything can change at the moment. We have the derby on 6 April and we need to arrive there with five or four points behind, it is okay."
Joleon Lescott, who came on as a late substitute, was advised by assistant referee John Brooks afterwards to acknowledge the 2,000 Manchester City fans. "They paid 62 quid over there," he said, "go and see them."
Register for free to continue reading
Registration is a free and easy way to support our truly independent journalism
By registering, you will also enjoy limited access to Premium articles, exclusive newsletters, commenting, and virtual events with our leading journalists
Already have an account? sign in
Register for free to continue reading
Registration is a free and easy way to support our truly independent journalism
By registering, you will also enjoy limited access to Premium articles, exclusive newsletters, commenting, and virtual events with our leading journalists
Already have an account? sign in
Join our new commenting forum
Join thought-provoking conversations, follow other Independent readers and see their replies