Arsène Wenger's new model Arsenal is built for upward mobility
The league leaders, weary from a tough trip to Napoli, today travel to Manchester City, who have been in scintillating form at home. Can Wenger's men win the battle of the midfield maestros?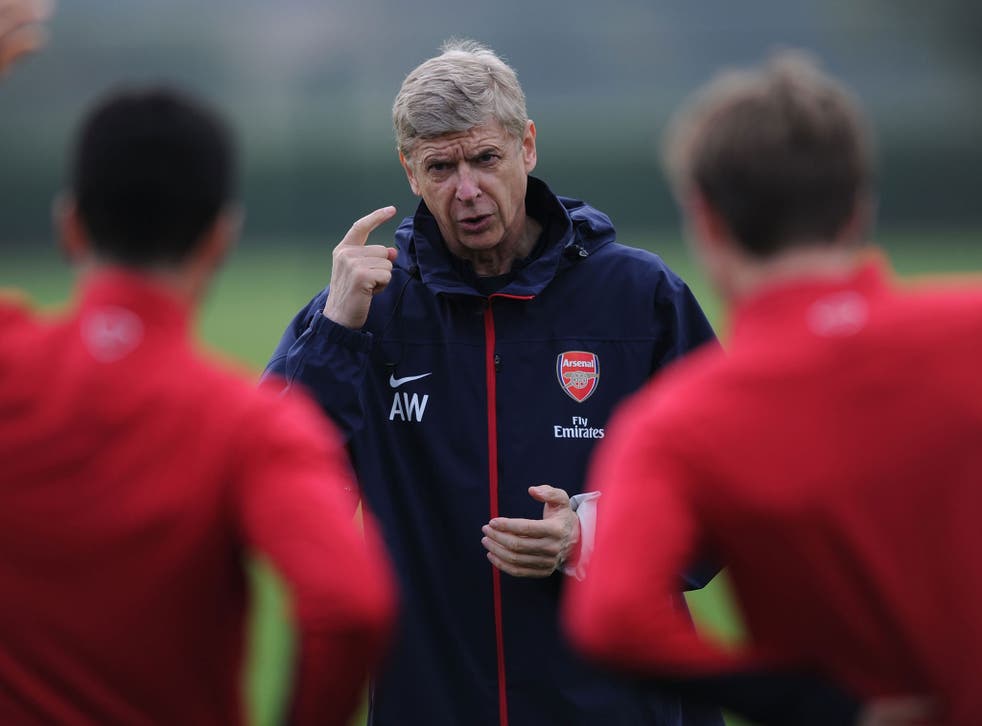 Football is changing and Arsène Wenger hopes that his new team – mobile, nimble and smart – will be on the right side of history once again.
When Wenger first arrived in English football, 17 years ago, he was a relentless progressive, unusually cosmopolitan, applying science, and swiftly building a modern team, arguably still his best, to win The Double.
That Arsenal side was built around the imposing core of Emmanuel Petit and Patrick Vieira, but the game has moved on since then. At times, especially in the long nine-year wait since their last title, the old radical Wenger has almost looked outmoded, as his team were overtaken by the benefactor clubs Chelsea and Manchester City, and by Sir Alex Ferguson's last great Manchester United side.
Wenger believes the game is still evolving and that the changes favour a new breed of fast, evasive, quick-thinking midfielder, always on the move, and less reliant on physical strength to beat opponents. Pursuing these intimations, Wenger has built a new team to win in this new way.
"Football at the moment is in a transformation period and players have to adapt to what are the new problems in the game," Wenger said recently. "Part of it is they have less time available to make a decision."
Wenger was discussing Aaron Ramsey, and the importance of the Welshman's improving first touch, long passing and the speed of his vision; vital skills in the frantic transitions of modern football. But the Arsenal manager returned to the topic last night, explaining why the famous old battles between Vieira and Roy Keane might be a thing of the past in the modern game, as players like Ramsey, Mesut Özil and Santi Cazorla take over.
"It was two personalities who met at the same time at the top of their potential, it was very interesting," reminisced Wenger on Vieira and Keane. "Today we have a different type of players. The game has changed today, I believe. In the midfield it has changed. At the time it was a bit more static with the fights of impact, today it's much more transitional, more mobile."
Wenger said that this was because of the rapidly improving fitness of top-level players – a process he was part of, too, with his suggestions of what was and was not suitable pre-game nutrition back in the 1990s.
"It is because the qualities of the players have changed," Wenger explained. "It would be interesting for a journalist to analyse the Premier League in the last 15 years and what has changed physically in numbers – the distances, the high intensity, the number of sprints per game. You will see it is absolutely unbelievable how it has gone up."
This means, of course, that the Arsenal midfield now looks different from its earlier incarnations. "This one I would say is a bit more creative, maybe fewer physical impact players, but as well more versatile. Everybody can play everywhere so it is easier for me to rotate from game to game."
And Wenger hopes this stable of scurrying creators will seize the game at Manchester City today, in a way that they failed to do on their last trip to Manchester. Arsenal's only league defeat since the opening day was at Old Trafford last month, when they looked slightly cowed by the stage. They went 1-0 down in the first half and did not start playing until it was too late.
Today, Wenger does not want his team to be embarrassed to take the ball and attack. Along with his players, he has studied the tape of the game at United and hopes that they can avoid the same mistakes.
"The task of the two teams will be to stop the opponent from being dangerous offensively. But not to forget to get forward. We forgot a little bit to project ourselves forward at Man United," he said.
"People forget that United had two shots on target on the day and they scored a goal off a shoulder from a corner. But on the day I believe we were not completely ourselves offensively and that's what we want to do better tomorrow, to be dangerous offensively. It's what we want to show at City. We learn from it and we go again."
City have been relentless at home, with 25 goals in their last five games at the Etihad, and Arsenal are unlikely to be able to camp in their own box and block City off. If they are going to win, they need to attack and they need to seize control of possession.
"You need a strong defensive performance and maybe the best way to do that is to attack and us have the ball and let them not find their flow," Wenger said.
"We need to make sure we have the ball. When they have the ball they are dangerous: Silva, Touré, Aguero, Negredo – they have potential to be dangerous. For us it is important we have the ball."
It might sound reckless but one of City's problems this season has been the lack of a holding midfielder, and too much space in front of their defence. Those are the gaps that Wenger's new model army can burst into to test a City back line that is still settling down after Vincent Kompany's long absence.
"City have a very strong squad, I do not deny that," Wenger concluded. "But I look at my squad and think I do not envy them."
Wenger cagey on Sagna
Arsène Wenger said last night that the future of French right-back Bacary Sagna "could be decided in the next two weeks". Sagna is in the final year of his contract at Arsenal and will face a late fitness test for today's game at Manchester City.
Join our new commenting forum
Join thought-provoking conversations, follow other Independent readers and see their replies