Arsene Wenger sees Nou Camp hope for Chelsea following Arsenal draw
Arsenal 0 Chelsea 0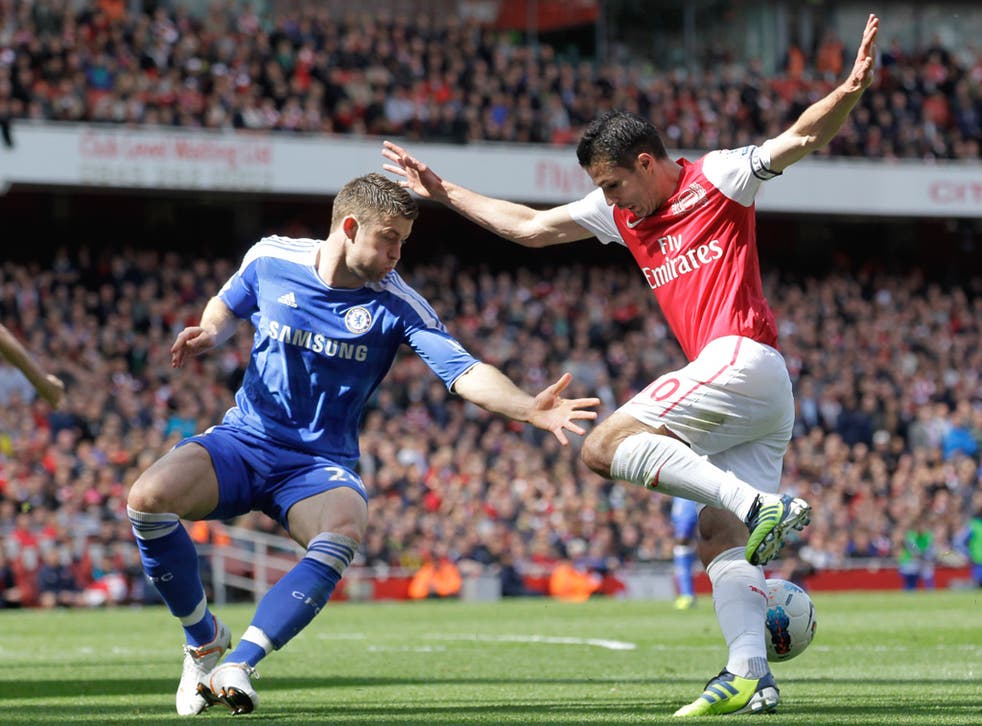 Chelsea head for Catalonia for tomorrow's Champions League semi-final second leg in far better shape than opponents Barcelona, having enjoyed an encouraging dress rehearsal at the Emirates on Saturday.
A repeat of their goalless draw there will send Chelsea through to the Munich final – and Arsène Wenger is among those who feel it is achievable.
"It is far from impossible for Chelsea," said the Arsenal manager. "They go there off the back of a fantastic result [in the first leg], 1-0, and if they defend like they did at Stamford Bridge they have a chance. The Barcelona of now is not the Barcelona of last year. They miss David Villa, who is a goalscorer for them, and Lionel Messi looks a bit tired. Though he is still dangerous, he is not as sharp as he was."
Wenger also noted that Chelsea were able to rest eight players this weekend, whereas Barcelona fielded a near first-choice team in their home defeat to Real Madrid on Saturday night. Only goalkeeper Petr Cech and central defenders John Terry (who played without a painkilling injection for his broken ribs) and Gary Cahill kept their place for Chelsea, yet Arsenal were still held at bay with relative ease.
"Playing against Robin van Persie was good practice moving into the Barcelona game," said Cahill. "I think the game plan [in Spain] will be the same. You probably need an element of luck. You need everyone's concentration levels to be where they were the other night, sticking to their job and working hard.
"We're under no illusions how hard the game's going to be but we've given ourselves a good start. The lads who've been there before have said it's going to be tough. The experience of those players will stand us in good stead.
"It was tough in the first leg, the amount of possession they had. You can never switch off; there's so many players out there who can turn a game. The obvious threat is Messi but he's not there on his own. They have threats from all angles, even the full-backs when you see how high they play and attack so much."
Cahill has never played at the Nou Camp, but he has visited. "I went there as a young boy, probably about 10," he said. "I was over there and I went to the stadium. I didn't see a game, I just went to look around. I was on the top tier looking down. It's crazy to think I'm going back, hoping to play there. You have to pinch yourself at times in your career. You want to play Premier League and then international and then in these games."
Cahill was rarely troubled on Saturday as Chelsea, with Oriol Romeu very deep, threw up a defensive shield that Arsenal, without Mikel Arteta, lacked the imagination to break down. The impact of the August deadline signing from Everton went largely unnoticed until his absence, but without Arteta Arsenal have played seven league games, losing five and drawing two.
"He is one of those players supporters appreciate when he is not there – I appreciate him when he is there," said Wenger. With Jack Wilshere also injured, the Arsenal manager had to press Tomas Rosicky into service despite illness, which eventually forced him off.
"For us to be without Arteta and Rosicky is too much for the moment in the creative side of our game," said Wenger. "Even losing Arteta is enough for us. Tomas gave everything but eventually he said 'I can't run any more'."
Arsenal defender Thomas Vermaelen added his own view of Arteta: "He is important to us. He is a leader on the pitch, outside the pitch. He has a lot of experience. It's a big loss that he's not on the pitch any more."
Chelsea's interim manager Roberto Di Matteo said some of his players were feeling weary, but were being carried forward by a combination of success and resilience. "The physical and mental demands on the players are enormous," he said. "I'm not sure people can appreciate it. It is crazy. But strength of character, the spirit of the group, keep this positive momentum going. Good performances and results make the players believe they can achieve anything."
Booked: Arsenal - Rosicky, Van Persie, Diaby. Chelsea - Malouda, Cahill, Bosingwa, Cole
Man of the match Bertrand
Referee M Jones (Cheshire)
Attendance 60,111
Champions League race: Remaining fixtures
Arsenal Saturday Stoke (a); 5 May Norwich (h); 13 May WBA (a)
Newcastle Saturday Wigan (a); 2 May Chelsea (a); 6 May Man City (h); 13 May Everton (a)
Tottenham Sunday Blackburn (h); 2 May Bolton (a); 6 May Aston Villa (a); 13 May Fulham (h)
Chelsea Sunday QPR (h); 2 May Newcastle (h); 8 May Liverpool (a); 13 May Blackburn (h)
Join our new commenting forum
Join thought-provoking conversations, follow other Independent readers and see their replies