Arsene Wenger stalling on new Alex Oxlade-Chamberlain contract as time runs out on his Arsenal career
The Gunners were open to offers for him in the summer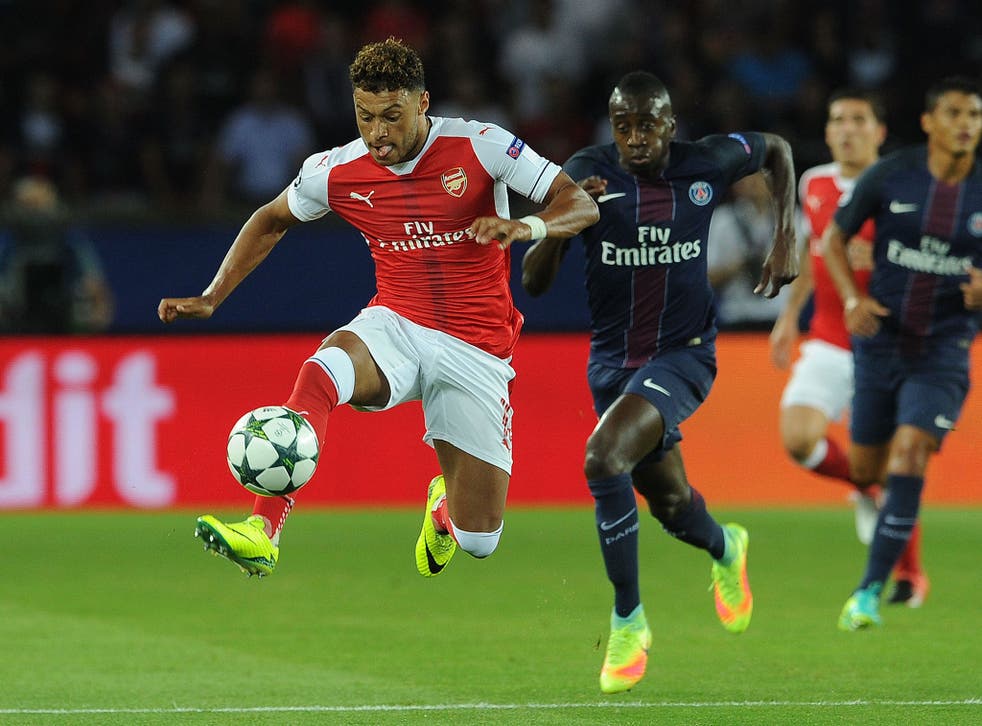 Arsenal were open to selling Alex Oxlade-Chamberlain this summer, although the England midfielder said that he did not want to leave, and now the club is making him wait on a new contract.
Oxlade-Chamberlain is in the penultimate year of his current deal and finds his Arsenal career at a crossroads. He is still determined to make a success of it there, five years after joining from Southampton. But time is running out.
It was another frustrating night for Oxlade-Chamberlain on Tuesday, in their 1-1 draw with Paris Saint Germain. Selected after a late injury to Theo Walcott, he was a peripheral figure, as Arsenal struggled to gain any foothold in midfield. He was substituted for Olivier Giroud after an hour.
The same thing happened four days before, in Arsenal's 2-1 win over former club Southampton, when Oxlade-Chamberlain was disappointed to be taken off after 63 minutes. Oxlade-Chamberlain has started four Arsenal games this season and is yet to make it through to the 80th minute of a match in any of them.
Wenger has shown plenty of patience in Oxlade-Chamberlain since buying him as a 17-year-old for £12million, but decided last year that he had not made sufficient progress by the time of his fifth season at the Emirates. That is why he decided to listen to offers for Oxlade-Chamberlain who, as a young England international, would still command a big fee. Clubs who were keen on Oxlade-Chamberlain, though, swiftly realised that while Arsenal were willing to sell him, he had little interest in leaving.
That meant that Oxlade-Chamberlain stayed at Arsenal this summer, keen to have another go at proving himself at the Emirates, and showing that he belongs there. But he is in a difficult situation. Arsenal's immediate priority is to renew the contracts of Alexis Sanchez and Mesut Ozil, which expire at the end of next season.
The contract situations of Oxlade-Chamberlain, Jack Wilshere and Kieran Gibbs, three English players who have struggled for different reasons, are less imminently important to the club. All three players are having to wait on new offers this season. While Jack Wilshere has gone on loan to Bournemouth to rediscover form and fitness, Oxlade-Chamberlain is still at Arsenal.
While Oxlade-Chamberlain has started four games already this season, he has not made much of an impression in any of them. When Aaron Ramsey returns to fitness then the Wales international and Theo Walcott will ultimately be competing for one position on the right wing, presuming that Olivier Giroud plays up front and Alexis Sanchez on the left. That means that Oxlade-Chamberlain would be further down the pecking order, and is unlikely to keep playing as regularly as he has been so far.
Oxlade-Chamberlain has been advised by those close to him that he should leave Arsenal in pursuit of a fresh start. He has so far resisted that advice, even while the club was hoping to cash in on him. But with no new contract offer on the table, the issue may soon enough be taken out of his hands.
Join our new commenting forum
Join thought-provoking conversations, follow other Independent readers and see their replies