Bobby Zamora welcomes end of QPR's ruinous past
A more measured approach to player acquisition at Loftus Road should soften blow of relegation, says veteran striker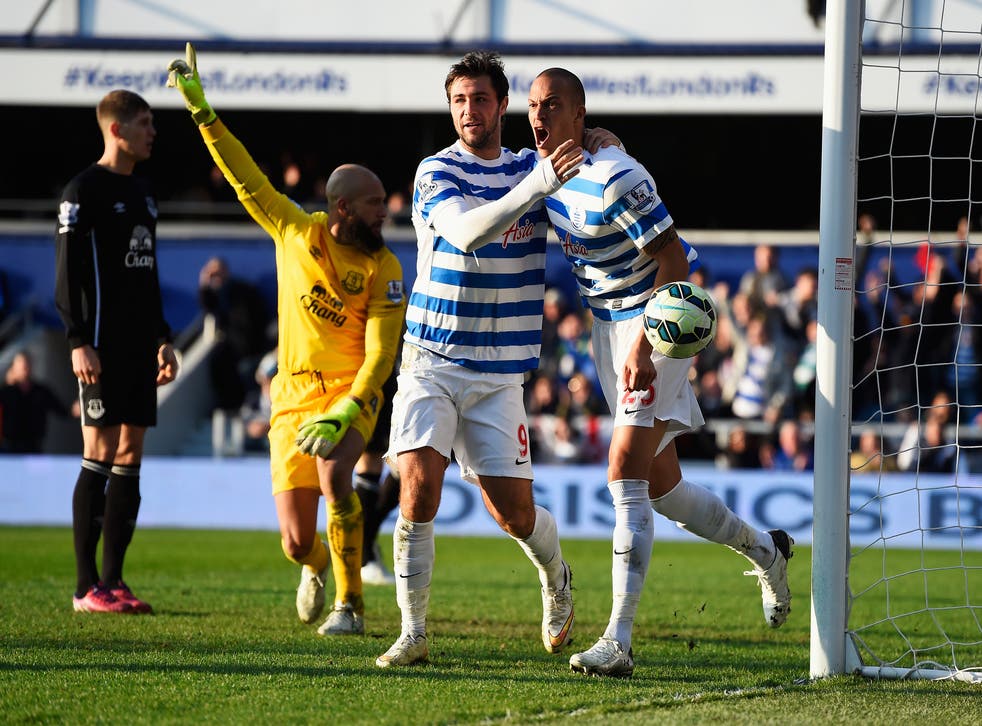 As you walk around QPR's Harlington training ground, there certainly is not an air of gloom. This does not feel like a club that will be relegated today if they are defeated by Manchester City at the Etihad.
The staff and players seem content, if not gleeful, and there is optimism rather than fear in the air. Sandro has a bit of a joke as Bobby Zamora is being interviewed, while Zamora jibes about Charlie Austin's possible England call-up as his strike partner walks by, saying he might be selected too – "like a package deal!"
QPR are now a different package. The League situation may be the same as in 2012-13, with an expensive squad set to go down, but the outlook is far different. Two years ago, there was trepidation that the club could unravel in the face of having to sell so many well-paid players, that an overhaul of their entire plan needed to be considered.
The feeling now is that overhaul is already underway. As Zamora says, QPR "have learned lessons". "They haven't spent as they did," the 34-year-old adds. "They've done a very good job, looking to consolidate, and not be silly. Player-wise, I think we've done well."
This is the reason for the good vibe. It has finally dawned on the club's hierarchy that they can't solve problems by repeatedly buying expensive players. That does not breed a proper collective, or a philosophy. You can only do that by building from the ground up, by instilling the right principles.
That is what the expected permanent appointment of Chris Ramsey as manager is supposed to represent. He will seek to imbue the team with on-pitch qualities, so new signings fit into an overall approach rather than be placed in the kind of patched-together team QPR were two seasons ago. It has already had some effect, which Zamora is keen to point out. "Since Chris has come here, we have not been thrashed by anyone. If we go down, it will be with our heads held high." said the striker.
So why are they going down? Zamora repeats his manager's view. "Tiny mistakes have cost us and turned out to be a very big deal." Performances have improved, but only to a certain point. They still need more work, and Zamora feels Ramsey is the man to see it through.
"He's good. I've enjoyed working with him. The games we have played, apart from at Crystal Palace [a 3-1 defeat], we've been in every single game and pushed a lot of good teams: Chelsea, Arsenal, Spurs, a lot of very, very good, hard teams. Just those last-minute mistakes seem to have cost us. On the whole, we've been very good under Chris.
"The lads are getting on and, as you can see on the pitch, the work ethic is there. That's key in situations like this. You need everybody working, everybody pulling in the right direction. That's there."
Zamora points to Joey Barton as key to that. "Joey has been brilliant. Whether people like him or not or if they talk about his Twitter or whatever, you know what you are going to get from him on a match day. I love that he will always give his all. He is a leader and always the first to tell you if you are not pulling your weight, which is good.
"I like that. A lot of players can't take it when a finger is pointed at them during a game but he does it because he wants to win and you have to take it on board and up your game." Did he change after his loan spell with Marseille? "Well, he can speak a bit of French. At least he reckons he can. And he also wears a hair band in training. Other than that, he's still Joey."
Zamora may not be at the club next season as his contract ends in the summer, but he wants to delay QPR's relegation, and feels he can help his own cause by putting himself on display against City.
"Yeah, it's nice to play against the best players in the world, it's nice to put them out of their comfort zone and give them something different to think about other than the sharp runs and tippy-tappy that they're used to in training – it's more the elbow in the back of the head, but it's nice to play against them," he said.
"It's going to be a tough task against Manchester City. They don't have anything to play for as such, so we'd like to think they're going to have their flip-flops on and be on the beach and not want to get injured.
"I'd love to stay in the Premier League. If people are looking for a different option, I think I could be that. That's down to managers, clubs and owners to make those decisions."
QPR, it seems, have already made some big decisions about their future.
Manchester City v QPR is live on Sky Sports 1, kick-off 1.30pm
Join our new commenting forum
Join thought-provoking conversations, follow other Independent readers and see their replies