Brendan Rodgers moves to avert club-versus-country row as Daniel Sturridge prepares to return for Liverpool
The striker missed England's crucial World Cup qualifiers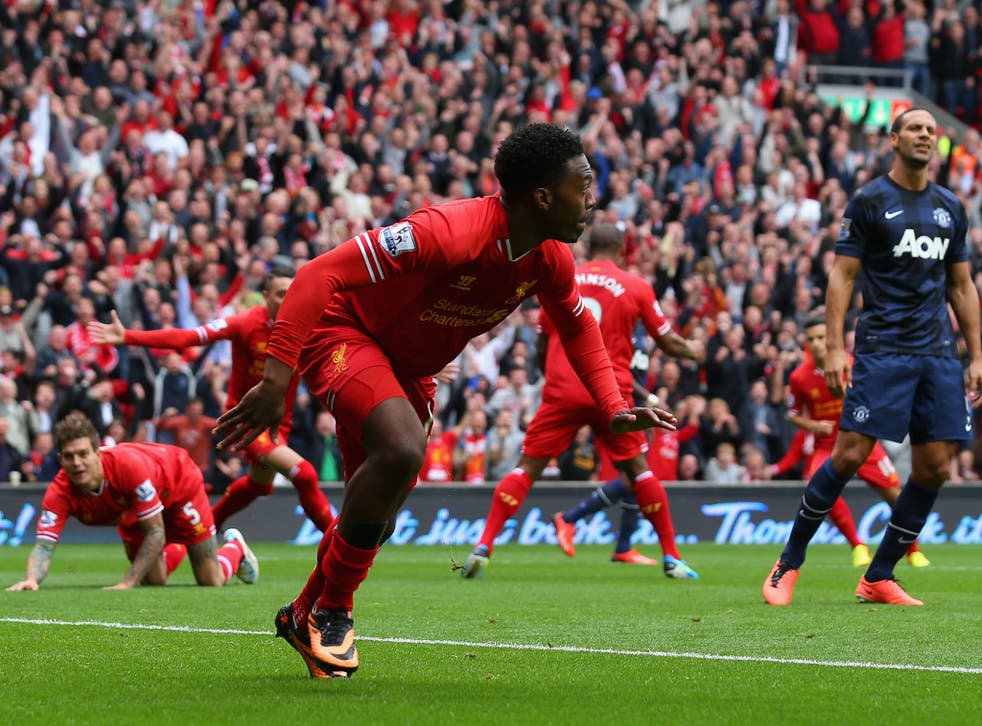 Liverpool manager Brendan Rodgers has leapt to the defence on under-fire England striker Daniel Sturridge after the 24-year-old is at risk of becoming embroiled in club-versus-country row.
Sturridge missed the 4-0 victory over Moldova as well as the goalless draw with Ukraine in Kiev on Tuesday, but he looks set to feature in Liverpool's fixture at Swansea on Monday night after recovering from the thigh injury he had before the international break.
The striker was awarded the Premier League player of the month earlier today, along with Rodgers who picked up the manager award, and the Northern Irishman has attempted to dismiss any row by claiming nothing should be read into his return.
Sturridge had to clarify comments he made earlier this week after he said he was more worried about putting in good performances for his club side rather, taking to Twitter to answer criticism he had received on the social media site.
"He was obviously disappointed to miss out on the England games. He wanted to play for England and I felt sorry for him," Rodgers said in defence of the Premier League joint top-goalscorer alongside Christian Benteke and Olivier Giroud.
"He came here first and foremost to do as well as he could for Liverpool knowing if he did well his aim was to be England striker.
"The medical experts made the decision, not Daniel Sturridge.
"He left the Manchester United game (on September 1) injured and went away and the medical staff at England deemed him not quite fit enough for the first game and they were perfectly happy he was not going to play.
"He returned and there was a slight improvement but Roy (Hodgson) and his staff have to make a decision if he's going to be available (for the second match in Ukraine) and at that stage he wasn't.
"But by the time we play on Monday it will be nearly two weeks and for a grade one strain, experts who know better than I do say it is perfectly reasonable to be back playing in that timescale.
"But he should not be held up, if he does play on Monday, as being someone who has turned down his country because that is not the case at all.
"It will have been nearly a week (since England's second game) and with the injury he had it gives him a chance to play.
"If it was a Saturday game he may well have struggled but that extra bit of time gives him a chance and I would suspect he will hopefully be fit, although he won't be 100 per cent fit."
Rodgers was willing to give Sturridge a chance after he rarely featured for Chelsea, and Rodgers admits it was a risk that he was willing to take having seen that the England international was a natural goalscorer when given the opportunity.
"You never know how it is going to go but I felt if you gave him an opportunity....I think he has shown in his career if he is given the opportunity he is a natural goalscorer," said the Reds boss.
"At this stage of his career, aged 24, he has all the things to his game to be a top striker.
"Since coming here he has had the confidence he is going to play and we work on him on a daily basis - on and off the field - to make him the best he can be.
"It is also a credit to him because he has committed himself to the challenges of playing as one of the leading strikers at one of the biggest clubs in the world, which isn't easy.
"To get a return of 16 goals in 20 games is what you have to do as a striker.
"Standards are set throughout European football now and if you want to be a top striker you have to get in the goals.
"I am not surprised but it is always pleasant when they come in and do so well."
However, Swansea boss Michael Laudrup has questioned Sturridge's availability – or non-availability as is the case with England – in a week that has been dominated with talk of improving the development of home-grown talent.
"I was a little surprised," admitted Laudrup. "We talk about a young player, a huge talent, and I am sure he would have played in a crucial game (for England) the other day.
"But he was injured and yet 48 hours later he is fit to play against us.
"I hope he plays as I want to play against Liverpool with their best players.
"But when we talk about England and young players and the importance of the game (in Ukraine), I was surprised to read less than 48 hours after such a crucial game that he is fit to play against us.
"I thought there were some rules that if you were injured you couldn't just play with your team three of four days later.
"But that's none of my business, I am just taking care of Swansea."
Join our new commenting forum
Join thought-provoking conversations, follow other Independent readers and see their replies