Manchester United news: Nicky Butt gets tough on youngsters - but disputes the club's academy is 'in a mess'
The academy head and one of the Class of '92 disputes the club's youth set-up is 'in a mess' but tells Mark Ogden that his old-school rules will keep his charges grounded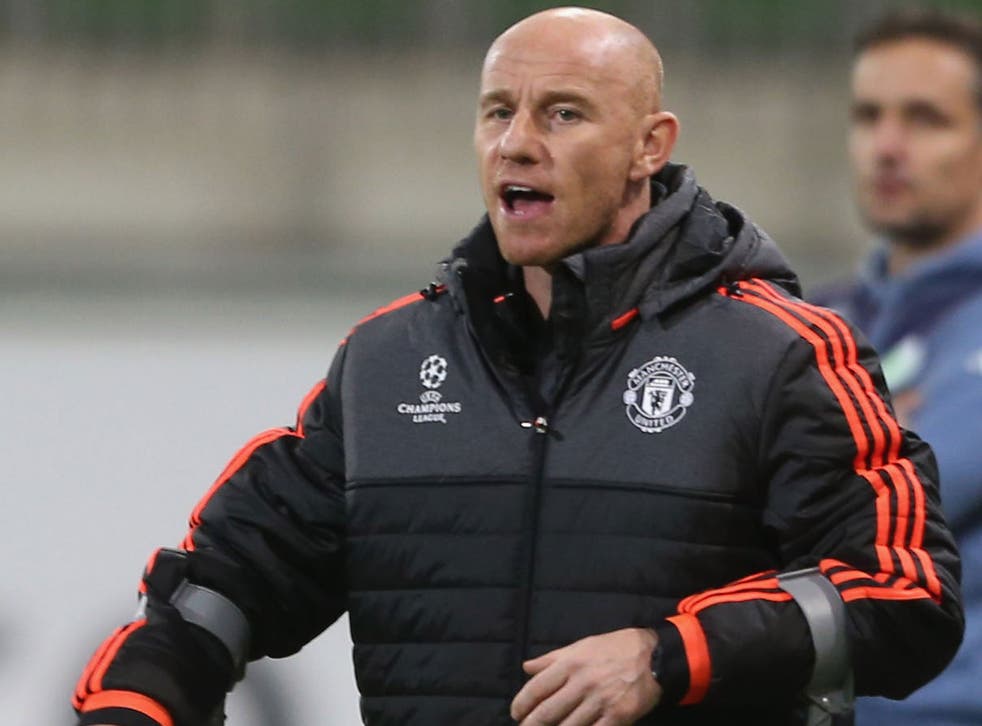 Nicky Butt knows all about the shining new palace that Manchester City have built in east Manchester to hone the skills of youngsters from the age of five, right through to the expensively assembled first team.
After all, the former Manchester United and England midfielder was born and raised in Gorton, less than two miles from the site of the Etihad Stadium, so having grown up among the disused factories and gasworks in that part of town, the 41-year-old does not need lessons in regeneration.
Yet having been appointed as United's new head of academy last month, almost a year after Brian McClair announced his departure from the role, regeneration is at the heart of Butt's remit as he attempts to restore Old Trafford as the No 1 destination for the best young talent in the country.
But suggestions that City are now leading the way – the club have reached the FA Youth Cup semi-finals having lost to Chelsea in last season's final – prompt Butt to bristle at the perception that United, famed for the Busby Babes and the Class of '92, have become a disorganised mess.
"No, it is not in a mess," Butt says. "I judge academies on players that are coming through and we are getting even more coming through.
"People say it is a mess from the outside because we fell behind City because of their training complex. Yes, they have a fantastic training complex, you can't get away from that – it is amazing.
"But ours isn't too shabby is it? It's not the arse-end of the world. It is a great place.
"Obviously it took us a while to replace Brian [McClair], but it is a massive thing to replace someone like that.
"In any business, when you have people who move away who have had a massive influence – like David Gill, like Sir Alex [Ferguson], like Brian and one or two others – any business would suffer and it will set it back."
When United face City in the Premier League at the Etihad tomorrow, Louis van Gaal could start the game with two Mancunian youngsters if Marcus Rashford and Cameron Borthwick-Jackson – both handed full debuts this season – are selected by the manager.
The likes of Jesse Lingard (from Warrington) and Will Keane (Stockport) could also add local flavour to the United team, but such was the quality of the Class of '92 which provided Butt, David Beckham, Ryan Giggs, Paul Scholes and Gary and Phil Neville, the new generation of United youngsters will always be judged to an impossible standard.
But 28 players developed by United's academy have played in the Premier League for a variety of clubs this season and Butt insists that offers proof he only needs to tweak the system to ensure it generates a steady flow of talent.
"We have been putting things in place over the last six months to try and kick it on and we won't see that [the benefits] for another year or another season," Butt says. "People from outside might not see it happening. But we are putting things in place that, maybe in another year or season, we are quite confident that we will be up there with the best in the world."
Yet in a fiercely competitive market that sees many parents tempted by financial benefits when choosing the club for their sons, Butt insists that United will not veer away from their strengths and principles.
"We can offer the chance to play for Manchester United's first team," Butt says. "That's the best thing we can do.
"I'm not here to slag any other clubs off, they have got their own way of doing it, and good luck to them. A lot of these clubs are fantastic clubs and have good set-ups.
"But you look into the parents' eyes – with me it was Sir Alex [who did that] and now it is my job – you look into their eyes and say 'we will give you the chance and a pathway to play for Manchester United's first team'.
"You can only be as honest as that. If they are good enough they will get the chance.
"But it depends what peoples' drive is. Some parents have a drive for financial rewards and some parents have a drive for their kids to get into first-team football, particularly at this club.
"We are fortunate that a lot of our parents want their kids to get a good education and develop into a good footballer and good human beings. From that point of view, we stand a good chance of getting the lads that we want. But if they are really good players at 11 and they haven't got the right attitude or the right personality, we don't want them. We would rather let them go somewhere else."
When he was announced as academy head, Butt made it clear that he would not allow young players to have it "too easy", citing the need to overcome challenges on and off the pitch in order to develop the necessary mental toughness to succeed.
While he accepts that the days of cleaning boots and menial duties are gone, he admits that there are still ways to develop the player and the personality.
"What you do is try and prepare them mentally and physically," Butt says. "So you give them a lot of obstacles to climb mentally, whether it be playing on a crap pitch at Gigg Lane, a really muddy pitch or give them a really good- quality pitch.
"You get them mentally tough in the gym and in training, you put them through the mill and don't give them any get-outs, and take that out on to the pitch.
"But, essentially, they can't really do the stuff that we used to do and, to be fair, quite rightly so. I don't want my lad climbing on the roof getting balls back and stuff like that, so you can't do most things we did.
"But there are things you can still do. You can make sure they are respectful to everybody that they walk past.
"You make sure they shake their hands and they take the plates back for the old staff, or they will get your food if you ask them to. There are little things you can do and get away with. And they get the balls out of the ditches if it is safe, so there are things you can do to keep them grounded."
The challenge for Butt now, though, is to deliver and prove that United's youth system has not fallen into that ditch.
Join our new commenting forum
Join thought-provoking conversations, follow other Independent readers and see their replies