Changing of the guard as City slay the beast
Manchester United 1 Manchester City 6: Silva pulls strings for remarkable visitors to ensure a day to forget for Sir Alex Ferguson's side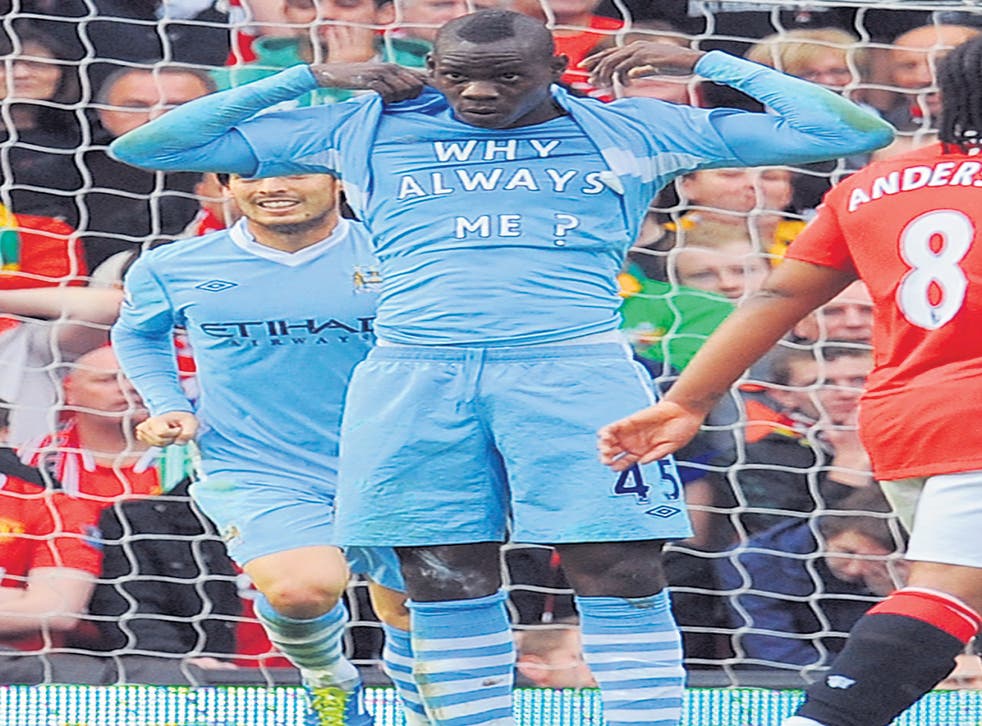 For the oppressed people of the nation of Manchester City, this was the day in which they ousted the dictator, toppled the statue and walked blinking into the light, wondering what to do with this new-found liberty. After years of being second-best, League One or just plain irrelevant when it came to their neighbours, this was City's independence day.
Some might say that winning the FA Cup in May, their first trophy in 35 years, was their moment of absolution – or their qualification for the Champions League the month before that – but when Edin Dzeko put the sixth goal into David de Gea's net all those previous events felt like steps along the road to this day.
This was a fork in the road for Manchester City and English football. No-one would be foolish enough to write off United, even after their heaviest home defeat in 74 years, but City? They have vanquished the biggest beast in the English game. They did it at Old Trafford and they did it with such emphasis and style that they cannot be regarded as anything other than the pre-eminent team in English football – for the moment, anyway.
On MUTV, United's steadfastly loyal in-house channel, on a television in the corner of the Old Trafford press room, they tried to put a brave face on it but at a club that is so accustomed to triumph, they do not have the words to explain days such as these. For Sir Alex Ferguson, 14 days short of his 25th anniversary as United manager, this was like the bad old days, only worse. In 1989, his team lost 5-1 at Maine Road. Ten years later, he famously recalled how he went home and put his head under the pillow. Yesterday, 24 major trophies down the line, he sounded exactly the same. "I'm shattered, I can't believe it," he said, later admitting his players were "embarrassed".
Embarrassment, triumph, it had all that and more. This was a derby that lived up to the hype in every sense and was marked by a brilliant attacking display from City, orchestrated by David Silva, the best player on the pitch. He exposed the shortcomings of Anderson and Darren Fletcher in central midfield and had a major hand in at least five of the goals, scoring one himself.
As for Mario Balotelli, for a while this threatened to be his day and his day alone, until the scoreline became so utterly emphatic that it could no longer be about one man. The Italian, who almost burned his house down in the early hours of Saturday morning by setting off fireworks in his bathroom, scored the first from James Milner's cut back and lifted his jersey to reveal the message "Why always me?"
As an arch statement on football, celebrity and the strange gilded existence this 21-year-old adopted Ghanaian son of Italian parents lives, it was pretty much unbeatable. If that felt surreal, it was nothing compared to the events that unfolded after Jonny Evans's sending off after half-time for dragging Balotelli back after the City striker powered past him.
Whether Evans is quite up to the high standards expected of United has never been a certainty and, sadly for him, this could be the game that tips the balance against him. The red card left United lopsided and exposed. Wayne Rooney had to fall back into central midfield where, it should be said, he did a better job than Fletcher and Anderson.
United never managed to get Nani and Ashley Young properly involved. In contrast, Silva and Milner were dominant players for City, combining to create Balotelli's second goal on the hour, run in at the back post.
Ferguson brought on Javier Hernandez and Phil Jones at 2-0, a move that suggested he felt something could be salvaged. When Balotelli, Milner and the excellent Micah Richards then created Sergio Aguero's goal, City's third, his thinking evidently changed and Ferguson later bemoaned his team's failure to defend and "settle for 3-1, 4-1". They did nothing of the sort and the floodgates opened.
First came Fletcher's goal, beautifully taken from the edge of the box and arguably the best-executed of the game. That came with nine minutes left and gave the scoreline a respectable feel. But it was soon to become very disreputable indeed for United. On 89 minutes, Gareth Barry flicked on Silva's corner, Joleon Lescott cut it back and Edin Dzeko, a substitute for Balotelli, kneed it in. Two minutes later, Silva got the goal he deserved, running through to stroke his shot past De Gea. In the mayhem that followed, the Spain international found time for one more brilliant ball, setting Dzeko free on United's goal for his second of the match.
United's ten men left the pitch like survivors from a disaster movie, departing a stadium considerably emptier than it had been at kick-off. It was hard to believe that just 56 days earlier, United had beaten Arsenal 8-2 on the same pitch and looked like they might just crush all opposition this season. Over Ferguson's 25 years, contenders have come and gone, but none have desecrated Old Trafford quite like this.
In the carpark, the Glazer family helicopter waited to take them and Rio Ferdinand down to Wembley, where the defender was due to kick-off the NFL game staged last night. Funny how one result can make even the most innocuous act a potential cause for ridicule. And, in all this, no one had mentioned Carlos Tevez, who is quickly learning that football moves on very rapidly.
City lead the league by five points and, after a result that will make the whole of Europe take notice, they will be printing the 6-1 commemorative T-shirts this morning. The old certainties of English football have been challenged again, the establishment has been rocked. Wowsers, as Joe Hart once said.
Booked: Man United Anderson, Evra, Smalling, Welbeck. Man City Balotelli, Kompany, Richards.
Sent-off: Man United Evans (47).
Man of the match: Silva.
Referee: M Clattenburg (Tyne and Wear)
Attendance 75,487.
Record breakers: United's worst day
* The 6-1 loss equals United's worst ever derby defeat, City having triumphed by the same score at Old Trafford in January 1926 and 5-0 in February 1955.
* Yesterday's defeat equals United's record Premier League loss, Sir Alex Ferguson's side losing 5-0 at Newcastle in October 1996 and Chelsea in October 1999. It also equals Ferguson's heaviest ever defeat as a manager.
* United conceded six goals at home in the league for the first time since losing 4-7, in September 1930, to Newcastle, who also beat United 7-1 at Old Trafford in 1927.
* Jonny Evans is only the second player after Roy Keane to be sent off twice for United at Old Trafford.
Join our new commenting forum
Join thought-provoking conversations, follow other Independent readers and see their replies