Alvaro Morata sends warning to the Premier League and shows he will be at the heart of things for Chelsea
Not quite a cold, wet Tuesday in Stoke, but it was an impressive performance from the Spaniard - and Chelsea - suggesting there will be no 'Jose Mourinho season' for the champions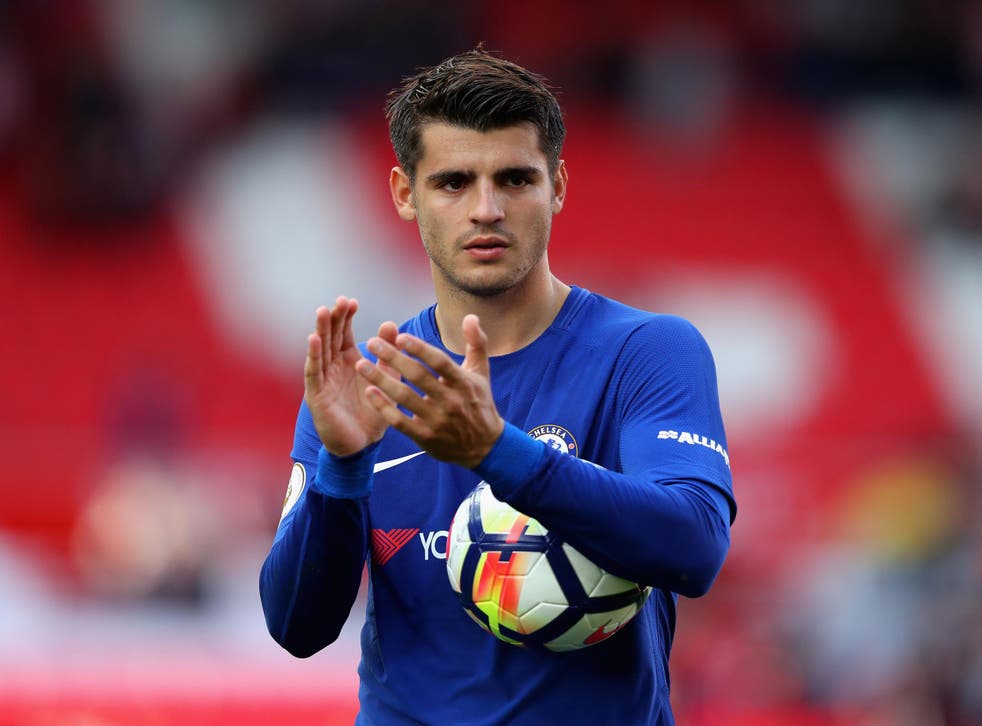 Chelsea's demolition of Stoke inside their own fortress was, said Alvaro Morata, "a message to the Premier League".
If facing Stoke in the Potteries is a barometer of a club's strength – Manchester United have not won here since Sir Alex Ferguson's retirement - then Chelsea will be mounting a resolute defence of their title. There will be, to use Antonio Conte's words, "no Mourinho season" at Stamford Bridge. When Chelsea last defended their title, they had already lost three times by this stage of a season where the nadir came with Jose Mourinho banned from even attending the game at Stoke.
Saturday's 4-0 win was built on the second hat-trick of Morata's career. Both had been scored away from home and it was unlikely Real Madrid's 4-2 win at Leganes in April would have featured better finishing or more help from the home team. "Catastrophic" was the adjective the Stoke manager, Mark Hughes, employed to describe his own side's defending.
"We sent a good message to the Premier League," said Morata, "Chelsea is in the fight for the title and it is the thing we want. The most important thing is that we won today. Stoke is a difficult place to come to but we won and now we can look ahead to the Champions League."
That involves Morata returning to his home city of Madrid to face Atletico in their new, gleaming stadium. When Mourinho passed comment on Chelsea's charge to the title under Conte, he said the real test of his managerial credentials would come when he had to combine the Premier with the Champions League. Atletico Madrid followed by Manchester City is as demanding as it comes. But then so, sometimes, is Stoke City away.
Despite having played for both Real Madrid and Juventus, the £60m spent on Morata represented a considerable risk for Conte. He was not Chelsea's first choice. Romelu Lukaku would have been returning to a club he knew and would not be switching leagues.
Morata had also been something of a bit-part player at the Bernabeu. His return of six goals in as many league games appears beyond even Conte's expectations – and he is a man who notoriously expects plenty.
"He did not play very much at Juventus or Madrid," said Conte. "Now he is totally involved in our style of football. He has scored with his head, he has tackled, he has shown me that he is a complete player.
"For sure, this league is not easy for a striker (coming in from abroad) because there is a lot of physical contact. You must be prepared for that and for the fact that the referee does not whistle a lot. He has adapted very well but now he has to continue to work and improve."
Top 25 players in Premier League history

Show all 25
Conte smiled when asked what kind of reception Morata, as a former Real player, might expect at Atletico. His last game against them had been in very different circumstances. It was in May in the old Vicente Calderon in a European Cup semi-final. It sounds glamorous enough but you wonder how much Morata enjoyed it.
The tie had been effectively won without him at the Bernabeu and Morata was granted only two, token minutes in the Calderon. In Cardiff, where Real became the first side since Milan 27 years before to retain the European Cup, he was given one minute less.
He may not win medals like these at Chelsea but at least the 24-year-old, a man his manager described, in contrast to the departed Diego Costa, as a 'polite player', an ideal son-in-law, will be at the centre of things.
Register for free to continue reading
Registration is a free and easy way to support our truly independent journalism
By registering, you will also enjoy limited access to Premium articles, exclusive newsletters, commenting, and virtual events with our leading journalists
Already have an account? sign in
Register for free to continue reading
Registration is a free and easy way to support our truly independent journalism
By registering, you will also enjoy limited access to Premium articles, exclusive newsletters, commenting, and virtual events with our leading journalists
Already have an account? sign in
Join our new commenting forum
Join thought-provoking conversations, follow other Independent readers and see their replies