Chelsea's Antonio Conte has shown his Premier League rivals what management really means
This season was meant to be about several men in the dugout, but one has surpassed all of his rivals and his side have rightly been crowned champions
Miguel Delaney
Chief Football Writer
Saturday 13 May 2017 09:53 Comments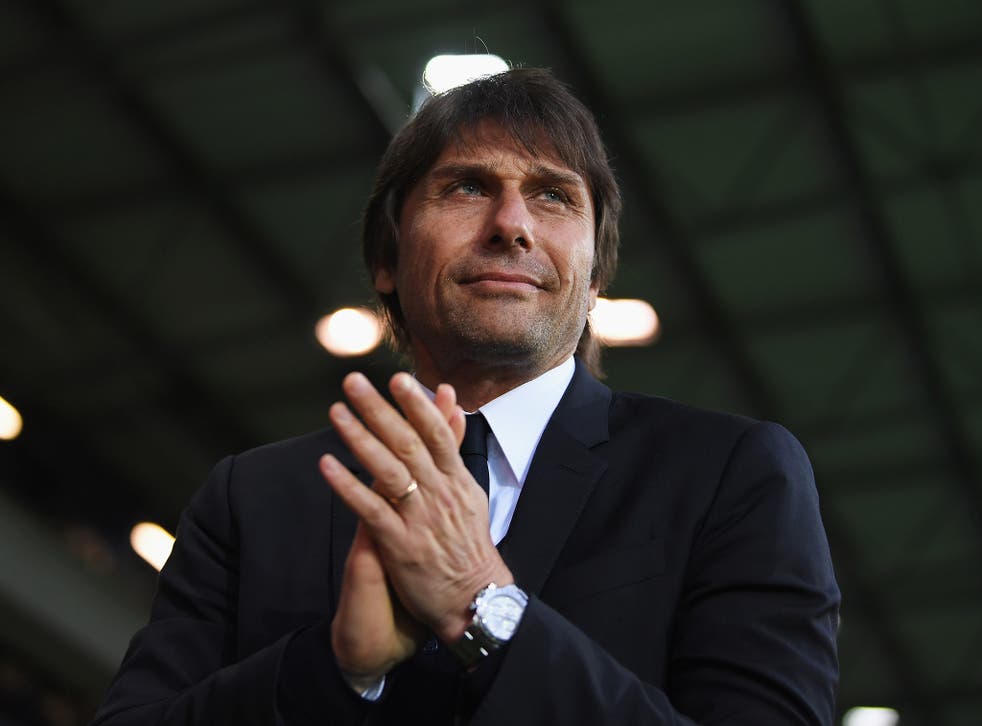 Antonio Conte looked on, unwavering, unruffled and utterly sure of himself - having privately decided how he was going to handle this prickly situation. It was the moment when he showed the Premier League what everyone in Italy was already were of, and that there is so much more to him as a manager than tactical nous or manic intensity on the touchline.
It was 14 January and Chelsea had just beaten defending champions Leicester City 3-0, but that after what was probably the most difficult week of their season, with the victory not even the most important development of the day. The league leaders had lost 2-0 to Tottenham Hotspur to see their 13-game winning streak ended and, amid so many questions over whether that would cause the kind of drop-off in form that almost always happens after such runs, a bomb was then dropped on their campaign. News broke that top scorer Diego Costa had been the subject of an offer from China, and that there had been a flashpoint at training. Either way, he was out of the game at Leicester.
Given that the Spanish striker had scored a series of match-winners, and opposition managers like Mark Hughes were publicly saying "you wouldn't want Chelsea to lose him because that could significantly damage their ability to win the league", it felt like it could be a decisive point in the title race.
5 key moments that won Chelsea the title
It was, but not in the way anyone thought. Chelsea made a statement by winning the match so convincingly without Costa, but Conte made an even bigger statement in the press conference... by saying almost nothing about it.
"I have read a lot of speculation about this topic and I can tell you if there are problems – and I repeat 'if' – with players, I am used to solving them in the changing room, not outside, not in press conferences," he began. "If you want to know the truth, I'm ready to tell the truth. On Tuesday during the training session Diego stopped because he felt a pain in his back. From that moment he didn't train during the week. For this reason today he wasn't available. This is the reason, the truth."
Whether Conte was actually telling the truth on this didn't really matter as regards his team. What mattered was his assured tone, and how he had so completely killed an issue that had briefly threatened to kill Chelsea's season. It was as if all the controversy and questions had evaporated. The very next week, they went out and beat Hull City 2-0, with Costa of course scoring the key first goal.
A huge negative had become a massive positive. Conte had come across a situation, assessed it, responded, and actually used it resounding effect. He had taken control. That may have well been the winning of the title, and is the story of the season.
It is also a lesson to pretty much every major Premier League manager bar Mauricio Pochettino and Sean Dyche. Because, before the season began, it was justifiably billed as 'the league of managers'. The majority of the world's best coaches had come to England, and the understandable anticipation was that they would brilliantly push each other to the limit; creating the liveliest of title races. Most of that hype was centred on the Manchester duo of Pep Guardiola and Jose Mourinho, with Conte coming in greatly respected but also a little under the radar given how badly Chelsea had under-performed the previous campaign.
'The league of managers' didn't live up to the hype in the end, but if anyone is thinking that shows how the role of the head coach is completely overstated in England, they need only look at Conte. He surpassed all expectation. Chelsea have won the title because he has handled every single situation so masterfully. He has - in every sense of the word - "managed": his resources, his players, every setback.
Go through the elements and factors that have led to this league win. All of them involve Conte being dealt a hand, and turning it into the best possible scenario for his club.
There was first of all the Chelsea squad he took over. It probably shouldn't be underestimated how much of a mess it was in at that point. They had come through a dismal season, when both the identity and very character of the team had been so questioned by their own supporters. Chelsea seemed a shapeless, directionless mess.
He quickly began to address that, but did it without signing any of his own players bar Marcos Alonso. While he obviously quickly realised just how exceptional N'Golo Kante was, he wanted Radja Naingollan ahead of the French powerhouse. Conte only actually got one of the signings he wanted, but he still got a remarkable response over what he had.
This really is a key point in why Chelsea have ended up with more points than anyone else. While the common excuse made for Mourinho and Guardiola - and, to a lesser extent, Jurgen Klopp - is that it is not yet 'their' team, they signed a lot more of the players they actually wanted in than Conte did. They have 'their' teams much more than he has his, but he has still succeeded.
The 5 key moments that won Chelsea the title

Show all 5
He has transformed a series of dismissed and disregarded players like Victor Moses, Marcos Alonso and David Luiz into decisive title winners. It shouldn't be overlooked that these had been considered the Marouane Fellainis and Aleksandr Kolarovs of Chelsea.
Their enhancement of course in part came because Conte took assertive action in the first key moment of the season: the 3-0 defeat to Arsenal. With the way he immediately went to the transformative three-at-the-back formation, one of the season's worst negatives had again been turned into its biggest positives. He also began to hone and influence a desire in his squad to make up for last season, subtly reminding them at key points about how bad 2015-16 had been.
It was the same with the Costa situation in January, the same with the surprise Crystal Palace defeat in April, and the same when Tottenham Hotspur cut their lead to four points with the defeat to Manchester United, and just before that defining cup semi-final.
Conte responded. He managed.
It is even more symbolic and significant, then, that that responsiveness was also one of the most striking things about their football. Many opposition managers were blown away by it as they watched their team being blown away, and would regularly mention just how brilliant Chelsea were at breaking; at using your attack against you.
It wasn't all about negatives turning into positives, either. Conte has maximised the advantages that have come his way, like the lack of European football. It does not feel a coincidence that, in an increasingly compact Premier League, the last two champions have not been involved in continental competition. It does give proper training-ground coaches like Conte the time and space to have a hugely pronounced effect, to really instil the ideas, while obviously keeping players fresher.
Next year should actually see all of the Premier League 'big six' involved in Europe for the first time since 2012-13, so the influence of that will be telling, as the field levels in that regard.
It shouldn't be forgotten that it wasn't quite a level playing field for Conte, either. He had no experience of managing outside Italy, and was coming to a new country, something cited before the season as a key reason why Chelsea wouldn't win the title.
He adapted supremely, and showed everyone else how to adapt to situations thrown at them. In that, he also showed how he mastered all the key aspects of management: handling players and having an effect on them, motivating them, tactical insight and innovation, maximising what you have and just generally setting the right tone; the right atmosphere. He ensured Chelsea never lost their focus.
He has shown what the 'league of managers' should really have been about; why the money was spent on them over players.
That is why everyone is now looking up at him.
Register for free to continue reading
Registration is a free and easy way to support our truly independent journalism
By registering, you will also enjoy limited access to Premium articles, exclusive newsletters, commenting, and virtual events with our leading journalists
Already have an account? sign in
Join our new commenting forum
Join thought-provoking conversations, follow other Independent readers and see their replies