Chelsea's Eden Hazard proves he will be a genuine danger to all opposition
Wigan Athletic 0 Chelsea 2: £32m signing's vision and guile put Wigan on the road to defeat after just 100 seconds
Chelsea's Eden Hazard proves he will be a genuine danger to all opposition

Show all 4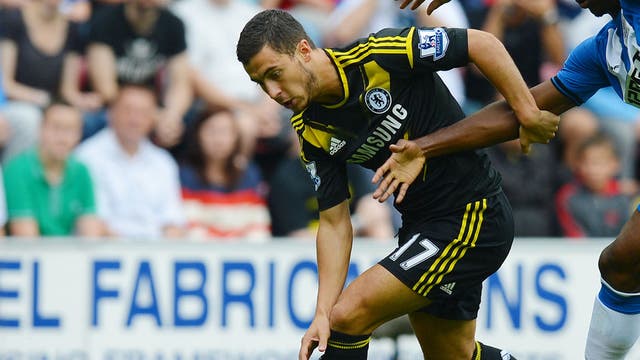 We certainly know now that he will be what his name suggests, to any who are off the pace or off the ball when he takes it up. Eden Hazard will also be a substantial part of the nine-month story which lies ahead, even though the rapid start to Chelsea's Premier League campaign which he provided did not expand into a comprehensive statement of intent to challenge the Manchester duopoly.
He drifts into the game loosely, lazily almost, just as he drifts around the field without an anchor point, and sometimes it seems to matter to him; sometimes not. Players with peripheral vision can often be like that. But for half of this match Chelsea's £32m acquisition was very far beyond the grasp of the defence that Roberto Martinez has assembled for what felt like another terribly long road to survival, when they slipped 2-0 down inside seven minutes.
The game was 10 minutes old when Gary Caldwell clattered into the back of Hazard and though he was booked there seemed to be a consolation, because no one had managSed to touch the 21-year-old until then. The referee, Mike Jones, should have booked James McArthur for a similar offence just after the half-hour but opted instead to ask Caldwell, the captain, to rein the entire team in.
The Wigan manager Martinez spoke later of the edge Hazard brings to Chelsea's counter-attack – "with a bit of space, [he] can be unplayable in one-on-one" – though guile is the more significant aspect the Belgian brings to a midfield which once lacked that quality in all but Frank Lampard. If anything, the problem now is that it is coming from so many quarters that it may be difficult to provide some structure. Though Victor Moses glittered in a way that will make Dave Whelan's £9m price – reduced from £10m – seem attractive to Stamford Bridge, it is difficult to know exactly where he will fit in.
Where Moses is concerned, a rather fascinating sub-plot to the match unfolded in the directors' box – with the Chelsea secretary Dave Barnard and the technical director Michael Emenalo sitting across a narrow walkway from Whelan, who had described their Moses bids to date as unacceptable and observed that "if he comes up with a goal or two on Sunday, who's to say his value won't go up by a couple of million?"
After the Nigerian's shot from the left brought a clawing, one-handed stop from Petr Cech around the half-hour mark, the Chelsea contingent launched into a chorus of "Victor Moses – we'll see you next week". The 21-year-old caused as much trouble to Ashley Cole in the first half as he did when switching flanks to face Branislav Ivanovic in the second.
The way Chelsea began suggested that Roberto di Matteo has the finished product, in any case, and is ready to reduce to pulp his lofty position as the second favourite in the sack race.
Ivan Ramis, the defender Martinez stole in to sign ahead of West Ham from Real Mallorca, was the less celebrated of yesterday's two debutants, though those first seven minutes were a punishing reality check for the latest Spanish acquisition here. The game was barely into its second minute when Hazard, his back to goal in the centre circle, received a ball processed sharply out of defence through the excellent Juan Mata and Lampard, span on it to leave Ramis rooted, and thundered forward into the empty space that passed for a Wigan midfield. His spacial awareness allowed him to locate Ivanovic running into the inside channel to receive his pass and score, 100 seconds into Chelsea's season.
Perhaps Wigan had read too much into last Sunday's Community Shield, in which Hazard's game was notable for a fluffed back-heel that caused him to fall on his face, because his threat still had not dawned on them when his pace took him past Ramis and Maynor Figueroa into the penalty area, where Ramis tripped him. Lampard's penalty was converted low to Ali Al Habsi's left.
Martinez's players have spent too much time chasing almost lost causes in the past two years to concede an afternoon so soon, but what followed genuinely demonstrated that this is a stronger, faster Wigan, more inured now to the Premier League's rigours. Caldwell's roughing-up of Hazard helped but Shaun Maloney was busy and tidy around the area, McArthur confident in distribution and if Martinez had only been in possession of a more dangerous striker than Franco di Santo – formerly of Stamford Bridge – they might have pressed home one of the 13 chances which presented themselves, to Chelsea's six. The Argentinian's control was poor at two significant moments. His heavy first touch wasted a Figueroa pass which bisected the central defence.
Oscar, the £25m signing from Internacional, only needed a few minutes on the field in Hazard's place to latch on to a pass laid into his path by Fernando Torres and slide the ball a yard wide. Torres was unfortunate not to begin what should be the elementary task of surpassing last season's 11-goal tally – taking into the area a ball headed into his path by Ryan Bertrand, he shot only to see Ramis atone for his earlier error by clearing off the line.
Chelsea's new anthem for the season is "Champions of Europe – we know what we are"; others will also cotton on soon enough that an encounter with this side of Di Matteo's brings hazards which were not there last season.
Join our new commenting forum
Join thought-provoking conversations, follow other Independent readers and see their replies