Community Shield: It's no friendly, says Pellegrini as he faces old foe Wenger
City seem to be in good shape to defend title, but first a meeting with with arch adversaries at Wembley tomorrow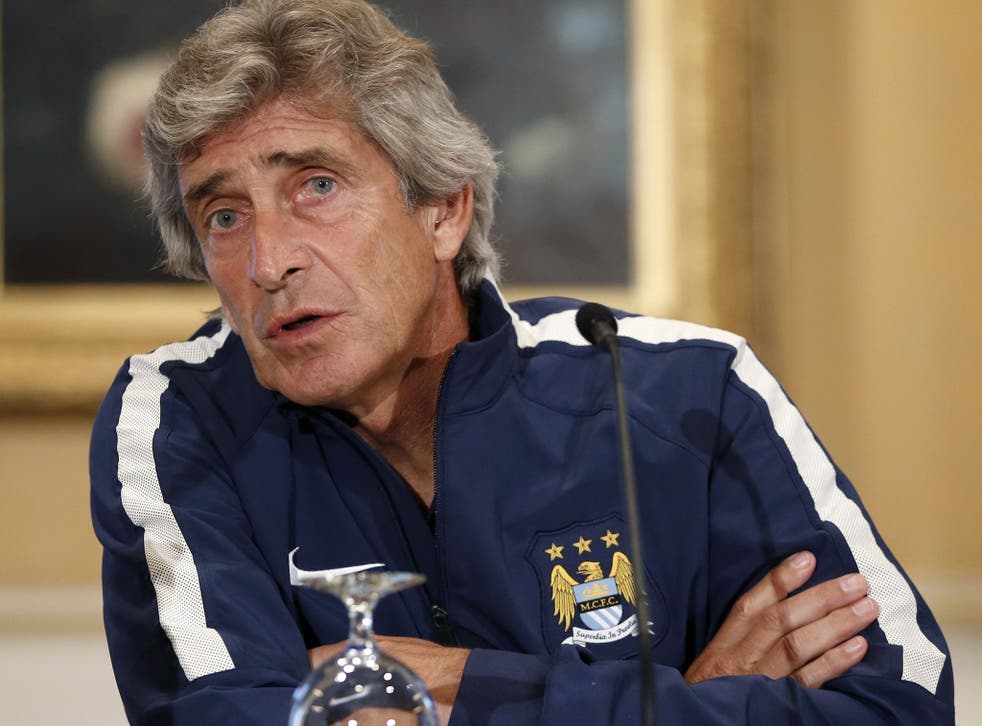 "Of course it is not a friendly match," said Manchester City manager Manuel Pellegrini when asked how he viewed tomorrow's encounter with Arsenal in the Community Shield.
"It is an important game against an important team."
Contests between City and Arsenal are rarely friendly. Having spent the last few seasons accusing the men from Abu Dhabi of engaging in "financial doping", Arsène Wenger, the Arsenal manager, warmed up for his return to Wembley by questioning the process of how Bacary Sagna had become the latest to exchange the Emirates for the Etihad Stadium. He then pointed out that if Frank Lampard wanted to play in New York, "going via Manchester was not the quickest way".
Pellegrini gave a sigh: "As a manager we have enough problems without talking about other teams," he said. "What I can say is that we have had some important financial restrictions as to the amount of money we can spend and the amount of players we can take on.
"We didn't spend any money bringing Frank Lampard from New York City to Manchester. He was a free agent so I don't understand the reactions of Chelsea fans who say he is a traitor.
"The problem was not that Frank Lampard did not want to sign another contract with Chelsea it was that Chelsea did not want him any more."
Last season the Manchester City manager spent several press conferences responding to jibes from Jose Mourinho. Their relationship appears to be grounded in mutual dislike from the days when Pellegrini's stewardship of Real Madrid was being actively undermined by supporters of The Special One within the Bernabeu.
With the Arsenal manager it is a matter of taste. Wenger is like the long time resident of a Victorian street who objects to the vulgar new-builds with their lions on the drive and the Doric columns on the porch.
Nevertheless, while in consecutive summers Arsenal have brought first Mesut Özil and then Alexis Sanchez to London for a combined fee of around £74m, Manchester City's spending has been rather more restrained and not just because of the Financial Fair Play restrictions.
This summer it has entailed a holding midfielder in Fernando, who is now probably quite relieved to have missed out on Brazil's World Cup squad. A reserve keeper, Willy Caballero, and dear old Frank, who may be one of the finest footballers England has ever produced but is now 36.
When Manchester City won the championship three seasons ago, they dithered. Roberto Mancini offered up a list of targets few of which were met.
He ended up with Jack Rodwell and Scott Sinclair, two English footballers who managed to wreck their own international careers by joining a big-paying club that guaranteed them only reserve-team football. This was followed by Javi Garcia, signed when Bayern Munich outbid them for the services of a rather better holding midfielder, Javi Martinez. Maicon was brought to Manchester where he disappeared without trace.
This summer's shopping looks rather better and will improve significantly when Eliaquim Mangala arrives from Porto to join Vincent Kompany in central defence. He is not a household name in Gorton but the 23-year-old would count as the summer's marquee signing, although £32m seems a lot for someone who could not force his way into France's World Cup starting line-up. The rules of Financial Fair Play may be in force but Mancini's observation that "there is a price and there is a Manchester City price" still holds water.
When Mancini said goodbye to City's fans via an advertisement in the Manchester Evening News it depicted the three trophies he had brought to Eastlands. That he included the Community Shield raised some eyebrows. In Italy as in many other leagues, the competition is known by the rather more glamorous title of "Super Cup".
Sir Alex Ferguson, who won nine of the things, would never have included them, regarding the occasion as a glorified friendly. David Moyes, whose only trophy this is, may think slightly differently.
Only occasionally and then only in retrospect is the result significant. Manchester United's 3-1 win over the champions, Chelsea, four years ago, opened a season that would see Ferguson wrest the title back to Old Trafford and Carlo Ancelotti sacked. Everton's 1-0 victory over Blackburn in 1995 was the first indication that the magnificently appointed house that Jack Walker built would soon crumble.
Sometimes, the signs are wrong. Eric Cantona's hat-trick in a 4-3 win over Liverpool at Wembley in 1992 demonstrated how a free-scoring Leeds side inspired by their Frenchman might dominate the coming season. Instead, Leeds finished 17th and by December Cantona was at Manchester United.
Given that a vast swathe of Pellegrini's squad that reached the World Cup quarter-finals with Argentina, Belgium and France have been given the weekend off, it will be even more difficult to read anything into the result. Nevertheless, if Manchester City are to retain their title, much will depend on Sergio Aguero.
The man who in 2012 clinched Manchester City's first championship since 1968 broke down in the opening match of the following season and the month he missed saw Manchester City slide to seventh – a start that would be fatal. Last season may have ended in the title but it was blighted by the Argentine's hamstring problems.
"I am not especially concerned but I think Sergio needs a very good pre-season [he will be given his own training routine]," said Pellegrini. "It is very important for him to work two to three weeks intensely and then start playing."
That Yaya Touré is here at all will come as some surprise to those who watched him unleash a stream of invective at the club for not allowing him to leave Manchester City's end-of-season tour to be with his dying brother, Ibrahim, and then rather more bizarrely for not wishing him a happy birthday or providing him with a cake.
Everything was dumped on the lap of Touré's agent, Dimitri Seluk, with Pellegrini saying: "The things that every-one talked about during the summer, I never heard Yaya talking about them. Other people, yes, but not Yaya."
This sort of talk assumes that an agent never speaks to his client or carries out his instructions but for now the storm has passed. Touré turns 32 on 13 May, a date by which most pre-season predictions will have turned to ash and the result of the Community Shield will have been long forgotten.
Join our new commenting forum
Join thought-provoking conversations, follow other Independent readers and see their replies