Crystal Palace vs Manchester City: Yaya Toure scores crucial double after long absence from the side
Crystal Palace 1 Manchester City 2: Ivorian midfielder makes first Premier League start of the season and almost single-handedly delivers crucial away win to Pep Guardiola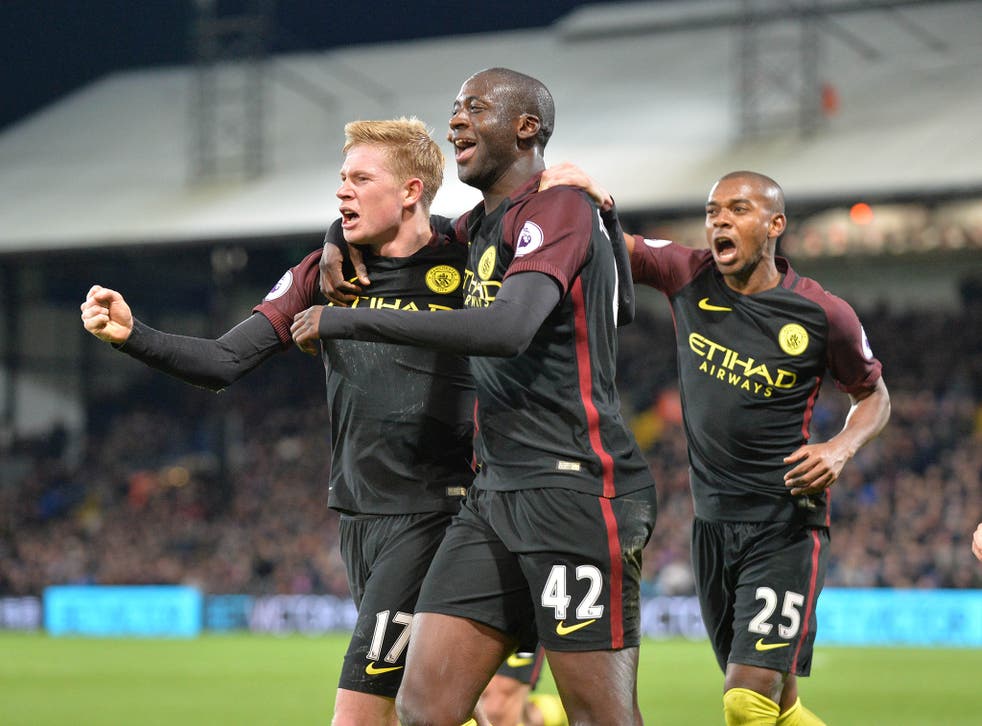 Yaya Toure had not played in the Premier League all season before this. His only Manchester City appearance had come in a meaningless stroll against Steaua Bucharest back in August. That game was Joe Hart's farewell to the club and it was fair to assume that Toure would soon go the same way.
So no-one expected this story to go like this. Pep Guardiola threw Toure back into his side at Selhurst Park. Toure rewarded him with two goals, 90 minutes, and three points that pushed City back level with Liverpool at the top of the table.
It was vintage Toure, his first league double for 18 months, a classically decisive display from one of the great match-winners of the Premier League era. It was a powerful reminder of how much Toure has to give, even now, at 33, in his seventh season in Manchester. He looked fitter and sharper than he has done for years. His relationship with the club has been fixed, for now, after he issued a much-needed apology to Pep Guardiola earlier this month. If Toure can be anywhere near this effective for what remains of this season – and of his contract – then City's chances of winning the league certainly improve.
City, it must be said, needed a bit of help here. They were ponderous in attack and sloppy in defence. Toure's winning goal came with seven minutes left. Before then City were heading for their fourth 1-1 draw in five games, all four of them in games that they should have won. They were looking like drawing this one too, a result that would have left them two points adrift of Jurgen Klopp's Liverpool, and heading to Borussia Monchengladbach this week with serious questions about the form of the team.
That trip to Germany was certainly on City's minds, and with no John Stones, Ilkay Gundogan or David Silva in the team there was an unfamiliar feel. Both Toure and Vincent Kompany were surprisingly brought back in. While they enhanced City's usable experience, they restricted City's fluidity, and there was very little of the incisive movement that Guardiola tries to drill into his players.
City were also hit when, late in the first half, Kompany had to go off injured. This was just his second league start of the season and he looked sharper than he has done for months. But he was flattened by a collision with Claudio Bravo and, despite trying to play on, did not feel like he could. This was awful luck, and nothing to do with his susceptible muscles.
But two minutes later, out of nowhere, City went 1-0 up. They moved the ball from right to left, to Sergio Aguero on the edge of the box. He found Yaya Toure, who exchanged passes with Nolito, with that famous leggy burst taking him into space. His shot deflected off James Tomkins and up into the roof of the net.
That gave City the lead at the break but they never controlled the game or looked like taking it away from Palace. Alan Pardew threw on Connor Wickham at half-time and Palace had a far more physical threat from then on. Christian Benteke forced a good save from Bravo but the next time Palace attacked they made it 1-1.
Aguero had just had a shot scooped off the line as City struggled to put the game away. Palace broke upfield, Wickham powered past Zabalet and thumped a shot at the near post. Bravo got enough of his body behind it to keep it out, but could not. It was another costly error from a player who has already made a few.
For 15 minutes, City looked like they were heading for another poor draw. They needed some magic and put on David Silva to get it. They needed an opening but few would have guessed how they found it. Palace failed to mark up a corner, so De Bruyne drove it along the ground to the near post. Toure could barely believe his luck, unmarked, in space, and he tapped the ball into the empty net.
The celebrations ended in a City fan taking his infant daughter out onto the pitch with him. The three points are vital in a title chase that was starting to falter. But they were celebrating something that could be even more important in the long term than that. Yaya Toure is back.
Join our new commenting forum
Join thought-provoking conversations, follow other Independent readers and see their replies