Dalglish tries to take heat out of trip to Old Trafford
Liverpool manager praises Ferguson and is confident Suarez can cope with hostility today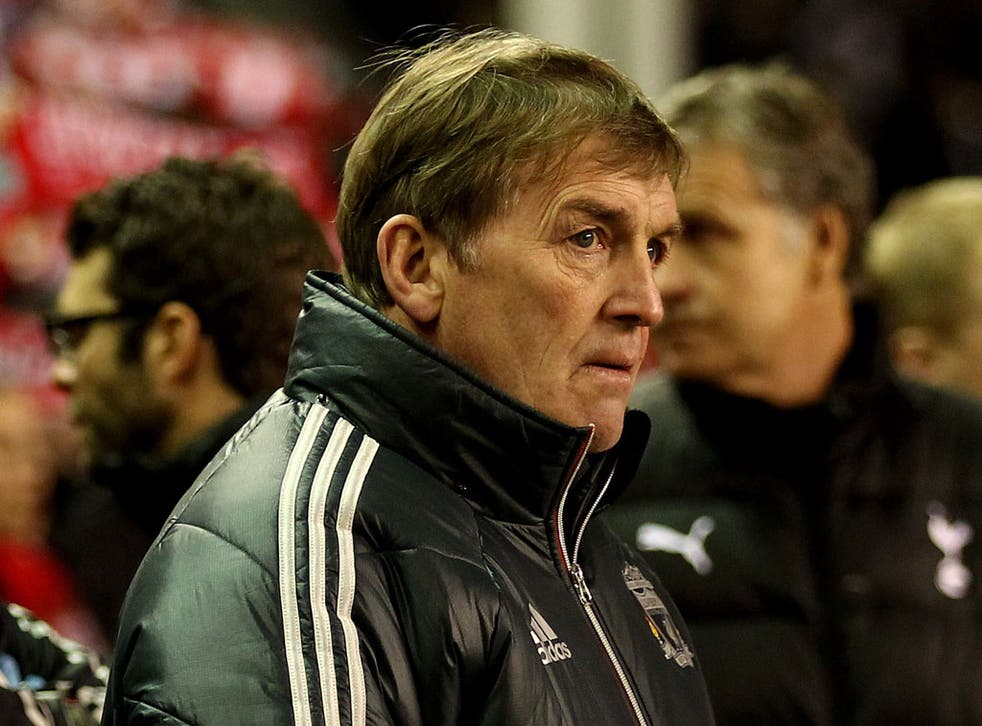 Kenny Dalglish, the Liverpool manager, has made a rare public acknowledgement of the gifts of Sir Alex Ferguson ahead of today's potentially incendiary match between their two sides at Old Trafford today.
Dalglish suggested that it is to the Manchester United manager's door that the Football Association must go first in search of a new England manager.
Dalglish's observation, delivered without the acidity which can tend to come from him before occasions like today, was: "If I was the FA I'd be looking at the one who is the most successful, who has had the most successful results with British players since the Premier League started. If he is not available they should go down the list from there. They should always start with the most successful and work their way through. Is that not logical? You'd probably get a 'no' but you have to start from there."
The compliment – in which Dalglish did not go so far as to utter Ferguson's name – was hypothetical. Neither man would contemplate such an offer. But it did reflect the fact that the relationship between the men is not as rancorous as many devotees of the notion that Liverpool v United is a game of pathological hatred would like to point out. When Dalglish came to Old Trafford in the FA Cup third-round tie that marked his return last January, Ferguson's remark to him – "Welcome back to hell" – was one of friendship. Dalglish only heard the words "welcome back" as the two managers made for their dugouts.
Privately, Ferguson has been unimpressed by Dalglish's claims that Patrice Evra was not a reliable witness in the course of the investigation which found that Luis Suarez used the world "negro" against him seven times at Anfield on 15 October. The United manager also feels that Liverpool could have appealed against the eight-game ban imposed on Suarez if they felt that the verdict was wrong.
"Well, they've said plenty, haven't they?" Ferguson said yesterday. "We've kept our counsel and it's the right thing to do in these situations. We will keep it that way too."
Though Dalglish indicated on Wednesday that Evra would shake the Uruguayan's hand today, Ferguson offered no such assurance – though he does feel that Evra was unmoved by the booing he received when the two sides met in the FA Cup at Anfield two weeks ago.
"I've not even thought about [the handshake]," Ferguson said. "It's never been an issue. We're concentrating on the game itself."
United's attempts to lower the temperature of the occasion includes the publication of a conversation between Sir Bobby Charlton and Ian Callaghan in today's match programme, in which they trace the common heritage of the two clubs.
"There was an envy when Liverpool were winning the title regularly, and then when we started to do it, another rivalry grew from that," Sir Bobby says.
"That was it," says Callaghan. "Liverpool were so successful that it did breed an envy, and then United have been fantastic and it's gone into an intense rivalry."
Ferguson may have Chris Smalling back, as well as Tom Cleverley – a likely substitute – though Nani will not have recovered from ligament damage to his foot in time to play. Dalglish has Jose Enrique back.
Dalglish acknowledged that the pressure on Suarez was greater than anything he would have faced at Old Trafford – even though abuse of the manager himself is likely today.
"[The pressure] was different in my time but I wouldn't say it was quiet," Dalglish said. "I think playing in Glasgow for Rangers or Celtic it's never quiet. You learn to handle it."
Ryan Giggs, who will be in line to make his 900th United appearance at Ajax on Thursday if he plays today, has signed another one-year deal.
Join our new commenting forum
Join thought-provoking conversations, follow other Independent readers and see their replies