Daniel Sturridge can become world class striker, just like his partner Luis Suarez, says Liverpool manager Brendan Rodgers
Sturridge has impressed since his move to Anfield and Rodgers admits his belief that the England international can be a world class striker has only been strengthen over the past year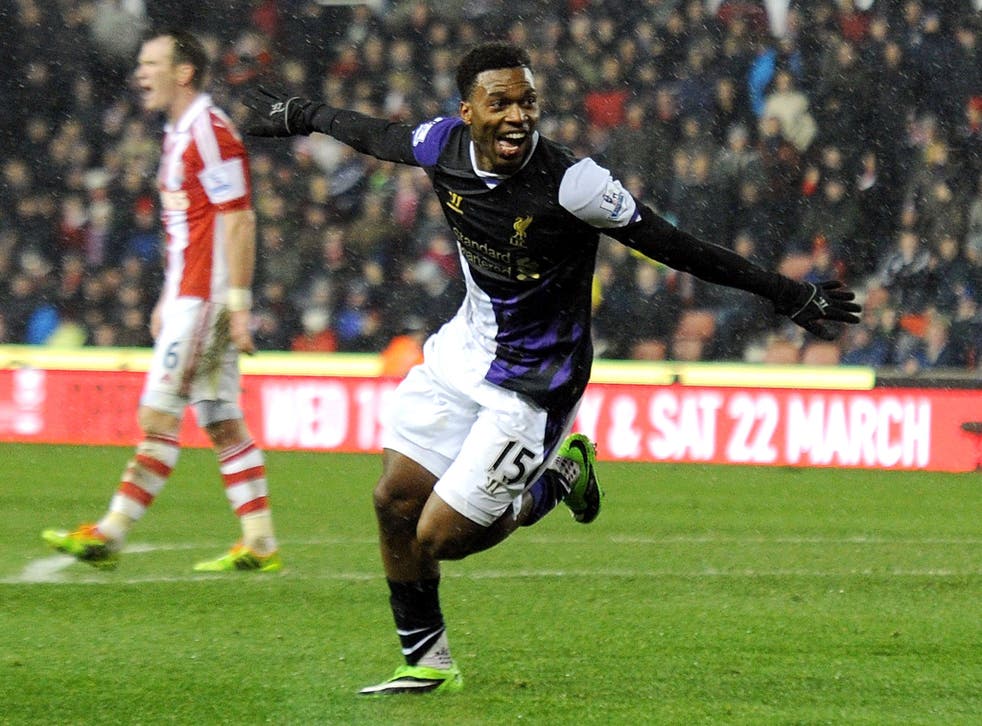 Liverpool manager Brendan Rodgers believes his side could be attacking the Barclays Premier League with two world-class strikers in the near future if Daniel Sturridge maintains his progress.
While Luis Suarez's position among the best in the game is not in doubt his partner up front still has some way to go.
Sturridge is two years younger than his Uruguayan team-mate but Rodgers believes he can reach the same levels in a similar timeframe.
"My opinion on Daniel has only been reinforced during the period I have worked with him," said Rodgers of the player he signed for £12million from Chelsea a year ago.
"Overall he has a wonderful opportunity in the next couple of years of being world class.
"He has every tool, every quality to be a world-class striker similar to what Luis Suarez is.
"We just need to get him onto the field on a regular basis and he gets a bit of luck in staying clear of injury and he can be that for sure."
Last weekend Sturridge marked his return to action after a seven-week injury lay-off with a goal in the 5-3 win at Stoke which took his personal tally to 12 for the season.
That is still 10 behind the remarkable Suarez but Rodgers believes the spell the England international had on the sidelines means he can fully attack the second half of the campaign.
"This little period out through injury has refreshed him mentally as well and he comes back for the second half of the season," he added.
"He made an immediate impact when he came on.
"That was something which was very important for us as we had someone of that talent sat on the bench who could come on and change the nature of the game."
Sturridge will be pushing for a start on Saturday at home to Aston Villa, which will be the first game at Anfield for principal owner John W Henry since he appointed Rodgers in the summer of 2012.
After a six-month adjustment period the team has been on the up ever since and Henry will be keen to witness the improvement himself as well as speaking to the manager about future plans.
"We have regular contact any way, this is nothing more than them coming over to look at the developments of the club," said the Reds boss.
"We'll go for a meal, talk about Liverpool and that will cover everything: transfers, where players are at in their development and the overall club.
"They have been brilliant from a personal level and hopefully they get their rewards over the next number of years.
"They took over a club a few years back which was in disarray in terms of ownership and stability and they were one of the main principal reasons I came to the club because of the vision they had.
"When you talk about leadership they define leadership."
Liverpool's finances received a boost after they signed a multi-million pound global partnership deal with American firm Dunkin' Donuts.
"Off the pitch I think we bat right at the top of the league in terms of our commercial activity and our performances," said managing director Ian Ayre.
"In the modern game we talk about financial fair play and the ability to operate in transfer markets and a big part of doing what we want to achieve here is generating revenue which supports what we do on the pitch."
Liverpool - January transfer targets

Show all 13
PA
Join our new commenting forum
Join thought-provoking conversations, follow other Independent readers and see their replies