Danny Ings interview: 'My aim next year – wherever I am – is to play and develop'
Danny Ings is determined to carry on his season's astonishing work and help keep Burnley in the Premier League – beyond that his goal is refreshingly simple: to improve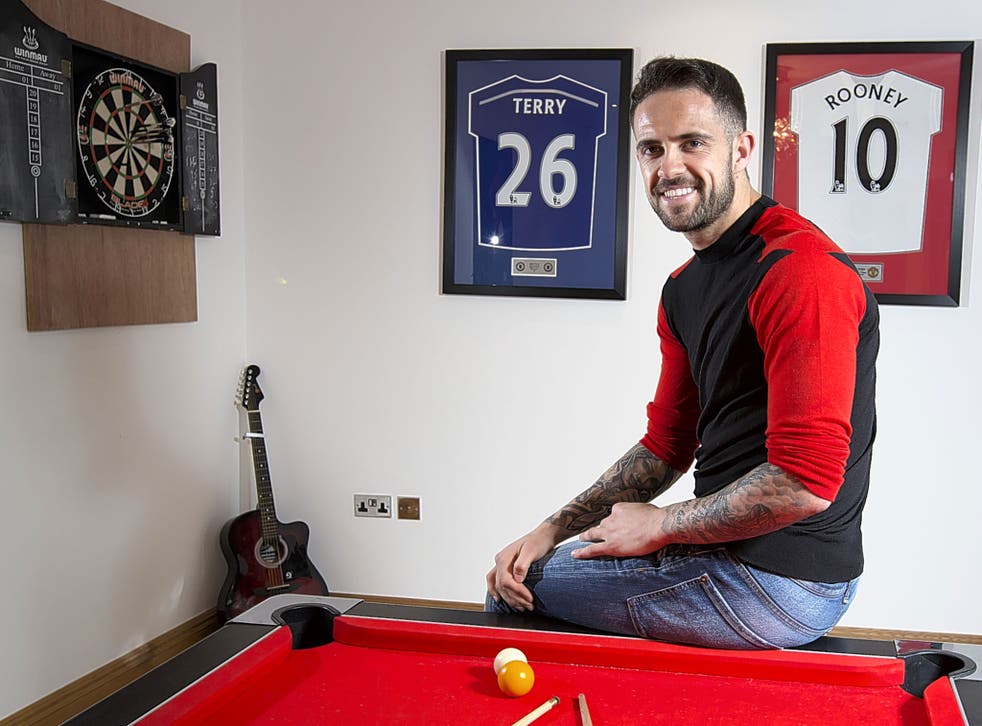 Pride of place at his home in Manchester is Danny Ings' table tennis table on which, he informs me with mock solemnity when I arrive, he has never lost. As we await the arrival of the photographer at the end of the interview I put this claim to the test and get another glimpse of the competitive edge that has taken this young footballer so far, so quickly.
It is not just the Burnley striker's fierce will to win against me, it is that he even has his own complicated version of the rules by which all challengers must abide. By the time the photographer arrives the final smash has been put away by the host and Ings is delighted that the home record remains intact.
At 22, he has come a long way from his days on loan at Dorchester Town in the Conference South, little over four years ago. He is now a Premier League striker who has scored nine goals in a Burnley team whom few gave a chance; an England Under-21s international in Gareth Southgate's plans for the European Championship in June and, most pertinently, one of the English game's most wanted this summer.
Burnley - the latest match pictures

Show all 133
Ings is out of contract with Burnley come June and it would be no exaggeration to say that there is a disorderly queue gathering to sign him. Liverpool remain favourites but Manchester United and Manchester City are both known to have registered an interest. So, too, the likes of Real Sociedad and Borussia Mönchengladbach who, on Fifa regulations, would be able to sign him for much less than the £5m-£6m compensation Burnley can expect to earn from a Premier League club.
The man himself is a strong, likeable character who had his determination honed by early knockbacks. He was rejected by Southampton at the age of 10, had an unsuccessful trial for Chelsea and then played for his dad Shayne's Sunday team Itchen Tyro in the Southampton district league through his teens until Bournemouth came knocking. His first professional deal there was a three-month contract. Effectively, he was on trial.
An outsider to the academy system of box-fresh boots and manicured pitches, he has a maturity beyond his 22 years. You might call it a steeliness to succeed. "A lot of it in England is based on size and a lot of people said to me I wouldn't get anywhere when I was young because I was little," Ings says. "I'm still not the biggest but I am not small. A lot of people turned their backs on me because I was small."
At Bournemouth he was sent on loan to Dorchester, a period that he loved for giving him an introduction to the physicality of the game. He recalls one away game when he set up a goal and, by his own admission "celebrated a bit too much with the goalscorer". "For the rest of the game I have never been kicked so much! And the ref was just letting it go as well! Playing at Dorchester was the best thing that happened to me. Not that I had a choice."
On his return, he broke into the Bournemouth first team and at the end of the 2010-11 season followed Eddie Howe to Turf Moor. By last season, he was the Championship player of the year as Burnley were promoted to the Premier League. They have struggled at times but there have also been soaring highs like the win over champions Manchester City and, for Ings personally, a goal at Old Trafford.
Burnley face Everton today knowing that they might yet pull off a remarkable season of Premier League survival under Sean Dyche, whose attitude suits Ings. The Burnley manager refuses to let the intensity drop on any day of the week and, as a result, shin pads are standard in training. Ings is on a seven-game run without a goal but throughout his career he has made a habit of proving that he will not be kept quiet for long.
"I had a long-term injury when I joined Burnley but that really matured me as a man," he says. "I had a massive setback and it took a lot of hard work in the gym to get back as strong as I was before. I made sure I worked hard so that I was even stronger. So when I went back in and got the opportunity, I was ready. I have always given myself every chance off the pitch.
"Now I am in the gym every Tuesday and Thursday: power sessions, core sessions – anything I need to do to make sure I am ready for the games. Put that with hard work, and you need some talent too – I am not one to blow my own trumpet – it can be a powerful force. Some players have the talent but they are not willing to put the hard work in and they could be a lot better than what they are.
"For me it is about marginal gains and I really look into those things that can take me to the next level. Whether I am playing sixth tier of English football or the Premier League it is the same principles. You work extremely hard and never settle for what you are."
It will be no different next season when he decides on his future. The question is inevitable and it is clear from the reply that he has given a great deal of thought to his answer. He says he made a commitment to Burnley to do everything to keep them in the Premier League this season and nothing has changed on that score. "I still have that mentality now," he says, "I have my job to do and giving my all to help the team stay in the league. Until that is finished I won't be thinking about that side of things."
But there is a decision to be made and after the last game on 24 May he will sit down with his agent and friend David Threlfall, as well as the club, to figure out his best option. How will he come to that decision? Ings is clear on his criteria. "One thing I don't want to do is go somewhere and, not rot, but all of a sudden disappear for a while. [Somewhere] you don't really get a look-in. I always back myself and no matter what step I take next I want to do well.
"One thing I do want next year no matter where I am – and I don't know where that is going to be – is to work with a manager who is going to coach me and really develop me as a player. That's all you can ask for, to learn and be the best you can be. It is important that you do get football. A lot of other things can suck you in when it comes to moves and I am sure that it has happened in the past to people. My main aim next year is, wherever I am, to play football and to enjoy it and develop.
"You don't want to have a good couple of years, come through the Championship, have a good first year in the Premier League and then not play in the Premier League for another year or so because that is a backward step. No matter what contract anyone is on it is important that you are playing football. It is a short career and you have to earn a living but at the same time playing football is the best way to get better contracts anyway. That's the way I look at things."
He also has the Under-21s Championship in the Czech Republic this summer and, as a young man who never got to represent England at junior level as a teenager, no matter what the demands of the Premier League season there is no question of him missing it. "Some people look forward to a big summer with holidays and stuff. For me there's nothing better than having more football. I am really looking forward to it. I can't wait for the tournament."
He funds the Danny Ings Disability Sports Project with his own wages to give sports opportunities to children with disabilities in the Burnley area. The impetus came after a picture at a match of him kissing a disabled boy, Joseph Skinner, on the forehead, went viral. Ings says he loves seeing the reaction of the kids and their parents at the sessions. "No matter what happens with my future," he says, "that project will always be up and running."
He is a devotee of the tattoo and more are planned. Inked on his left arm is a quotation from the former baseball player and coach Tommy Lasorda: "The difference between the impossible and the possible lies in a man's determination". It gets to the heart of the matter for a man who spent most of his teens playing with his mates in Sunday league and yet has become one of the most sought after home-grown signings of the summer.
A sunny character, Ings says he is "not bitter" about those who wrote him off but you underestimate him at your peril. "I just thought it came down to hard work and believing," he says. "A lot of people have been rejected and they just give up. I have never had that mentality. All I have ever known is football."
He's not bad at table tennis either: I only took a point off him.
Danny Ings - My other life
When I was younger I started dancing. I picked it up off a couple of mates who were body-popping. That video at Bournemouth [of him dancing in the changing room] – at the end-of-season awards they edited together a video of Bournemouth's Got Talent.
Watch the video below...
They cut in bits from the real TV judges. [As for the competition] Steve Fletcher was making himself sneeze! Lee Bradbury had a napkin trick. Jason Pearce did a little rap. [But would he introduce body-popping into a goal celebration?] No! I don't want to get told off by the gaffer.
Join our new commenting forum
Join thought-provoking conversations, follow other Independent readers and see their replies