De Gea: I've had rocky start but keep the faith
Manchester United's new No 1 admits criticism is justified but improvement is in his own hands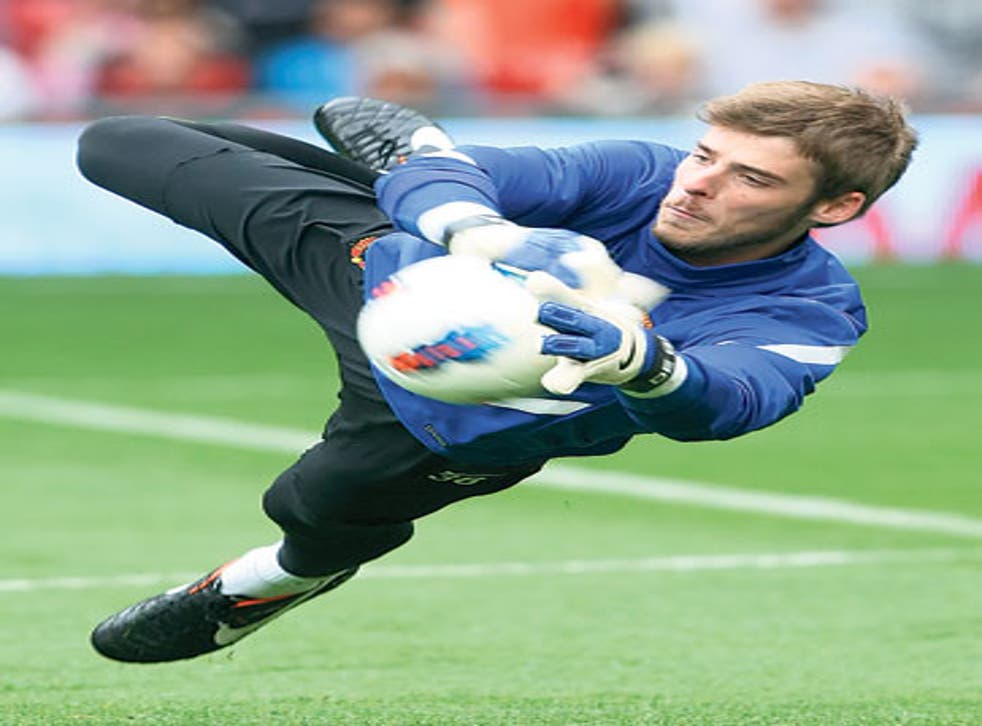 The expression David de Gea has for his prime asset is no tiemblo – "I don't panic" – and the new Manchester United goalkeeper revealed a certain sangfroid yesterday by declaring that those who have already questioned his suitability for United are quite within their rights.
The 20-year-old Spaniard's perceived fallibility from long-range shots was widely chronicled when he conceded to Manchester City's Edin Dzeko in the Community Shield at Wembley and then to West Bromwich Albion's Shane Long a week later, and he also allowed Theo Walcott's shot through his legs during the 8-2 defeat of Arsenal.
But ahead of his resumption of duties at Bolton on Sunday, De Gea told Spanish newspaper AS that he accepted the doubts. "No," he said, when it was put to him that the British press are more difficult than the Spanish. "It's normal when you make mistakes even if it is just a couple of errors. The press has a right to criticise you – and a lot more if you are a keeper. Now it is in my hands to change that criticism that I received at first and turn it into praise."
The bullishness seems out of place with a demeanour which has seemed to telegraph his inner anxieties on the field of play, especially at The Hawthorns, though those who have observed De Gea most closely always return to a quality of self-belief as a prime asset.
The beanpole goalkeeper, likened to a longaniza – a thin Spanish sausage – by Cristiano Ronaldo, does not exude the air of an individual affected by his errors, in his interview, and also discusses the importance of what he can bring to United's play beyond an ability to keep the ball out.
"I am getting better in every training session and in every game," De Gea said. "I am keeping my confidence in my ability to bring something to the goal. That is the only way I will keep growing as a keeper and have the necessary confidence to be a key player for this club. I have good people around me and we can do important things this season."
It was Liverpool's Pepe Reina who first pointed out that De Gea's capacity to "never get nervous" is his prime asset. "He has incredible self-confidence," Kenny Dalglish's keeper declared of his compatriot and it was De Gea's unshakeable belief that he would make the grade at Atletico Madrid that made him resist Abel Resino's desire to send him on loan to Wigan Athletic, when Roberto Martinez was keen to receive him in 2009.
Resino has told Four Four Two magazine in a revealing interview that it is De Gea's "security and seriousness that makes him different: the quiet confidence". The young man from Illescas – a municipality between Toledo and Madrid – is "not a 10 out of 10 in anything," Resino says. "He might be an eight out of 10 in everything. He's good in the air, judges space well and he's agile. His reflexes are good, though he is not electric. [But] it was the assuredness, security [that I liked]. It wasn't arrogance. It was conviction."
Resino, an Atletico keeper before becoming the club's coach, does not touch upon that ability to "bring something to the goal", that De Gea described. His distribution is good and his penalty save from Robin van Persie at Old Trafford bore out his reputation as a good exponent of that art. Among the spot-kicks he has stopped are one on his debut two years ago against Real Zaragoza and one in the Super Cup final against Internazionale from Diego Milito.
De Gea also acknowledged yesterday that he will be granted no acclimatisation time in Manchester. "I know we are talking about one of the biggest clubs in the world and that always brings with it pressure to get immediate results," he said. "But even so, it's logical that things are a bit different for me at first. I have new team-mates and the football is different from Spain. I have only been training here two months. I am convinced that bit by bit it will end up being easier for me. As soon as you are with [the manager] you realise what an impressive person he is."
De Gea is not expecting to displace Iker Casillas or Pepe Reina in the Spain team any time soon, observing that Spanish goalkeeping is experiencing "a great moment". He said: "You only have to look in at the four keepers [Vicente] del Bosque has – [Iker] Casillas, [Victor] Valdes, Reina, Diego Lopez." Casillas sees things differently. "We have to take care of him because he is the future," he said recently of De Gea. "He is 20 years old. He will pension us all off."
Join our new commenting forum
Join thought-provoking conversations, follow other Independent readers and see their replies