Déjà vu: Arsène Wenger plots another return for Arsenal legend Thierry Henry
Arsenal manager admits interest in re-signing record goalscorer on loan in January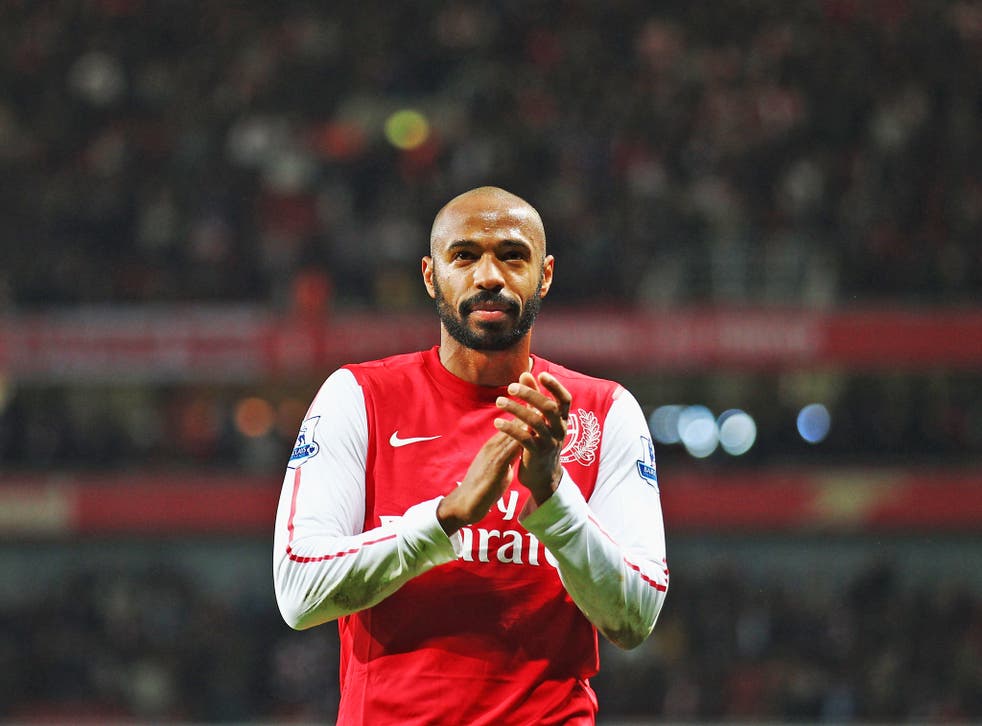 Arsène Wenger is considering another return for Arsenal legend Thierry Henry in January.
Arsenal's all-time leading goalscorer played for the Gunners during the Major League Soccer break last January, and Wenger revealed that the New York Red Bulls striker had been training at London Colney recently.
"He has been practising with us, three times," Wenger said. "They [New York] go on a tour of Venezuela for 10 days, they come back after. Will I sign him again in January? I don't know. I don't rule it out. I don't know if he would be interested. He is sharp."
Wenger said that he would decide on whether to bring Henry, 35, back "in January". The striker returned last season, making seven appearances in January and February. He scored twice: the only goal in a 1-0 FA Cup defeat of Leeds United, and an added-time winner at Sunderland in the Premier League.
Gervinho's absence at the African Cup of Nations was one of the reasons Wenger brought Henry back, and the same could be true again this year.
"I had always resisted [re-signing Henry]," Wenger explained. "Last year I did it because we lost Gervinho. It was a good connection. This year we lose Gervinho again as they are playing in the African Cup of Nations two years in a row. So we will be confronted with a shortage. Particularly if [Marouane] Chamakh should go, I cannot stand in his way. Then we will be short."
Henry is an Arsenal legend, having scored 228 goals across his two spells at the club. Last year, for Arsenal's 125th anniversary celebrations, a statue of him was unveiled outside the Emirates Stadium, an honour bestowed on only one other player, former captain Tony Adams. Henry won two Premier League titles and three FA Cups at the club.
Wenger said that his return would not only bring more to the team, but his experience would be useful for Arsenal's emerging players. "You know what he gives you," Wenger said. "He gives you hope. Especially when he comes on. That is the most important thing. He is a communicator. An extrovert. Very intelligent. He can only give good advice to players because he was in their position when he arrived here. I think now, this team has an exceptionally good character. There are not many flashy boys."
Even after everything Henry has achieved, Wenger praised him for remaining hungry for competition, comparing him to Jonny Wilkinson, the English rugby player now in France with Toulon.
"What is the most important thing it is not whether you are an extrovert but what it means to you to do well, your job. Your will to win," Wenger said. "I saw last night Wilkinson, for example, on Canal+ in France. When you see the dedication... he is not an extrovert, but when you see the dedication the top, top players show in their sport, that's what you want – multiplied by 25.'"
Arsenal have an important match, against Montpellier at home in the Champions League. If they win this evening, and Schalke beat Olympiakos then Arsenal will confirm their qualification for the last 16.
"The Schalke game, at home [when Arsenal lost 2-0], puts us under pressure to deliver against Montpellier," Wenger said.
"We cannot afford to let happen what happened against Schalke. Fortunately we had a good result on Saturday [against Tottenham] and I think that will help us going into the game. You could see before the Tottenham game that the dynamics, the confidence was better again. Hopefully that will be a good basis to build on. Circumstances went a bit for us on Saturday but what is important is to win the game and to build and lift the confidence."
"What we know is what we want," he added. "We want to win because we have a good opportunity to finish the job in qualifying tomorrow night. A win is essential of course. It could get us over the line."
Arsenal's evening may be easier thanks to the improved form of Olivier Giroud. The French centre-forward, who joined from Montpellier in the summer, has scored five goals in his last five games and seems to be well settled in English football.
"There are many factors," explained Wenger of Giroud's early woes. "The first one, I believe physically he worked very hard when he arrived here. The intensity of the games took a lot out of him. The second problem was a bit understanding with your partners. The third problem was a level of confidence. When you come to a club like Arsenal, you're surrounded by big names. It takes you a while to think 'OK I belong to this world' and he has shown that on that level he has gained a lot."
Clearly, adjusting to English football is difficult but Per Mertesacker, now in his second season at Arsenal, has achieved it and is enjoying his football.
"Yes of course I had a very difficult first season with all the settling in and the new things at Arsenal," he said yesterday. "It was quite tough for me but now I feel much more comfortable with the situation, with the season, with opponents, with our team as well, with the game we play."
Mertesacker hopes that the defeat of Spurs will help Arsenal's form in the crucial next few weeks. "We needed a great game, or a good game, to get our confidence back. We had that game on Saturday, so we have to focus now on what we have done this season. That is the main part of our game now: the team performance and the focus on our defensive level."
Join our new commenting forum
Join thought-provoking conversations, follow other Independent readers and see their replies