Dele Alli latest: Tottenham midfielder has until 6pm to answer violent conduct charge and could miss rest of the season
A potential three-match ban would see Alli miss the rest of Spurs' Premier League run-in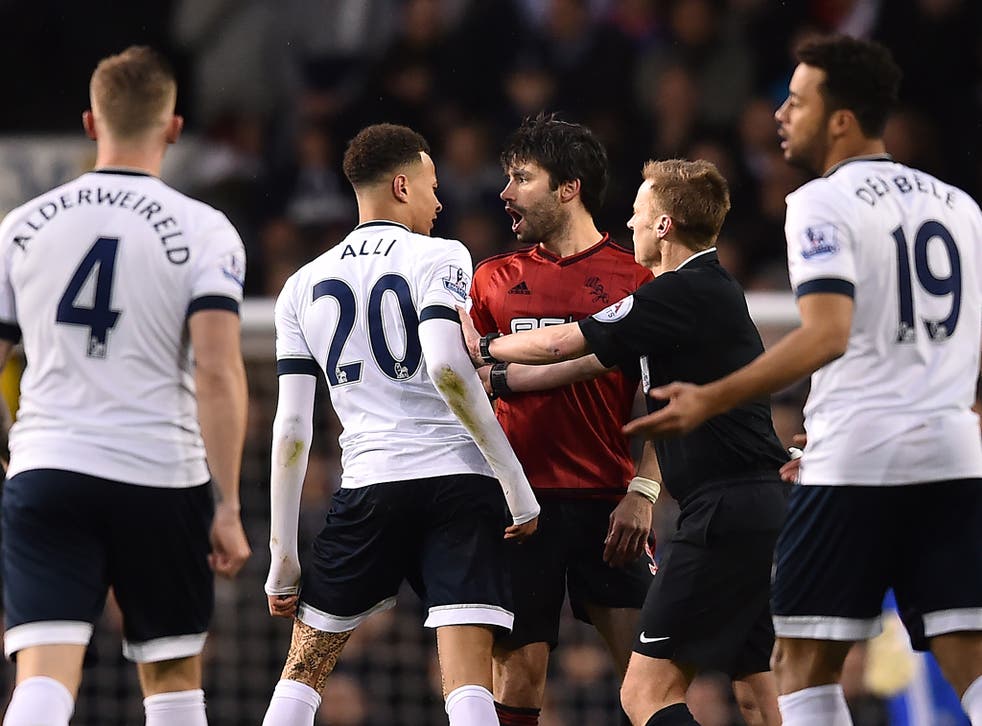 Tottenham midfielder Dele Alli has until 6pm tonight to respond to a Football Association charge of violent conduct.
Alli's charge relates to an incident with West Brom's Claudio Yacob during Monday's 1-1 draw at White Hart Lane, in which the 20-year-old England international appeared to punch his opponent in the stomach.
If found guilty, Alli could face a three-match suspension.
An FA statement on Tuesday read: "Dele Alli has been charged for an alleged act of violent conduct which was not seen by the match officials but caught on video.
"The Tottenham Hotspur midfielder was involved in an incident with West Bromwich Albion's Claudio Yacob in the 26th minute of the game last night (Monday 25 April 2016)."
A three-match ban would see Alli miss the rest of the season as Tottenham try to close a seven-point gap on Barclays Premier League leaders Leicester.
Spurs' draw against the Baggies means the Foxes need a maximum of three more points to win the title.
Alli was upended twice by Yacob early in the game and his frustration boiled over as he turned and swung an arm into the West Brom midfielder's midriff.
Referee Mike Jones did not see the incident, allowing it to be referred to a panel of three former elite referees, who can decide if it is worthy of retrospective action.
Tottenham head coach Mauricio Pochettino suggested after the match that Alli had become a target for provocation.
"I hear some comments but I have no time to see the action," Pochettino said.
"Sometimes the opponent find him and try to provoke, they know he has a strong character and may react.
"I don't know what has happened, we will see. I have nothing to comment now but Dele has a strong character if you wind him up."
PA
Join our new commenting forum
Join thought-provoking conversations, follow other Independent readers and see their replies