Steven Gerrard: Departing Liverpool legend is already plotting his Anfield return
Anfield skipper has talks with club's American chairman about his short-term and long-term future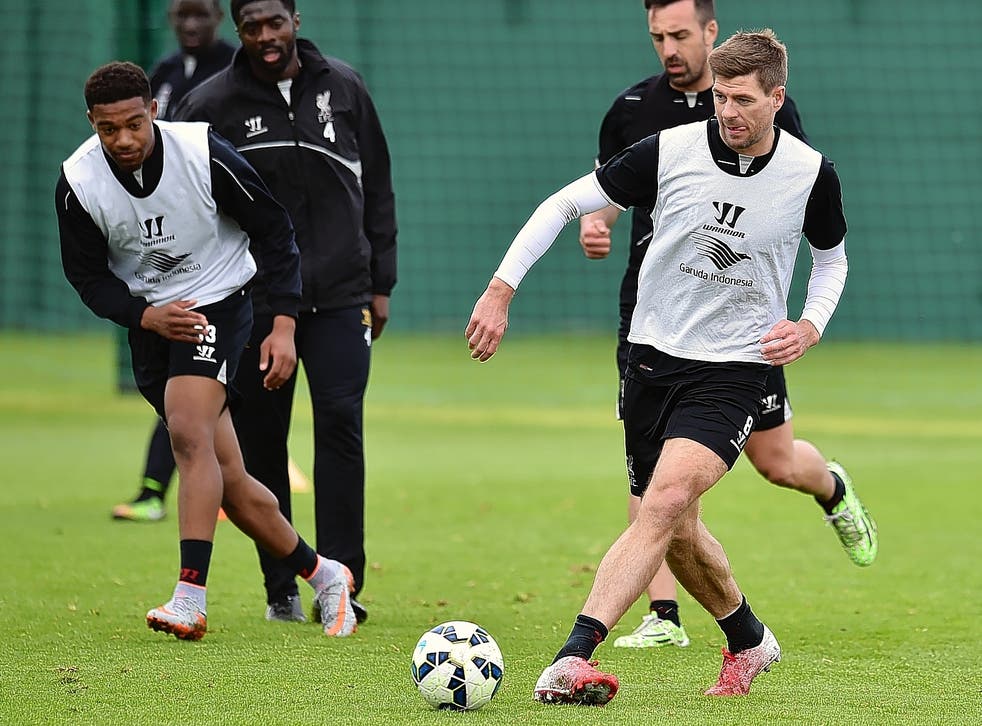 Steven Gerrard has already discussed with Liverpool's American chairman, Tom Werner, the idea of returning to Anfield and intends his departure from Merseyside to be a temporary one.
The 34-year-old will play his last Anfield game tomorrow for the club he has served for 17 years and has scored precisely the same number of goals at the stadium – 104 – as the legend he challenges for the accolade of Liverpool's greatest player of all time: Kenny Dalglish.
But Gerrard declared that he will "certainly be coming back" and Werner, who will be a near neighbour when the player moves to Los Angeles in July to begin an 18-month contract at LA Galaxy, is likely to be a key individual in helping him to chart a course beyond Major League Soccer.
"I have had a couple of brief conversations; I had a chat with Tom Werner and one recently with [manager] Brendan [Rodgers] about what I am thinking about, short-term and long-term," Gerrard said. "But there is certainly nothing in detail. I have started on the coaching ladder but we will have to wait and see."
Who could replace Steven Gerrard at Liverpool?

Show all 5
Gerrard and Werner have enjoyed a good relationship ever since the chairman and John W Henry sought the captain out at a players' lunch on their first visit to Anfield after Fenway Sports Group's acquisition of Liverpool in 2010. Gerrard has work to do on building up his coaching qualifications but Werner clearly seems to see him as someone of great value to the club in the future. Gerrard will retain his family base in Liverpool with the American move a temporary one.
Gerrard – for whom tomorrow's match against Crystal Palace will be a 353rd Anfield appearance out of 705 in all for the club – revealed that he wanted to leave while fans wished to see a little more of his contribution. "I have grown up and played alongside players like Robbie Fowler and [Jamie] Carra[gher], and we spoke about those moments a lot, about when you make the decision, when it's right. I have always agreed, especially with Jamie, that you go a touch early, when people want a tiny bit more, rather than people on the terraces or around the city saying 'you stayed too long' and they're trying to kick you out of the door."
Gerrard declared that Liverpool need a proven, ready-made striker capable of scoring a substantial number of Premier League goals next season, rather than another of the individuals bought on the basis of their potential.
"To get into the top four, you are going to need striker who can score 25-30 goals a season. That is just the way it is," he said. "That is where we came up short this season. I obviously don't want to stand on the owners or Brendan's toes – I am just speaking as a fan and having an opinion on where Liverpool are. That is what we need to do.
"We need to bring players in those forward positions that can score 25-30 goals and you will see Liverpool do an awful lot better next season."
Gerrard, who has only the visit to Stoke City left after Saturday's valedictory home game, used his last press conference yesterday to tell Raheem Sterling that his career would be best served by staying to play under the guidance of Rodgers.
"Of course I'm biased but my advice to Raheem now is you have a manager who will believe in you and you can learn from and there is no one better than Brendan Rodgers for that," he said. "He should sign a new deal here."
He said that he did not know whether he would find the MLS to be the right level of football for himself.
"We'll have to wait and see," he said. "I think there are going to be some challenges ahead as far travelling, settling in to a new country and playing in a new league are concerned. I think the level is right for me where I am now. I'm 35 in a couple of weeks and I'm not sure how much more I could give the club at the level I'd like to give it."
Join our new commenting forum
Join thought-provoking conversations, follow other Independent readers and see their replies