Di Canio looks to be losing the support of Sunderland players already
Sunderland manager's public rant might please fans but the Italian is playing high-risk game
Steve Tongue
Sunday 01 September 2013 22:16 Comments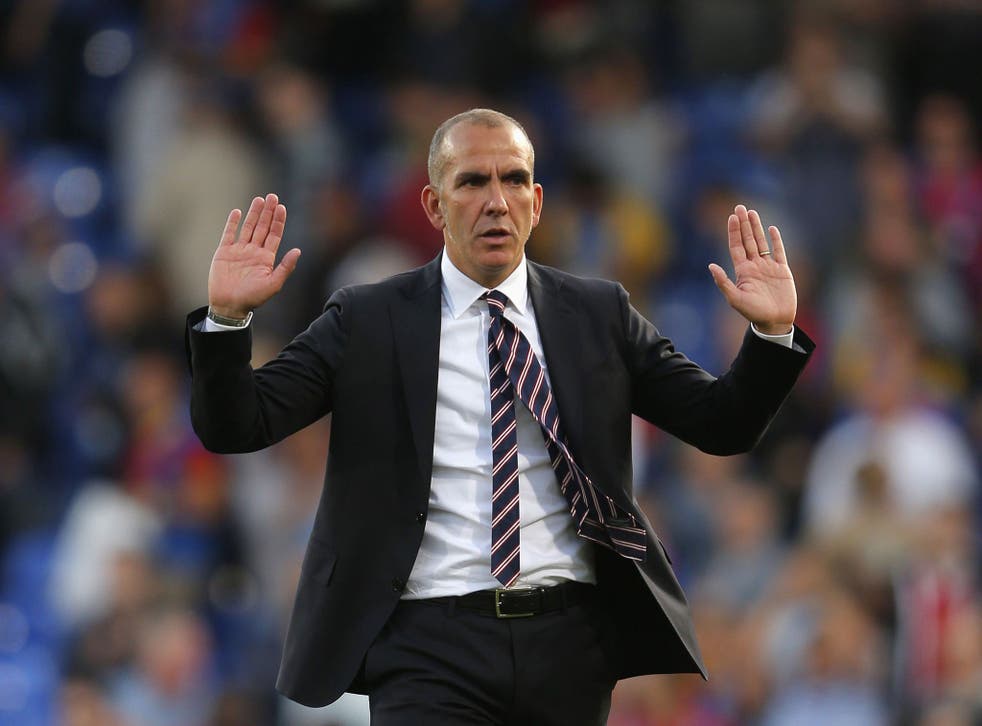 Publicly criticising players goes down better with supporters than in the dressing room, which is a risk that Paolo Di Canio has always been prepared to take during his short but ever lively managerial career. At Swindon he substituted a goalkeeper after 21 minutes and called him "the worst professional I've ever seen". Having labelled some of the League Two squad "arrogant and ignorant" he then claimed to have found worse ones at Sunderland.
After Saturday's 3-1 defeat at Crystal Palace, the feisty Italian was at it again. His captain John O'Shea's error, which led to a penalty, a red card and the home team's crucial second goal was "absolutely poor and not acceptable". The Korean striker Ji Dong-won was singled out for not throwing himself at a cross and was taken off at half-time; Connor Wickham, previously derided as a "playboy model" who might need a slap, received another verbal one after following two goals against MK Dons in midweek with a feeble performance. "After one and a half goals against a League One side [he] is probably over the moon." With others "there is not the right desire, and I cannot change the heart of my players".
What Di Canio can do, and has, is change the players themselves. A dozen new ones have arrived from a whole range of nationalities but the manager was still lamenting a lack of options from the substitutes' bench. It was fortunate that sitting there was Steven Fletcher, back unexpectedly soon after injuring ankle ligaments playing for Scotland last March. He replaced Ji and was involved in setting up and then finishing off one of the team's few coherent moves, bringing an equalising goal before O'Shea's aberration.
The captain apologised to his team-mates straight after the game, which defused Di Canio's anger but did not prevent the subsequent outbursts against O'Shea and other individuals in a series of media interviews. In the television studios, old pros opined that such comments should be confined to the dressing room. On the fans' forums there was mixed reaction but no great sympathy for players who had already tested supporters' patience last season, when finishing three points above relegation.
After taking over from Martin O'Neill in March, Di Canio may briefly have become a hero by winning his second match 3-0 at Newcastle, but his record is now two victories in 10 Premier League games, with a total of nine points – relegation form, as this morning's position of bottom but one in the table confirms.
He claimed that Palace created few chances, which was cheeky, given that the home side had three times as many shots on target as his own team's two while scoring their "three very pathetic goals". Moreover, on an alarming number of occasions Ian Holloway's players burst unimpeded through the centre with options on either side of them; Seb Larsson and David Vaughan in central midfield did not look the players to stop them.
Nor does Ki Sung-yueng, who has been brought in from Swansea City on a season's loan. Fletcher and the injured Jerzy Altidore should soon provide more of a threat in attack but Di Canio wants even more recruits and Sunderland will have to find some backbone from somewhere, given their forthcoming fixtures.
Their next home games are against Arsenal, Liverpool, Manchester United, Newcastle, Manchester City, Chelsea and Tottenham. If the away matches look less taxing, they will be unrewarding unless there is an improvement on this performance.
"Why can't we win, especially at home in front of our fans?" Di Canio asked. "They are crucial. If I think I will not have a chance to beat Arsenal at home or West Bromwich Albion away, Liverpool or Manchester United at home, it is better that I retire from being a manager. We have the ability and quality to beat any side." The away section at Selhurst cannot have been so sure.
Register for free to continue reading
Registration is a free and easy way to support our truly independent journalism
By registering, you will also enjoy limited access to Premium articles, exclusive newsletters, commenting, and virtual events with our leading journalists
Already have an account? sign in
Join our new commenting forum
Join thought-provoking conversations, follow other Independent readers and see their replies