Eden Hazard: 'I play like I played in my garden when I was young,' says the Chelsea star
Hazard also hailed Cesc Fabregas who 'knows everything' about football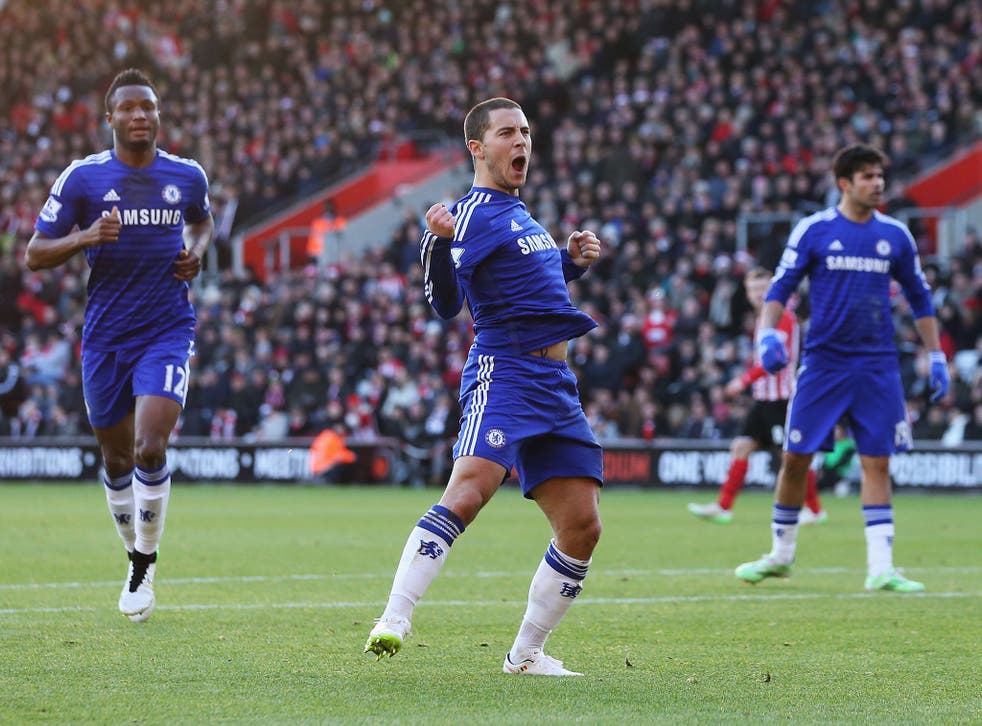 Premier League leading Chelsea may well be a team full of stars, but there is one player manager Jose Mourinho relies on more than any other when the going gets tough: Eden Hazard.
The Belgian winger is Chelsea's X-factor and although new boys Cesc Fabregas and Diego Costa have helped transform the Blues into an attacking powerhouse this season, Hazard is still their most potent attacking threat.
PFA Young Player of the Year and Chelsea Player of the Year last season, the creative burden has been lifted off of Hazard's shoulders this season, making him even more deadly. He has 11 goals and six assists in 28 matches already this season after managing 18 and 10 in 48 matches in all competitions last season.
Hazard is also the most fouled player in the Premier League having been chopped down 65 times this season, Raheem Sterling is second with 56 and no other player has been fouled more than 45 times. It's something the 24-year-old takes in his stride.
"This is my game," he told Chelsea magazine. "I like to have the ball at my feet and to create something with a pass, a dribble, a shot. I'm an offensive player and it's always important for me to make a good choice, a good pass, in the final third. The decisive moments happen in the final third."
Hazard, a laid-back character, says he feels no pressure being Chelsea's star and is not interested in individual honours or chasing statistics. He just wants to win.
"I know I am the kind of player who can do something and I try to in every game, but I don't feel pressure – I know that sometimes you can play good and sometimes you can play a bad game, but this is football. I know that in some games I will have one, two or three opponents marking me, but I try to change things in the game with a pass or a dribble."
Hazard also says he hasn't changed his style since coming to England from Lille for £32million in 2012.
"No, I play like I played in my garden when I was young," he said. "I don't find any difference between France and England, other than it is maybe a little more physical. It's still football. In France, you can play against a big team with a physical attitude and in England it's the same. I just try to enjoy being on the pitch."
Hazard has also been linked with a move back to France in the past, with Paris Saint-Germain often used as the most likely destination, but he insists he is happy in west London.
Swansea 0 Chelsea 5 player ratings

Show all 24
"It's really good here. I like this city, my team-mates are very good, I like everybody here – the staff, the medical department, everybody. It has been the same since I arrived here in 2012, it's a very good club to be at. When you play for Chelsea, you play for one of the biggest clubs in the world and that is what everyone wants to do in their profession – be at the top.
"The atmosphere is very good in all the stadiums here, not only the atmosphere around the stadium, but also on the pitch – it's very good."
Hazard also had a word for his new team-mate Cesc Fabregas, who has been superb since moving from Barcelona.
"With Cesc, you don't need to work for years together, we just needed one game one training session and we knew each other," explains Hazard. "It's a pleasure to play with him because he knows everything about football. He's a brain – you can see that because [at the time of writing] he has 14 assists in the league already, in January. He's very good and he has the same vision as me, so I like playing with him.
"I have a good feeling with all the other offensive players here. The way the team plays is very good for us to find space, to find the solution, and between my team-mates and me there is a very good connection."
On Chelsea's chances this season he said the Blues have to take it "game after game" but are desperate to win a first league title since 2010.
"We made a good start to the season, in the Christmas period we lost a few points, but we are still in a good position to finish top, which is what we want.
"We are a big team and we aim to finish first. We lost too many important games last season. We want more this time, we want to win."
The latest edition of the official Chelsea magazine is on sale now. Download the digital version to view on your tablet here
Join our new commenting forum
Join thought-provoking conversations, follow other Independent readers and see their replies