Eden Hazard: It was sad Roberto Di Matteo went - but that's football
Eden Hazard is happy with his start at Chelsea but admits he was sorry to see the manager who signed him sacked so soon, he tells Sam Wallace in his first English newspaper interview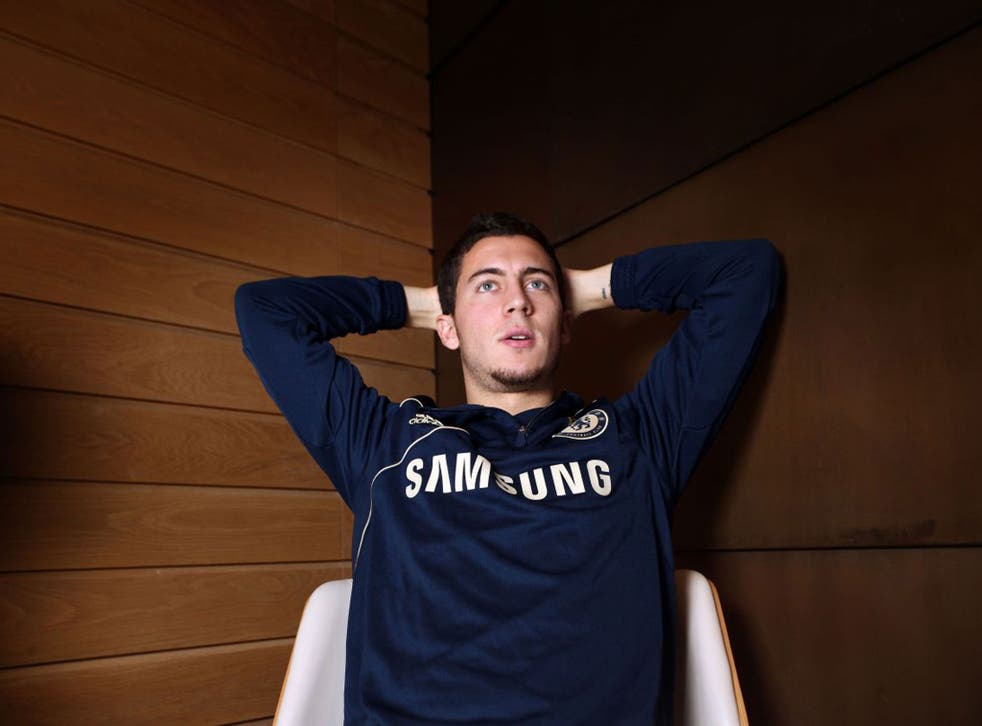 Ever since he was four years old, playing in a team of children twice his age, Eden Hazard has been marked out as a prodigy and the pressure has been there to deliver, to achieve and to win. If anyone should be cut out for life at Chelsea, with all the unique demands it makes of players, then it is the 21-year-old attacker who cost £32m this summer.
He arrived as one of the hottest properties in European football who, at the age of 21, had already conquered the French game. At the club's Cobham training ground he politely put me right when I was one short in the number of individual awards he won at Lille in Ligue 1. For the record he was the league's young player of the season twice; he won the player of the season twice, and he was the youngest ever to win the second of those two awards.
He has given himself six months at Chelsea before his first English newspaper interview, but already he is on his second manager. Two days before we met the team tumbled out the Champions League, particularly significant for Hazard given that he declared his intention to come to the club this summer with the tweet "I'm signing for the Champions League winners". There can be little doubt that it has been one hell of an introduction to life at Stamford Bridge.
What strikes you first about Hazard is that he is small, just 5ft 8in, and slight - as befits the new breed of Chelsea attacker. But he is durable too. Only Fernando Torres of the club's outfield players has spent more time on the pitch this season. After this weekend's game away at Sunderland, the Chelsea plane heads straight to Japan for the Club World Cup in what will be a frantic December that will encompass, in all likelihood, nine games.
Even by Chelsea's standards it has been a crazy five months, although Hazard says that he is taking it in his stride. The manager who he regards as having signed him at the club has gone but Hazard does not pretend that life at Chelsea came as a complete surprise.
"Look, I knew before I came here where I was "putting my feet" and the sort of club I was coming to. I knew that Chelsea was a club that changed its manager reasonably often. Obviously I didn't intend it to be that quick because [Roberto] Di Matteo was the person who signed me and I was looking forward to a relationship and working with him for some time. But, I don't have any regrets.
"We have a new manager now and again it is about stressing we must try to get as high as we can up the table, go as far as we can in the cups, play well and win as many trophies as we can.
"I think it's the first time it has happened to me in my career when a manager has gone. It's never easy. It's something that is part of football life. We have to put our disappointment to one side. Although I was sorry because he was the manager who signed me.
"Again it goes back to it being part of football life. It is natural. You question yourself all the time as a footballer. You have to focus on the positives. It's the manager who picks the side but it is the players who are out on the field, so in a way he depends on us a little bit.
"You think 'Oh if that chance had gone in, or if not had scuffed that shot, he might have still been in a job'. So you do feel that responsibility but you have to check yourself and say 'This is football'. And it is a case of starting from zero and getting on with things."
That said, Hazard was in no doubt that Chelsea were the right club for him despite the competing interest. Arsene Wenger wanted him. Manchester City were very interested. Zinedine Zidane said he would be ideal for Real Madrid. But the boy who comes from the small town of Braine-le-Comte, south of Brussels and near to Lille over the French border, was sure that it should be Chelsea.
"Out of all the clubs who were interested I got the feeling that deep down Chelsea showed that they really wanted me. There were lots of reasons I came to Chelsea. They showed a real desire to get me to come here. I didn't have to think about it too much. On top of that I was aware London is a nice place to come. But the main thing has been to do well and I feel like I have. Hopefully I can repay that trust."
His transfer saga was played out on Twitter with Hazard promising to tell his followers first which of his many suitors he would pick, a deal that he kept - beating both Chelsea and Lille's announcement by days. "You try to be part of the age in which you live. Twitter is the big thing at the moment. I have noticed I might have started a bit of a trend because other players are doing the same. I just thought it was the thing to do, a modern thing to do."
He played in the Champions League for Lille last season - after their league and cup double in the 2010-2011 season - and did not make it past the group stages. This year he had hoped, not unreasonably, that he would be going further in the competition. But he is brisk about the team's exit from - "we can play in it again next year" - and more interested in the new Chelsea of which he is a part with the likes of Juan Mata, Oscar and Victor Moses.
"Quite a few of the players have gone. There are one or two more experienced players in the squad but, yeah, it is almost like we are trying to bring something new. It's a new wave of players who have come in. We are trying to bring our youth." He pauses for a moment to find the right phrase to explain to our French interpreter, Phil. "The word in French is "la folie", not craziness, but a spark, something different," Hazard says. "With that same aim of keep Chelsea challenging at the top and winning."
My Other Life: Food
I love cooking. There is nothing I like better than going home and cooking my family a nice meal. Anything with pasta! Pasta with butter! I have a good repertoire and I can do quite a few different dishes. Sometimes they work out and sometimes not. Obviously we are also well known for beer in Belgium. But I'm a footballer. I don't drink beer.
Eden Hazard: My family would make a great five-a-side team
The Chelsea forward discusses his footballing background, including his mum who played while pregnant with Eden. Click here for more.
Eden Hazard was supporting the Chelsea Foundation's Soccer Schools which are running throughout Surrey, Berkshire, Hampshire, Dorset, Sussex & Kent over the festive period. The Chelsea Foundation uses the power of sport to provide coaching, health and social inclusion programmes throughout the UK. www.chelseafc.com/foundation
Join our new commenting forum
Join thought-provoking conversations, follow other Independent readers and see their replies