Electric Aguero lights up City as Swansea debut ends on dim note
Manchester City 4 Swansea City 0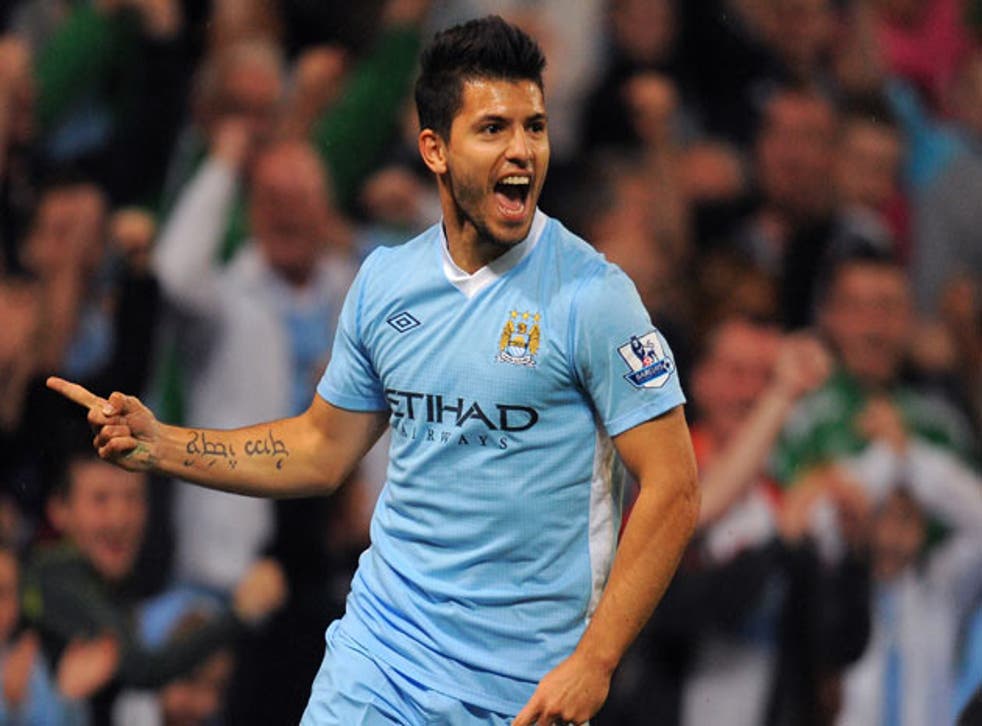 His grandparents always thought he looked like a 1970s Japanese cartoon character but the Sergio Aguero who announced his arrival in Manchester last night looked slightly more three dimensional than that.
When City learned that Atletico Madrid's board were not prepared to risk the ignominy of selling the 23-year-old striker to neighbours Real this summer, they signed him as a security policy because of an acceptance at the highest level of the club that Carlos Tevez will soon be gone and that Mario Balotelli could be here for anything between six months and five years. But there was nothing makeshift about the instant impact he made. By his 12th minute on the field after coming on as a second-half substitute, the Argentine – who wears the nickname "Kun" on his shirt in recognition of that cartoon character Kun Kun so enjoyed by the grandparents – had scored his first Premier League goal and displayed some remarkable strength of mind and muscle to set up another. Any bold judgments just yet are premature – and Swansea City will not be Roberto Mancini's greatest preoccupation this season – but for just a moment last night that miasma of worry about Tevez which has enveloped this club for over a year seemed to lift.
For a time, it had seemed that the night would be about another new arrival. The team that the Western Mail enthusiastically described this spring as "Swanselona" passed the ball an average of 526 times per match in the last Championship campaign, a statistic which makes Arsenal's 428 passes per game in the same season feel rather route one, and carrying the Welsh flag into the Premier League for the first time evidently is not going to change that. We now know that the next nine months will acquaint us with daffodil hats, Men of Harlech and a team kitted out like Real Madrid who are helped to play like Barcelona by a 5ft 5in midfielder, Leon Britton, who played a huge hand in saving them from relegation to the non-League, only eight years ago.
For the first 15 minutes or so, this form of fantasy football flourished as a side collectively worth £25m – yes, £13m less than Aguero – strolled around enjoying 69 per cent of the ball. But when Yaya Touré was re-stationed higher up the pitch after half an hour to stop Swansea playing out from defence, a light went out, their possession vanished and the reality of the Premier League bit.
David Silva, drifting mercurially across the front like, hit the bar and could have scored three. Edin Dzeko rightfully claimed a penalty when Ashley Williams' block cannoned into his own upheld hand. It took three breathless saves from Michel Vorm, the £1.5m goalkeeper the Swansea manager, Brendan Rodgers, signed from Utrecht five days ago, to keep the game alive and he was nowhere near the shot Gareth Barry piled against the bar. All that, before half time.
The challenge for Rodgers is to find a defence which can ensure that his passing side's fate is that of Fulham, who arrived in the top flight to play in 2001 – rather than Blackpool or Burnley. The defence certainly looks breakable. When Swansea commendably resolved to do more than survive – coming out of defence early in the second half as Stephen Dobbie's counter attack forced the night's first work out of City keeper Joe Hart, they found themselves stretched unsustainably. The indefatigable Britton ventured into similar territory, Silva won their pocket-sized tussle, raced free into 30 yards of vacant space and supplied Adam Johnson for a cross which Vorm should have held but could only parry for Dzeko to tap home.
Aguero arrived within seconds and rapidly shifting the narrative of the night onto himself. Neither Vorm nor his defence coped well with the ball Micah Richards levelled low for the Argentine to slide home. Williams, a tower of strength in last season's Championship, was toppled next. Dzeko guided a ball up over his head which Aguero revealed great strength to lift over Vorm, then send it back from an unfeasible height and angle on the byline for Silva to clip in City's third. Aguero had already made his point when the goal which will alert the ranks of Premier League managers was unleashed with his right instep and swerved on its way past the Netherlands No 2 goalkeeper in added time.
It was a brutal welcome for Swansea but one, more significantly, suggesting City really can push Manchester United harder than any other in the months ahead. For a player who broke his father-in-law Diego Maradona's record for being the youngest player ever to play in Argentina's top-flight when making his debut for Independiente – aged just 15 years and 35 days – last night's contribution will be viewed in broad perspective. But for Mancini it offers the promise of something very substantial.
Manchester City (4-3-3): Hart; Richards, Kompany, Lescott, Clichy; Y Touré, Barry, De Jong; Silva(Milner, 82), Dzeko (Aguero, 59), A Johnson (Savic, 74). Substitutes not used: Taylor (gk), Zabaleta,Kolarov, Balotelli.
Swansea City (4-2-3-1): Vorm; Rangel, Caulker, Williams, Tate; Agustien, Britton (Allen, 65); Dyer (LIta, 81), Dobbie (Routledge, 65), Sinclair; Graham. Substitutes not used: Orlandi (gk), Moore, Moreira, Gower.
Referee M Dean (Wirral).
Man of the match: Silva. Match rating: 8/10.
Attendance: 46,802
Join our new commenting forum
Join thought-provoking conversations, follow other Independent readers and see their replies