Eva Carneiro latest: Chelsea doctor who has been demoted by Jose Mourinho was summoned to the pitch by referee Michael Oliver
Carneiro had little choice but to enter the field to treat Hazard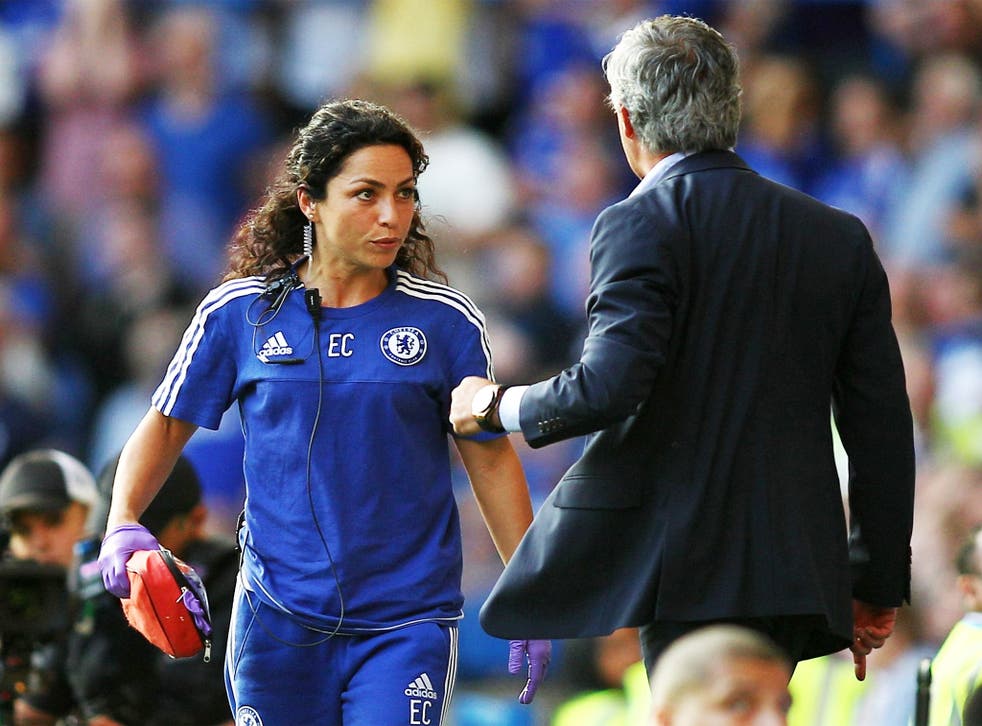 The Chelsea doctor Eva Carneiro, who has been stripped of her first team duties by Jose Mourinho, was twice beckoned onto the pitch on Saturday by referee Michael Oliver to treat Eden Hazard ahead of the incident which infuriated the Chelsea manager.
Carneiro was told on Tuesday that she would no longer be Chelsea's on-field doctor on matchdays after the incident in which she and head physiotherapist Jon Fearn ran on to treat Hazard in the final minutes of the 2-2 draw with Swansea on Saturday – against Mourinho's wishes.
Yet footage shows that in the moments before the Chelsea medical team entered the field of play the referee Oliver twice turned to the bench after Hazard went down, following a challenge from Gylfi Sigurdsson, and signalled for the pair to come on. If Carneiro was to take her case further then Oliver's intervention in the sequence of events would be a powerful piece of evidence on her behalf.
Under the General Medical Council good medical practice guidelines, Carneiro would have been obliged to enter the pitch when referee Oliver called her on – regardless of whether Mourinho wanted her to treat the player or not. Ignoring that request would put her in breach of one of the GMC's first tenets under the "safety and quality" responsibilities.
Doctors are advised that they are obliged by the GMC to "take prompt action if you think that patient safety, dignity or comfort is being compromised". As medical care providers, Carneiro and Fearn are required to put the principles of the GMC above the wishes of their employer.
There have been GMC punishments in the past for sports medics who have failed to maintain the standards expected. In rugby union's "Bloodgate" scandal of 2009, the Harlequins club doctor Wendy Chapman was suspended by the GMC for cutting the lip of winger Tom Williams during a Heineken Cup to disguise his use of a fake blood capsule which allowed his team to make a tactical substitution.
Chelsea 2 Swansea 2 player ratings

Show all 27
Mourinho reacted furiously to his medical team treating Hazard and thus necessitating the player's withdrawal for the next phase of the game. He criticised Carneiro and Fearn afterwards for failing to "understand the game", but the situation escalated on Tuesday when Carneiro was told she would no longer serve as the matchday doctor, nor would she travel with the team or even work with them during training sessions on the pitches at Cobham.
The club have yet to finalise who will take Carneiro's place as the team doctor at the Etihad Stadium for the game against Manchester City on Sunday. Under the Premier League regulations clubs are obliged to have a first team doctor and senior physiotherapist on the bench at all times.
Join our new commenting forum
Join thought-provoking conversations, follow other Independent readers and see their replies