Eva Carneiro: Video emerges showing full extent of Jose Mourinho's angry tirade against Chelsea doctor and physio Jon Fearn
Mourinho will be asked about his decision at Friday press conference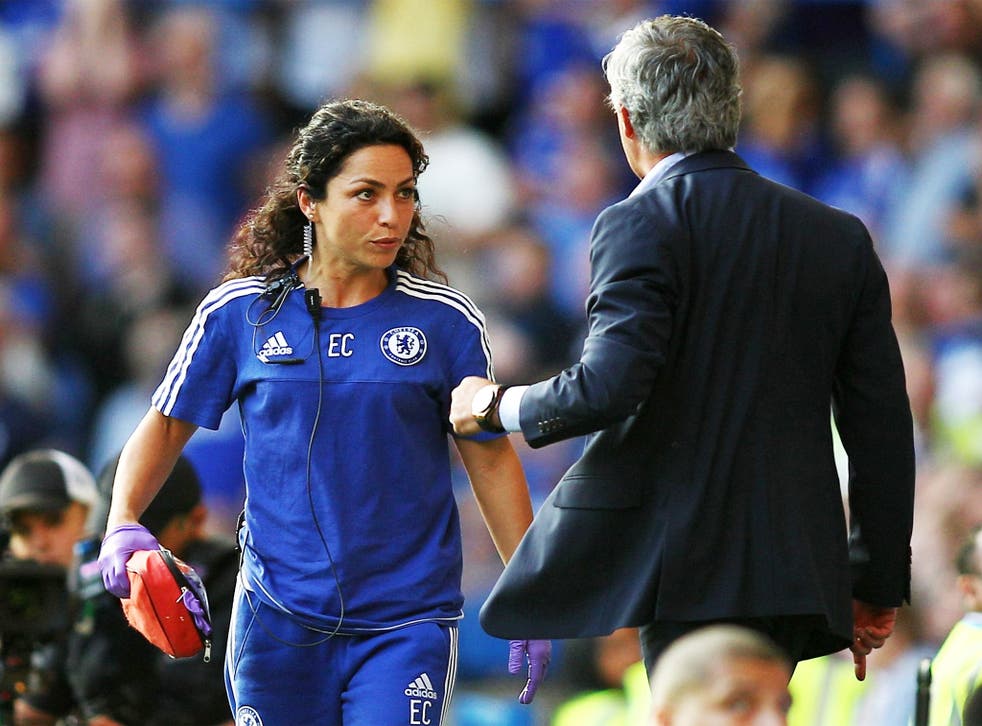 A fuller extent of Jose Mourinho's angry exchange with Eva Carneiro on Saturday emerged today, with the footage from Sky Sports showing that the Chelsea doctor responded more than once to the aggressive admonishment from the club's manager.
The broadcaster also released the footage of the aftermath of the foul on Eden Hazard by Gylfi Sigurdsson in the 2-2 draw with Swansea which precipitated the argument. As reported by The Independent, the match referee Michael Oliver can be seen twice indicating to the Chelsea medical team to come onto the pitch and treat the winger.
Had Carneiro and head physiotherapist Jon Fearn not responded to the referee's signal, they could have been in breach of General Medical Council guidelines on patient care. As things stand, Carneiro will not be on the bench for the game against Manchester City on Sunday and there is doubt as to whether she will continue in her much reduced role at the club, restricted to the medical department inside the training ground at Cobham.
The club have refused to comment on Carneiro's current status and it is unclear whether she has returned to Cobham since the decision was made about the restriction of her duties. Her response in the footage released by Sky Sports demonstrates that she in unafraid of expressing her point of view to Mourinho.
Tomorrow, Mourinho will be asked about his decision to remove Carneiro from frontline duties, described on Wednesday as "unjust in the extreme" by her fellow Premier League doctors, when he speaks at lunchtime at his weekly press conference at Cobham.
The footage from the touchline released by Sky Sports shows a furious Mourinho walking across the opposition technical area to confront first Carneiro and then Fearn in the aftermath of the Hazard incident. On three occasions, Carneiro responds to him. Fearn, by contrast, says nothing. Mourinho and Carneiro are understood to have had differences in the past but the Chelsea manager had been supportive of his medical department in the few days before the game on Saturday.
Chelsea 2 Swansea 2 player ratings

Show all 27
The condemnation of Chelsea and Mourinho's demotion of Carneiro has been led by the medical bodies most closely affiliated to the medical professionals who work in elite sport. The Premier League doctors' group and the Football Medical Association have both criticised Mourinho for his decision on Carneiro. Today, the Faculty of Sport and Exercise Medicine (FSEM), which oversees training and training for sports medicine, said that Carneiro should not have restrictions placed upon her work simply because of her treating a patient.
In a statement on Carneiro's response to Hazard on Saturday, the FSEM said: "A sport and exercise medicine (SEM) doctors' duty is to the health and medical welfare of his/her athlete at all times and a doctor must be allowed to make a proper evaluation of the medical injury.
"The SEM doctor's duty to the health and welfare of the athlete should be determined on clinical grounds and not be influenced by third parties such as coaches and management. A doctor's position should not be subject to restrictions following the care of an athlete, provided the doctor has acted appropriately and in line with the GMC and FSEM code of practice."
Under its code, the FSEM says that their should be no interference in a doctor's decisions by a third party. "Decisions on fitness of a patient who is a professional sportsperson to perform physical activity should be determined on clinical grounds and should not under most circumstances be influenced by third parties such as coaches, management, or family members of the patient. It is accepted that coaches, management and family have an influence with the patient but the Doctor must always act in the best medical interests of the patient."
Join our new commenting forum
Join thought-provoking conversations, follow other Independent readers and see their replies