Everton's 'family' feud over lack of funding in transfers and Goodison Park
Chairman Bill Kenwright may love the club but he faces a growing protest movement over his inability to replace or rebuild Goodison or invest in the team. Simon Hart reports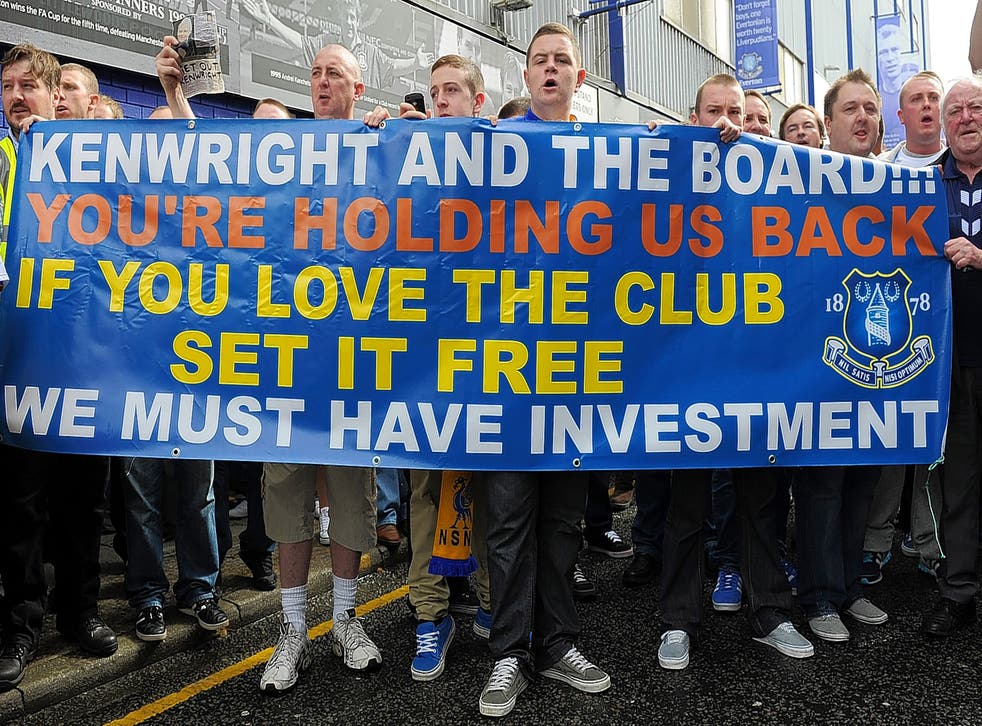 There was a time not so long ago when the visit of Manchester City to Goodison Park would find the old ground united in defiance. A mixture of simmering resentment over the Joleon Lescott transfer saga and the fact City's Arab billions had reinforced the glass ceiling above the heads of David Moyes' side ensured a fired-up Everton inflicted four straight home wins over City up until the Scot's departure. When Manuel Pellegrini's men turn up at Goodison on Sunday, they may find a more divided mood. A plane will circle above the stadium, just as when Everton visited St Mary's last week, trailing a banner calling on chairman Bill Kenwright and his board to step aside. Many inside Goodison will disagree with the stunt, but others will understand the sentiment.
For football followers beyond Merseyside, criticism of Kenwright may be hard to fathom. In the era of Roman Abramovich and Mike Ashley, he is a chairman of the old school, the boyhood fan with an emotional connection with his club, the self-styled "People's Club", with its award-winning community programmes and a team who finished fifth in the Premier League 15 months ago. In a Premier League fan survey a few years ago, more fans of Everton than any other side ascribed their support to parental influence; Kenwright ticks that same box, but right now, there is a fissure in the family.
Before Everton's opening game against Watford, a group of 100 or so disgruntled fans met at the Taxi Club in Walton, an unprepossessing place close to the tight, terraced streets around Goodison Park. These are the people behind the protests, and at the back of the room was a banner reading: "Kenwright and Co, it's time to go – 20 years is plenty." Yet their disaffection is about more than two decades without silverware. While the half-time boos at Goodison that afternoon had their root in two factors – frustration at the team's slow football and anxiety over a summer where Everton have, to this point, been the Premier League's lowest spenders – Sunday's protest reflects wider concerns.
Before Kenwright became Everton chairman in 1999, he described the club as "the Arsenal of the North". When Everton last won a trophy in 1995, they were just one league title and one FA Cup behind Arsenal. Today the Gunners inhabit the 60,000-capacity Emirates Stadium. Goodison – a 1966 World Cup semi-final venue and the first in the country to have four double-decker stands – remains untouched since 1994.
Joe Beardwood, a former football sponsorship executive who has had direct involvement with Kenwright in the past, recalls how the theatre impresario has "begged and borrowed" since buying the club and, as a consequence, "has not invested in the ground because every single penny has gone into the team". Beardwood adds: "I told him in 2005, 'You're going to go bankrupt – you're at the roulette table every year just spending every penny we've got on wages'. He was right and I was wrong because he had Moyes there and it worked. He consistently finished fifth, sixth, seventh, when the wage bill was ninth or 10th. This high-risk strategy has actually worked for the club but this industry is changing and more money is coming into the game."
Under Kenwright, planned moves to the King's Dock and Kirkby have come to nothing, and likewise an oft-quoted "24/7 search for investment". Five years ago, the club announced a retail development at Goodison's Park End which would house a club museum, shop and cafe. Nothing came of that either, with conflicting explanations given as to why. Last year the club announced it was looking at another site in north Liverpool, at Walton Hall Park, as part of a regeneration project with Liverpool city council. Chief executive Robert Elstone is seeking a naming-rights deal but admitted in May that progress was proving slower than anticipated.
Colin Fitzpatrick is a fan who campaigned against the divisive Kirkby project, when Everton were accused at the public inquiry of not providing convincing evidence that they could fund their part of the deal with supermarket giant Tesco, and he argues: "There's never been any investment from the directors and they don't generate enough commercial income to do these things." Everton have built a new training ground at Finch Farm but did so only via a sale-and-leaseback scheme, meaning it is now owned by the local council.
The Liverpool Echo has asked questions this summer about Everton's commercial operation, specifically the ten-year merchandising and kit supply deal with Kitbag – a £3m-a-year arrangement which has been criticised by some supporters for the fact it allows for the sale of shirts in just two shops in Liverpool. The club's stated commercial income in its 2013/14 annual report was £12.7m, and though additional revenue from the Kitbag deal takes that total closer to £20m according to the club, Everton still find themselves generating less than clubs like West Ham, Newcastle and Aston Villa.
Michael Dunford, Kenwright's first chief executive from 1999 to 2004, remembers the difficulties facing a club whose profile has diminished since their days as one of the "Big Five" of the 1980s. Missing out on the King's Dock, he tells The Independent, was "a major blow". He recalls how both Merseyside clubs were involved in the initial discussions and when Liverpool withdrew Everton could not find the estimated £35m needed for a new waterfront home.
"Goodison is still one of the best football theatres in the country but, realistically, unless they can get better facilities and unless they can get outside investment, it is going to become increasingly difficult to maintain their status," Dunford says. Yet he speaks warmly of Kenwright, 70 next month, who has been suffering from ill health this year: "He supports his manager – you ask any manager who has worked under Bill and he will say he is a football person and he passionately cares about that club."
Moyes spoke recently of Kenwright's ability to identify talent, but with West Ham moving into the Olympic Stadium and Tottenham's new stadium project under way, the worry among many Evertonians is their club will slip further down the food chain.
Barry Horne, a member of Everton's last trophy-winning team, has sympathy for Kenwright. "Other clubs have had help from councils," he points out. "Other clubs like West Ham have had almost a lottery win. Other clubs have the ability to finance their own stadiums now like Liverpool. Everton aren't in that position. I can understand the frustration but what is the answer?" On Merseyside, it is a question that will not go away.
The Independent has launched a new football app! Live scores, in-game stats, breaking news, videos and push notifications are just some of the many features. Use the links below to download and get more from Indy Football...
iPhone
http://ind.pn/iphonefootball
iPad
http://ind.pn/ipadfootball
Join our new commenting forum
Join thought-provoking conversations, follow other Independent readers and see their replies