Everton vs Tottenham: 'Happy' Christian Eriksen appears to dismiss talk he has demanded £150,000 wages
Reports have suggested Eriksen's agent left Spurs stunned by requesting the huge pay rise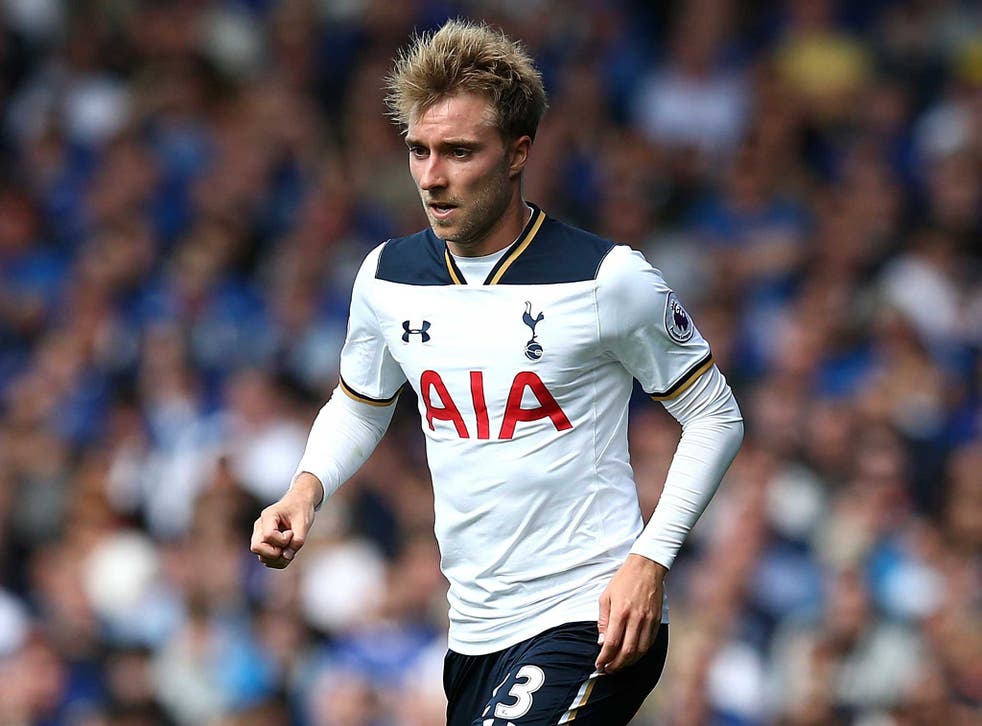 Tottenham midfielder Christian Eriksen appeared to dismiss talk he has demanded £150,000-a-week wages as he took to Twitter after Saturday's 1-1 draw at Everton.
Reports have suggested Eriksen's agent left Spurs stunned by requesting the huge pay rise for the 24-year-old amid ongoing talks over a new contract and interest from the likes of Juventus.
But following the Premier League opening-day match at Goodison Park, for which Eriksen played the full duration, he posted a message on Twitter which said: "Not the result we wanted! But still one point and great support from the fans.
"And don't believe everyting u (sic) read on the internet."
Additionally, the Evening Standard has quoted Eriksen's representative Martin Schoots as saying the Denmark international, who joined Tottenham from Ajax in 2013, is "happy" at the north London club and not simply motivated by money.
Schoots said: "The only thing that I can say is that if money were the most important thing, Christian would not have gone to Ajax in the first place.
"At the time, he was 16 and we were in contact with clubs like Barcelona, Chelsea and AC Milan.
"And if money were the most important thing, he wouldn't have joined Tottenham three years ago. He had interest from some of the richest clubs in the world.
"But Tottenham were the only club he wanted to join, and he is happy.
"In the eight-and-a-half years that I have worked with Chris, we never made any comments on contract negotiations and we will not make any exception on this, not even confronted by some funny internet rumours."
Tottenham, who pushed so hard in the title race last term only to end up third, took a long time to get going against Everton.
They fell behind in the fifth minute when a Ross Barkley free-kick seemingly intended as a cross was allowed to bounce straight into the corner of the net, and struggled to respond as the hosts, under new manager Ronald Koeman, produced a lively, organised first-half display.
But Spurs drew level in the 59th minute via Erik Lamela's header and were then only denied a second goal during a late spell of pressure by two outstanding saves from Maarten Stekelenburg on his Toffees debut.
One of those stops kept out a shot from Vincent Janssen, the striker signed from AZ Alkmaar over the summer who Tottenham boss Mauricio Pochettino had brought on for defensive midfielder Eric Dier three minutes before Lamela's goal.
Pochettino praised Janssen afterwards, saying: "He was very good. He brought good energy and a different option.
"He is the type of player that can bring a lot of positive things to the team."
Koeman, meanwhile, hailed the efforts of Everton's new recruits.
Having highlighted the importance of the late heroics from goalkeeper Stekelenburg, who he signed from Fulham after having at Southampton last term, Koeman said of Idrissa Gueye, the midfielder brought in from Aston Villa: "He's that kind of player that puts in a lot of energy.
"He's aggressive, he wins second balls and he can play good football.
"It's a very good partnership with Gareth Barry in midfield - the cleverness of Gareth with the energy of Idrissa. That makes the team strong."
PA.
Join our new commenting forum
Join thought-provoking conversations, follow other Independent readers and see their replies