Exclusive: Mike Ashley ready to sell Newcastle – for £267m
Owner is facing renewed calls in the North-east to end his six-years in charge at St James' Park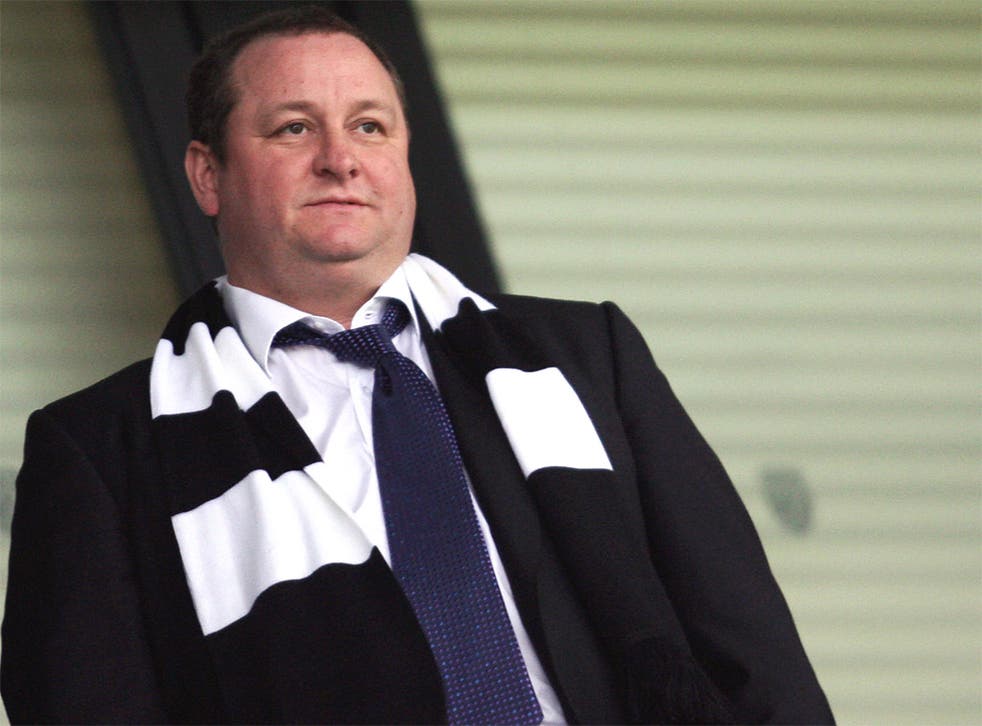 Newcastle owner Mike Ashley will only leave the club if he recoups all of the money he has spent since his take-over six years ago.
Recent figures released by Deloitte showed that the debt owed by the club to the Sports Direct owner stood at £267 million and that is around the figure it will take to end his controversial reign at St James' Park.
Ashley is facing renewed calls in the North-east to end his six-years in charge at St James' Park following the latest area of controversy, the appointment of Joe Kinnear as director of football.
A combined Newcastle supporters' group meeting on Monday night attracted around 400 fans and a statement was released yesterday that called for the Sports Direct billionaire to "consider his position as owner of Newcastle United."
Ashley launched his bid to take full control of the club back in May 2007 when he bought the shareholding of the Hall family for £55 million. He later acquired the shares of then chairman Freddy Shepherd and by July of that year had full control. It is reckoned to have cost him £134 million to take over but there were hidden debts that Ashley had not reckoned on, having failed to undertake due diligence as he made his move to buy the club.
It is believed that Ashley had to spend more than £100 million clearing out debts left on player purchase and a loan to redevelop the stadium which had to be repaid if the Hall family left the club.
The cost of relegation from the Premier League is thought to have cost another £30 million in interest free loans made by Ashley to fund an annual wage bill in excess of £40 million that gained immediate promotion from the Championship.
Figures released by Newcastle during their last set of accounts showed that at the end of the financial year 2011/12, the owner loans from Ashley to Newcastle stood at £129 million, having been reduced from the high of £140 million in 2010/11.
Figures released in the 22nd edition of the Deloitte Annual Review of Football Finance 2013 on June 5, showed that the Premier League club's net debt of £1.4 million included interest free soft loans from owners with Chelsea (£895 million) and Newcastle United (£267 million) the top two.
The club has worked hard under Ashley to re-establish the levels of turnover the club was experiencing when he took over. In 2011/12 that was £93 million with the key wage to turnover ratio at 69 per cent (before they bought five players in January).
However his ownership has been beset by controversy, from the departure of Kevin Keegan and Alan Shearer to the appointment of Kinnear (twice), to relegation, the attempted renaming of St James' Park and a four-year sponsorship deal with Wonga.
This latest voicing of anger from supporters seems the most concerted yet and there have been calls for a boycott of the pre-season friendly with SC Braga.
I understand that Ashley is willing to sell Newcastle but he wants his expenditure covered in full, meaning it will take around a quarter of a billion pounds for the club to change ownership.
The purchase of Manchester City by the Abu Dhabi United Group cost them a reported £200 million in 2008 and Liverpool were bought by the Fenway Sports Group in 2010 for £300 million.
A statement released by the Newcastle supporters groups who met at the city's Labour Club on Monday night, when Kinnear, who was invited but could not attend, said: "This house declares that Mike Ashley is not a fit and proper custodian of a footballing institution that has a proud history and tradition, and enjoys one of the biggest and most fervent followings in European football.
"We call for Mike Ashley to consider his position as owner of Newcastle United and to begin a process of exiting before he does any more damage to either the club or his own reputation."
Join our new commenting forum
Join thought-provoking conversations, follow other Independent readers and see their replies