Exclusive Patrick Vieira interview: Former Arsenal star on England's struggles, coaching and beating Bayern 6-0
Former midfield general is changing how Manchester City's youth teams play – and his tactics could benefit an entire generation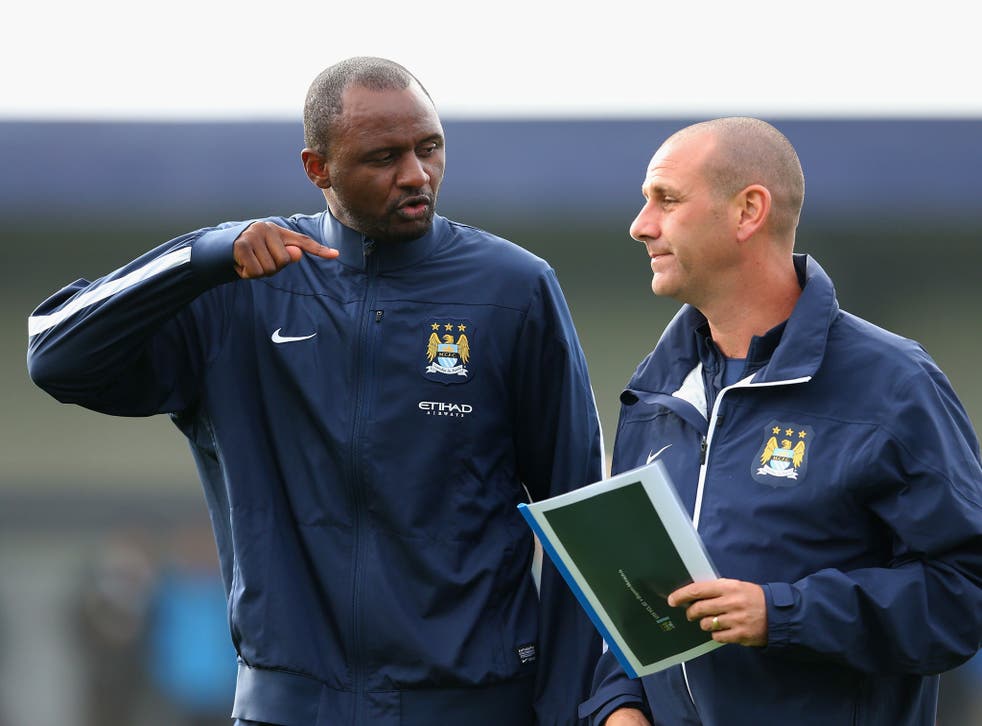 Patrick Vieira synchronises his new Manchester City academy squad's training sessions with the first team's so some of that elite class might rub off, but the senior players have been the ones needing a little of what the juniors are drinking this week. The scoreline Manchester City 6 Bayern Munich 0 – registered by the Under-19s in a Uefa Youth League match on Wednesday afternoon – was obscured by what Pep Guardiola's players dished out, having breezed into the Etihad in their elegant three-piece suits four hours later. It was a breathtaking football exposition from Vieira's players, though. His 17-year-old Portuguese captain, Marcos Lopes, was sometimes unplayable in the course of completing a hat-trick.
"They're young, they're young!" says Vieira's assistant Christian Lattanzio, gesturing that we must keep a lid on expectation because these boys don't need to let this result run away with them. Lattanzio's several branches of expertise include sports psychology, so he would know.
There's actually been more talk around Manchester about City's overwhelmingly Mancunian Under-14s and Under-13s – both English national champions last season. But Vieira and his boys have made some impact on the new Uefa competition. It's a sign of how obsessive City's attempts to develop young talent have become that their chairman Khaldoon al-Mubarak, a man more accustomed to handling multimillion-pound Abu Dhabi investment funds, was in the 1,500 crowd at Hyde on Wednesday to view a starting XI which included five young Englishmen.
City's chief executive Ferran Soriano says he told Vieira last year that it was time to decide whether his future was going to be "in the office or on the turf" and there are grounds to believe that the Home Nations might be a beneficiary of his decision to take the latter and assume custodianship of City's Elite Development Squad. The 17-year-old Dubliner Jack Byrne was Vieira's most influential player in Plzen a fortnight ago, elegantly running the midfield in a 4-1 win, and also flourished against the Germans. The Mancunian defender Shay Facey offers promise.
Vieira's agonies about the English football nation stem from its habit of obsessing over the volume of foreigners in the Premier League when it might be getting to grips with developing more British youngsters capable of playing alongside them. We have arrived at another of those international breaks when the paucity of English players will dominate the football narrative.
Bayern deployed six Germans at the Etihad on Wednesday; England's four Champions League sides mustered 10 between them. "But for me, this is the way to hide what is the real problem in this country," Vieira tells The Independent. "The problem is deeper than just saying there are too many foreigners and for me that is the comment everybody wants to hear.
"When you see so many kids playing the game and so few being top players, you have to say something is wrong somewhere. I think England has to change the way they are teaching football, because football is changing and the method isn't changing as much."
The issues boil down to the fact that the young players City receive from the Continent generally do possess a better technical component. The likes of Lopes (below) have "more knowledge of the game, I will say: the football knowledge," Vieira says, his seat in his Carrington office facing that of the director of football, Txiki Begiristain – peering intently into a laptop; perhaps planning another of the acquisitions which Vieira's work is designed to render less of a requirement.
"On the other hand, there is so much passion and love for the game among the youth [in England] that you don't always have elsewhere," adds Vieira. "That is essential. But now it's more about the creativity. How do you move around the pitch to be in the right places? How do you control and pass? It sounds really simple but at the end it's complex and really difficult.
"So England should start from the grass-roots. You need the facilities – and even though you look at St George's Park, the facilities have to improve. And if you have the right project, you need to educate the coaches. Because you can have the best project in the world but if you don't have the right people to deliver to the kids, it's worthless."
The superior Continental technique accrues from longer hours, too, he says. When Vieira was a young player coming through the dormitory existence of French academies – the centres de formation – at FC Drouais and Tours, he would not see his home for a week. "When you are 14, 15, 16 you can train every day in France and sometimes you can train twice a day," he says. "You train far more in France than in England. Here, we still see football as a game. Football is a job. There is still the mentality where training is at 11, you come in at 10.30 and when it is finished you leave straight away. No…." So life has suddenly changed for his City boys: there are three double training sessions and two singles, each week. Their lives are at Carrington.
What Vieira and the club are attempting to inculcate is a single way to play: creating an awareness in players, as they move the ball out from the back, of how "to find the right position to receive the ball in the right place and play it forward. How to give a lot of solutions to the players who get the ball". And how to maintain that philosophy whether they are winning or losing.
"It's not about the result but how you can deal with certain situations. How you can deal with the game when you are winning 1-0, there are 10 or 15 minutes to go and the other team are pushing. Are you maybe going to change the system to go more defensive? No. You need to deal with winning 1-0. Keep the ball better and select the right time to go forward. And if you are losing 1-0 with 10 minutes to go, how can you be more offensive and keep in the same system? You can push the block forward and put them under pressure and not let them get it out. Winning is not important. It's how you can deal with the situation at this age."
Some want to learn more than others. City's academy head, Mark Allen, tells a story about Lopes being unexpectedly asked across to join first-team training last season and sprinting back to the academy ranks when that session had finished – to illustrate that rather British trait of ridiculing those who do the extra work. "I am sorry to say it is especially true in British football," Allen says. "It's a case of 'Look at him, he's busy' or 'He wants to get on the right side of the coach'. But it's your career, so just get on with it." Vieira grimaces. "Yes, I do see that."
Some of the challenges are less resolvable. Soriano and his Manchester United counterpart Ed Woodward both yearn, for example, to be allowed to put reserve teams through the lower professional leagues – and both know that it will never happen. Vieira recalls his days playing for Cannes reserves in the lower reaches of the French pyramid and a hostile trip to play Corsica, in particular.
"It's tough. You grow up. The [Premier League's] Under-21 division is better than last year but it's taking too long to improve. The gap between the Under-21 and the first team is massive. That is why so many boys from the Under-21 have failed to make the leap to the first team."
It was not his players' recent 6-3 defeat to Tottenham Hotspur's academy – "a really good game; we stuck to our philosophy" – which frustrated Vieira, but the fact that the game took place on an academy pitch. "No atmosphere. No crowd. It's was like a training game."
The clatter of boots tells us that his players are assembling outside. "Too soon to know," Soriano says, to the question of whether any from this group could serve Manuel Pellegrini. But every self-respecting City fan will tell you that they were the last side to win the league by fielding a team of 11 Englishmen – 45 long years ago.
You can watch the Uefa Youth League live on British Eurosport HD or on eurosportplayer.com
Worlds apart: City's rainbow nation
* Manchester City's youth side that beat Bayern Munich on Wednesday:
G Angus Gunn (English)
RB Shay Facey (English)
CB Jason Denayer (Belgian)
CB Ashley Smith-Brown (English)
LB Angelino (Spanish)
DM Jack Byrne (Irish)
RM Marcos Lopes (Portuguese)
CM Seko Fofana (French)
CM George Glendon (English)
LM Sinan Bytyqi (Austrian)
S Devante Cole (English)
Join our new commenting forum
Join thought-provoking conversations, follow other Independent readers and see their replies