Former midfielder Lee Hendrie sees bright future for Aston Villa
Experienced players need to be added to squad says Hendrie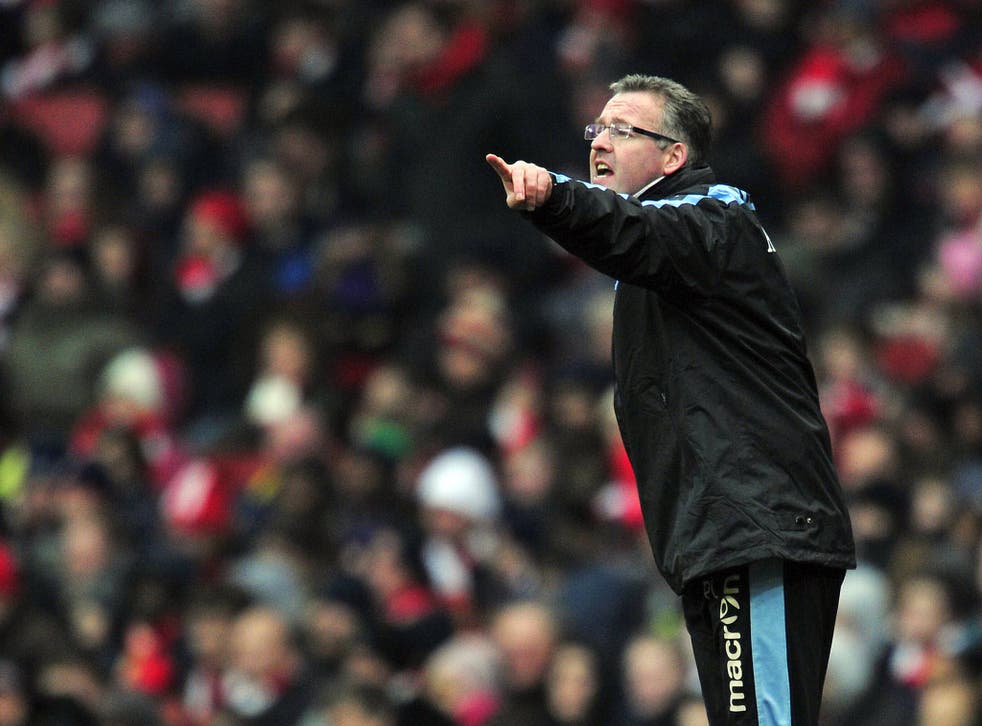 Former Aston Villa midfielder Lee Hendrie is optimistic about the club's chances of beating the drop this season and feels prosperous times could lie ahead if they stick with Paul Lambert - as long as a few more experienced players are added to the squad.
With eight Barclays Premier League fixtures left to play this term Villa are 17th in the table, three points clear of 18th-placed Wigan, who have a game in hand.
It has been a largely disappointing campaign for the midlands outfit following Lambert's appointment as manager last summer, but back-to-back wins over fellow strugglers Reading and QPR in the past two matches have boosted hopes - including those of Hendrie - that it will not end in relegation.
The 35-year-old, who made his Villa debut in 1995 and left the club in 2007, told Press Association Sport: "They have done superbly in the last two games. Now it is about keeping that momentum running.
"They still have to play the likes of Liverpool and Manchester United, where they will need to dig deep.
"Even if they are just getting draws along the way, if they can keep that unbeaten run going, I do fancy them to stay up."
Villa's team this season has not had a great deal of Premier League experience within it and has featured lots of players in their early 20s.
Hendrie, who came through the club's youth ranks, sees plenty to be encouraged by in the efforts of those players and views Lambert as the right man to lead Villa forward.
But thinking back to the kind of team-mates he had when he first came into the side, Hendrie does believe some older heads need to be introduced to the mix.
Hendrie said: "There are a lot of clubs chopping and changing managers, but (Villa chairman) Randy Lerner has stuck with him (Lambert), he knows he has got the youth there and I think it is just about making sure they stay up this year and then maybe getting a few experienced heads in, and I don't think there will be a problem there.
"This season it is vital that they stay up and then I would definitely still have him as manager.
"No disrespect to the young lads, but I think you do need a few older, more experienced players that have played in the Premier League and know how to win games.
"It is all a learning curve. When I was playing you had the likes of Steve Staunton, Ugo Ehiogu, Dwight Yorke.
"When you were 2-0 up in games, they would help reshape you, whereas when you are young you want to just keep going, running and chasing about."
Much has happened to Hendrie since the early days of his career, not least in financial terms.
Life as a well-paid top-flight footballer allowed him to build up a significant property portfolio, but he encountered problems and in January 2012 was declared bankrupt.
By that stage he had also made a considerable descent down the football ladder and was playing at non-league level.
The decline in his fortunes led to him attempting to take his own life.
"I wasn't thinking straight - I was just thinking it was probably the only way I could possibly finish it all," Hendrie said.
"I'm not proud of attempting it, but it had just got to that stage where I felt like I had let everyone down.
"But if it hadn't been for the decisions I made, and if I had got the right advice, I wouldn't have been in that situation."
Hendrie feels the management of players' money is a major problem, and regards the kind of work done by Birmingham-based charity Xpro - which provides support in various ways for former professional footballers, including an initiative announced last week to help reunite them with their unclaimed pensions - as vital.
Looking to the future, the one-time England international, currently playing for Blue Square Premier side Tamworth, hopes to make a difference himself in his role as the director of FootieBugs, a football-based activity scheme for children aged three to nine.
"This scheme I am doing covers a lot of areas, and I want to put all my time and effort into it," Hendrie said.
"I am finishing with Tamworth at the end of the season, and this is going to be my key thing for the rest of my life - I want to help young kids and get the point across about football, life skills, everything."
PA
Join our new commenting forum
Join thought-provoking conversations, follow other Independent readers and see their replies