'Fulham's a special place and a perfect club,' says new owner Shahid Khan
Self made billionaire pledges to uphold traditions but has big act to follow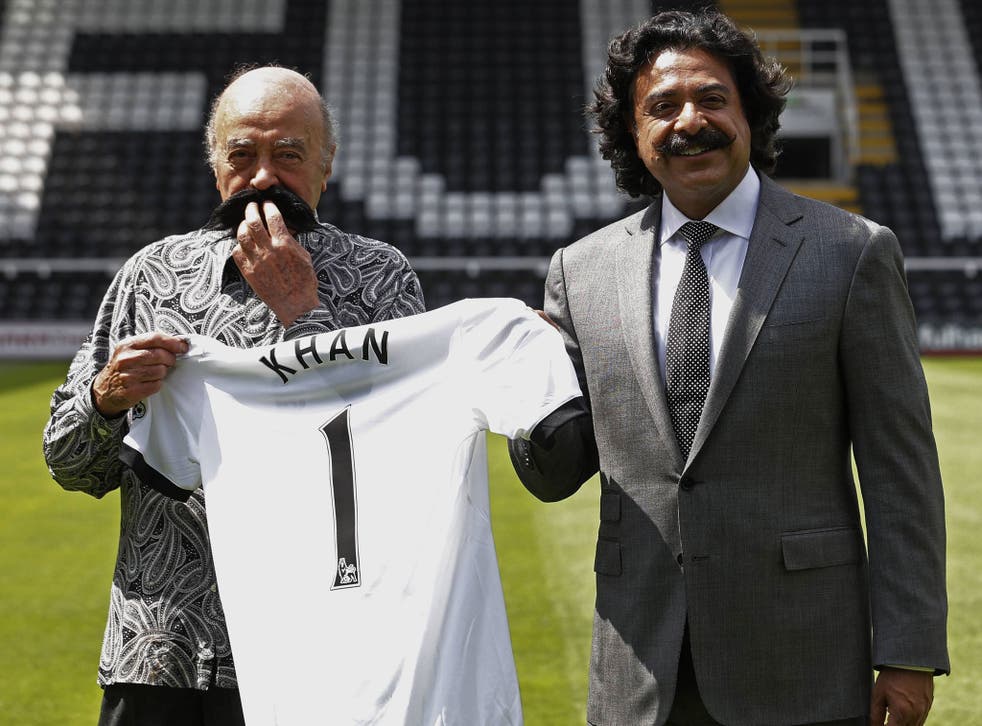 In one way Fulham have gone downmarket. When Mohamed Al Fayed took over the club 16 years ago he was proprietor of Harrods. The new owner, Shahid Khan, makes car parts. But yesterday it was clear everyone connected with Craven Cottage, from administrators through to the fans, believe that the man with the moustache is just the chap to take over Fulham and lift them to the mythical "next stage" all mid-table Premier League clubs dream of – Champions' League football – while safeguarding the traditions of what the fans like to call "this family club" down by the Thames.
And this is not just because Khan at about £1.8 billion is estimated to be worth twice as much as Al Fayed, but because the eccentric Egyptian has won such a place in the hearts of the fans during his long reign that they trust him implicitly to choose the right successor to build sympathetically on his legacy.
This fluffy frontage does not chime completely with hard-nosed whispers: that Al Fayed has been planning a sale for the last two years, running the team down, squeezing salaries and running costs to show improving cash flow, selling now when future TV revenue streams look good and before money needs spending to keep the team in the Premier League.
But a man who built his business from a garage to one which employs 17,000 people is no mug. He will have done his homework. And yesterday he said nothing to compromise a smooth reception.
When asked if he had any plans for long-term redevelopment of Craven Cottage as a prime site for housing, like previous chancers had tried, he spoke about "respecting history" and "this special place", adding: "My priority is to ensure the club and Craven Cottage each have a viable and sustainable Premier League future."
As for fears he may turn this friendly club into a soulless, money-making monster, he said: "We will manage the club's financial and operational affairs with prudence and care." Both men separately described themselves as a "custodian of the club, not an owner" in their respective press-release quotes – a clearly co-ordinated phrase, all designed to make the right impression.
So why would a successful businessman pay between £150-200m to buy a mid-table Premier League club in a deal that took just two weeks to agree? "I love football, or soccer," said Khan, also owner of the NFL franchise Jacksonville Jaguars. He also revealed he had been to Craven Cottage before, "I think in '07 when Liverpool played".
Of course, the huge income potential from TV and marketing that comes from being a Premier League side was quite an attraction and, as Al Fayed knows only too well, there is the buzz of being adored.
When he took over in 1997 the presumption was that he had bought the club to help further his aims to gain British citizenship. Now the club are possibly about to name a new stand after him.
The money Khan has paid for ownership of Fulham just about repays the 84-year-old Al Fayed what he spent lifting the team from the third tier to the Europa League final. Fulham fans fed previously on a diet of fights against greedy owners trying to redevelop Craven Cottage, away trips to Torquay and even the threat of extinction know a saviour when they see one.
So how does Khan follow that? "We have to have a winning, sustainable club moving forward," he said. "It is a very special place and a perfect club for me at a perfect time."
He plans to stop off in Costa Rica this week to speak to Fulham's manager, Martin Jol, on the club's pre-season tour, learn his "plan" for the coming season then "give them all the support they need financially to be successful on the pitch".
Khan also plans to push ahead with plans to redevelop the Riverside Stand (Al Fayed Stand?) at the ground, starting next May, to increase capacity to 30,000. It all sounds good. But only time will tell.
Cottage questions
Who is Shahid Khan?
He came from Pakistan aged 16 and now owns Flex-N-Gate Group, the 14th largest American "automotive supplier". Basically, he made his money from selling lorry bumpers.
Why do Yanks like our clubs?
Khan will be the sixth American owner of a top-flight club. He says he loves London and after speaking to two other US owners, the Glazers of Manchester United, and Stan Kroenke of Arsenal, last week about buying Fulham, they told him to "go for it" and that he will "get hooked".
Will the Jaguars move to London?
He insists they are separate entities and plans only the four regular- season games over the next four seasons already scheduled for Wembley.
Is Al Fayed sad at selling?
"It was a difficult decision as I love the club." Fans are certainly relieved the 84-year-old sold before he died. "Finding someone he has faith in was important," said Fulham Supporters Trust director Barry Gilbertson.
Will Khan watch what he says?
When Al Fayed erected a statue at Craven Cottage to his "friend" Michael Jackson, he said that the club's fans could "go to hell" if they didn't like it. On choosing Khan as his successor he explained: "I'm sure the fans are happy that I didn't pass the club to a junkie."
So what about Michael Jckson?
Will the statue stay? "I'll reflect on it and listen to the fans," said Khan. "If he dares move it he will be in trouble," countered Al Fayed. "I will come in front of the fans with a big razor and take your moustache off."
Star-spangled clubs
Arsenal Owner: Stan Kroenke Estimated net worth: $5bn. Base: Colorado. Bought: 2007-11. Estimated cost: £420m (62% controlling interest).
Aston Villa Owner: Randy Lerner; Est net worth: $1.1bn. Base: New York. Bought: 2006. Cost: £63m.
Fulham Owner: Shahid Khan; Estimated net worth: £1.8bn. Bought: 2013. Cost: £150-200m (100 per cent ownership). Khan is ranked 179th richest American and 491st wealthiest person in the world.
Liverpool Owner: John Henry (as part of Fenway Group); Estimated net worth: $1.5bn. Base: Boston and Florida. Bought: 2010. Cost: £300m.
Man Utd Owner: Malcolm Glazer; Est net worth: $4.4bn. Base: Florida. Bought: 2003-05. Cost: £780m (mostly via loans).
Sunderland Owner: Ellis Short; Estimated net worth: $800m. Bought: 2008-09. Estimated cost: £80m.
Join our new commenting forum
Join thought-provoking conversations, follow other Independent readers and see their replies