Harry Kane: How does the Tottenham star compare to Real Madrid's Cristiano Ronaldo, Gareth Bale, Karim Benzema and Chicharito?
Kane has reportedly been watched by the Spanish giants - but when compared to the superstars or Real Madrid he actually doesn't fair too badly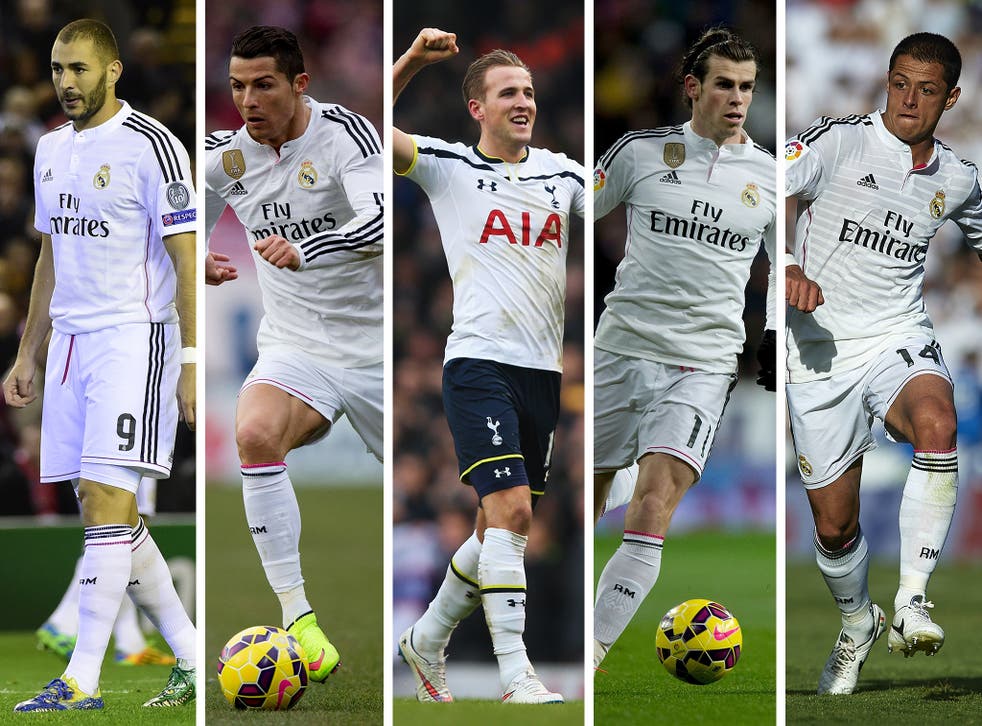 Harry Kane is enjoying the kind of unexpectedly brilliant season that has made him an instant star.
The 21-year-old Tottenham striker was at his marauding best in the north London derby on Saturday, never giving Arsenal's defenders a moments rest before turning match-winner with a predatory equaliser and a brilliant header.
Kane, easily named man of the match, took his tally to the season to 22 in all competitions but it's not just his goal-scoring instincts that have pundits purring, it's his all-round play. The striker, who is now drawing strong comparisons to Alan Shearer, was absolutely everywhere, held the ball up well, won his share of headers and was able to drive at the Arsenal defence at pace.
Not only has he been performing all season but he has saved some of his best performances for the biggest occasions, against Arsenal and Chelsea on New Year's Day.
There is speculation that Real Madrid are now interested in the striker, a concept that would have been entirely foreign at the start of the season. Carlo Ancelotti's team have reportedly sent scouts to watch Kane three times already this season and surely have not failed to have been impressed.
There has been some slight scoffing at the notion of Kane playing for one of the biggest clubs in the world, the general consensus being because he is enjoying a purple patch rather than having proved his class over a period of time.
Tottenham 2 Arsenal 1 player ratings

Show all 22
But strictly looking at statistics from this season, Kane actually compares favourably with Cristiano Ronaldo, Gareth Bale, Karim Benzema and Javier 'Chicharito' Hernandez.
Using statistic website Squawka's 'comparison matrix' (below) we can see that Kane, on current form, would actually fit in rather well at Madrid. Of course, stats aren't omniscient and many different factors that can't be recorded decide a player's form - starting with the fact that Kane competes in totally different competitions to the other players - but they can certainly give a good indication.
The statistics have been based on 'per 90 minutes' as Kane hasn't played as much football as three of the four Real players.
In terms of goals scored, only the frankly ridiculous record of Cristiano Ronaldo outstrips Kane. Ronaldo has 36 goals in all competitions already this season, a big reason he won the Ballon d'Or. But in comparison to Benzema, Bale and Hernandez, Kane more than holds his own.
He has a better goal record than the other three - Hernandez has three goals in 205 minutes in La Liga - although he doesn't create as many chances as his rivals. Kane plays as a more traditional forward than any of Ronaldo, Benzema and Bale, while Hernandez has too small a sample size to make a true comparison.
However, a somewhat surprising stat is the number of 'successful take ons' Kane has. Only Bale, arguably the best dribbler of a ball in world football bar Lionel Messi, averages more in his domestic league among these players.
Benzema has been frightening in the Champions League - he was superb in the two games against Liverpool - but across all competitions he has played 222 more minutes than the English prodigy and scored five less goals. He does have nine assists while Kane has only three.
Kane comes into his own when looking at statistics that highlight his ability to be a target man, work horse and nusiance.
He is the best at winning header's among the group of players and has a very good passing rate, being beaten only by Ronaldo (in domestic leagues) despite Spurs completing an average of 50 fewer passes per game than their star-studded rivals.
Kane is also more fouled than the others on, and wins a massive 1.13 tackles per 90 minutes, proving his willingness to cause problems for the opposition. A further comparison shows that Chelsea's Nemanja Matic, widely seen as the best defensive midfielder in the Premier League, wins three tackles per game.
The youngster also intercepts the ball more than the other players combined do in their La Liga matches.
It remains to be seen whether Kane can keep up this level of good form over a long period of time, but the young Englishman certainly seems to be heading for the very top.
Join our new commenting forum
Join thought-provoking conversations, follow other Independent readers and see their replies