Howard Webb lifts the lid on the Premier League's most hostile fans, managers and players
Stoke City and Everton fans were named as the most intimidating while David Moyes and Craig Bellamy were also singled out by the former referee
Samuel Lovett
Thursday 20 October 2016 12:54 Comments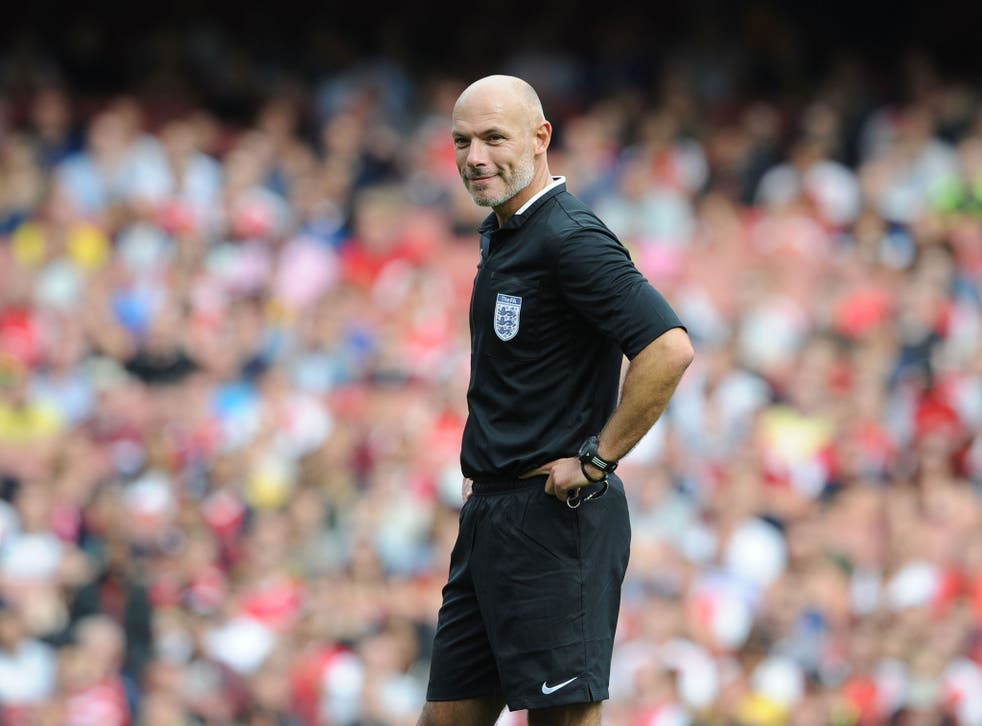 Retired referee Howard Webb has revealed that Stoke City and Everton provided the most hostile environments to officiate at and stated that David Moyes gave him the most grief as a manager.
In a recent interview with the Daily Mirror, the 45-year-old lifted the lid on his experiences as one of the sport's top match officials.
Webb has refereed nearly 1,000 matches, including a series of high-profile clashes between the Premier League's top clubs, the FA Cup final, the FA Community Shield and the final of the Football League Cup.
More impressively, in 2010 he became the first official to referee the finals of both the UEFA Champions League and World Cup in the same year.
But this didn't stop the league's fans, players and managers from harassing him when on duty.
Rather surprisingly, Webb revealed that Stoke City and Everton's fans were the most hostile to him.
"The Premier League two that stand out for me are Stoke city and Everton," he said. "Both have really partisan fans which obviously helps their clubs.
"At Stoke, they had quite a good reputation there I think, but it was always quite hostile for visiting clubs and match officials as well, and the fans used that to their advantage."
Webb seemed to suggest that Everton was the more intimating out of the two, however.
"With Everton, again a great club behind the scenes. I liked Everton a lot but their fans were so partisan. The most clear situation against Everton that you would penalise would be greeted with howls of derision.
"And that touchline on the far side from the main stand was the hardest place for assistants to run. You would certainly feel the pressure from the fans behind the goals. So I would say Everton and stoke were the two hardest domestically."
As for the managers, Webb threw up another surprise as he admitted that David Moyes had given him the most grief throughout his career.
"They can all have their moments of course but the one that probably gave me the most stick really, who I felt held no love for the referee profession, was David Moyes. He would be quick to criticise me…
"In the Premier League probably David Moyes I would say was the one who was critical of my decisions more than most."
And what about the players themselves? Robbie Savage? Joey Barton? Neither apparently.
"I think the Premier League player who gave me the most grief would be Craig Bellamy. I struggled to gain a rapport with Craig. Again… a great footballer, he might be a lovely kid away from the game, but on the pitch he was always quick with an opinion and didn't always want to listen to yours so much.
"There were other players who you might think fall into that category, people like Joey Barton or Robbie Savage who wore their heart on their sleeve, who would give an opinion, but [they] would actually enter into some dialogue with you and I found that quite healthy and was quite happy to referee those type of characters."
Register for free to continue reading
Registration is a free and easy way to support our truly independent journalism
By registering, you will also enjoy limited access to Premium articles, exclusive newsletters, commenting, and virtual events with our leading journalists
Already have an account? sign in
Join our new commenting forum
Join thought-provoking conversations, follow other Independent readers and see their replies