John Obi Mikel says second isn't good enough for Chelsea or Jose Mourinho - 'every year you have to win something'
The Blues are two points from the summit of the Premier League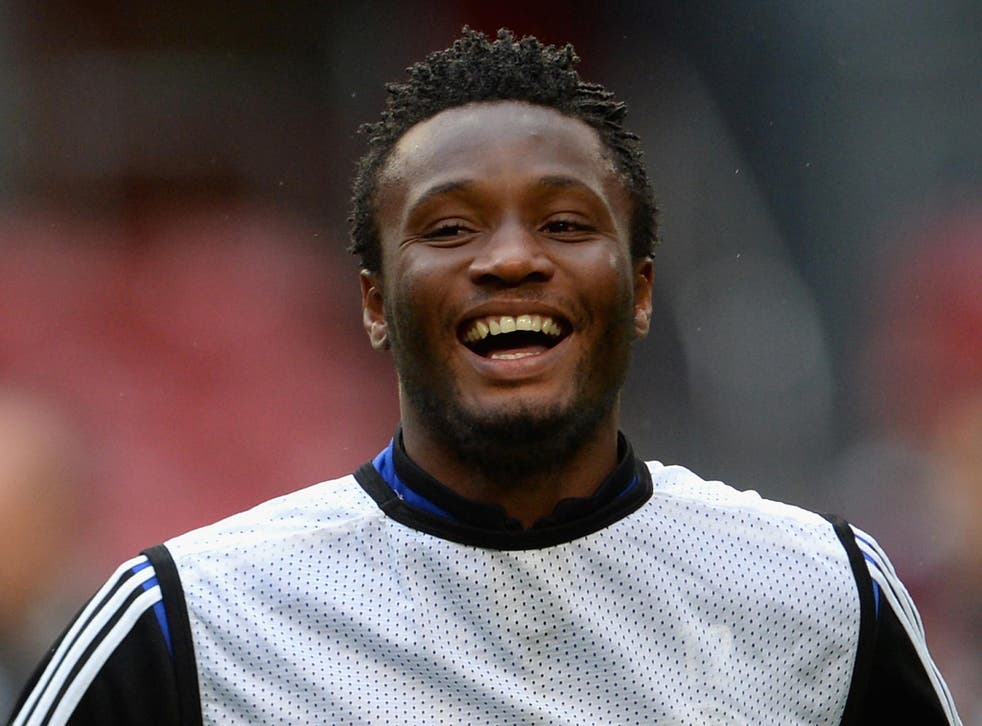 John Obi Mikel believes Jose Mourinho is beginning to instil a winning mentality into Chelsea's players, who are starting to realise that second is not good enough for the Blues.
Mourinho's men are well placed to win silverware this season and Mikel, signed by Mourinho during the manager's first spell, believes it is imperative his team-mates understand that winning every game matters to Chelsea, after recent seasons where the Blues' focus has slipped in some competitions.
"If you don't play for Chelsea, you don't know what these trophies mean to this club," Mikel said.
"It's not a team where if you come second, third or fourth, it doesn't matter. No.
"Every year you have to win something and this is the pressure.
"It's a matter of letting them know what it means when you come to the end of the season, what the Premier League and Champions League means to this club.
"Now they're here, they have to feel the pressure and they are feeling it right now. "That's why we just want to keep doing well and now they're starting to understand that we don't want to get beaten.
"We just want to keep going and hopefully come the end of the season they will start to show the winning mentality even more that the manager is trying to install into them and we go on from there and win trophies."
Chelsea won the 2012 Champions League and 2013 Europa League, but finished 25 and 14 points adrift in the Premier League in the last two seasons and have won the championship once since Mourinho's departure, in 2009/10. Just eight members of that squad remain.
Since the extra-time Capital One Cup quarter-final loss at Sunderland, Chelsea have won four of their five games, conceding one goal, in a productive festive period.
The Blues are third in the Premier League, two points behind leaders Arsenal, and play Stoke in the fourth round of the FA Cup after a 2-0 win at Sky Bet Championship promotion hopefuls Derby on Sunday.
Mourinho's methods have seen Juan Mata, Chelsea's player of the year in each of the past two seasons, marginalised this term, while Kevin De Bruyne has struggled to claim a first-team place.
De Bruyne is known to want to move on a permanent basis this month and his agent was on Monday pictured in Abu Dhabi, where Wolfsburg are training during the Bundesliga's winter break.
Mata has been told the door is open if he wishes to ask for a move, but Mourinho wants both players to stay and compete for their places.
Mikel warned anyone not prepared to adapt to Mourinho's ways will not play and cited the work ethic of Eden Hazard, Oscar and Willian of examples of players prepared to do as they are told.
"He always wants us to play in a certain way and give 110 per cent," Mikel added. "If you don't, you're out.
"As a player that's what you want. You don't want to slack.
"That's the mentality he wants installed in this team and slowly but surely the likes of Eden Hazard, Oscar and Willian are beginning to do that.
"You can see by the way we press up the pitch. That is important for the team and we're doing well."
Mikel is firmly allied to Mourinho, who praised the discipline of the Nigeria midfielder after the Derby win, which saw him net a fourth Chelsea goal on his 300th club appearance.
"He's like a manager-player, because he does exactly what you tell him to do in terms of position," Mourinho told Chelsea TV.
"His qualities are not, for sure, scoring goals. Tactically he's very clever. He knows where he has to be, gives great balance to the team.
"He's one of these players normally called 'invisible' players.
"They do the job and many times they don't get the recognition (they deserve)."
PA
Join our new commenting forum
Join thought-provoking conversations, follow other Independent readers and see their replies