Jose Fonte to Manchester United: Claude Puel frustrated by 'strange' rumours linking defender with Old Trafford
The defender was an integral part of Portugal's Euro 2016 triumph this summer and is thought to be a transfer target for a number of European clubs, including Jose Mourinho's side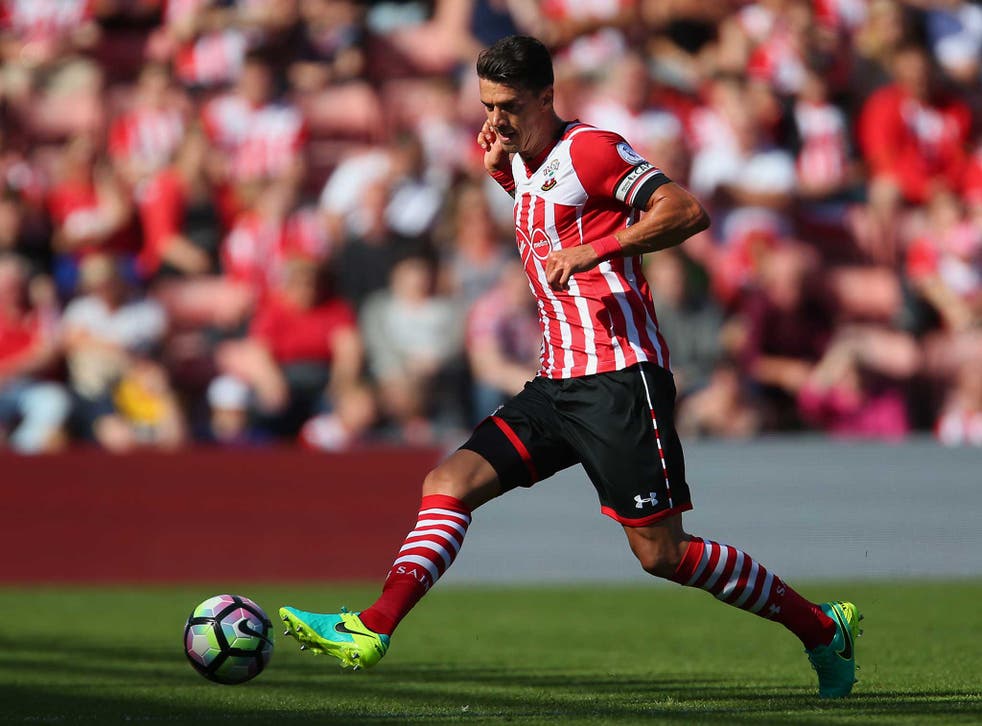 Southampton manager Claude Puel insists captain Jose Fonte has not been affected by transfer rumours linking him with a move to Friday night's opponents Manchester United.
The defender was an integral part of Portugal's Euro 2016 triumph this summer and is thought to be a transfer target for a number of European clubs, including Jose Mourinho's side.
But Puel feels the timing of the rumour is "strange" and believes Fonte's professionalism will help with their preparation for the Premier League's first Friday night clash of the season.
"There is no problem with Jose, it is just strange that this rumour comes just before the game at United," the 54-year-old said.
"There is a possibility that he may travel with us to Old Trafford.
"But he is a very good professional and he has played well in training sessions this week and it is important to have Jose with us, I hope, for the United game.
"Jose has good experience, so he cannot be disturbed by this rumour but I am just surprised to hear this before the game, two days before the match. But Jose is our captain and I'm sure he will be completely ready for this game."
Saints are seeking their third consecutive league victory at Old Trafford after they claimed a shock victory in last season's corresponding fixture when Charlie Austin scored the winner in his first game in a Southampton shirt.
But his side will come up against a new-look Manchester United outfit, for whom world-record signing Paul Pogba could make his debut for the club after missing their 3-1 win at Bournemouth.
Puel, however, is adamant that his side will not solely focus on his fellow Frenchman and will prepare his players for any challenge posed by Mourinho's side.
When asked how Southampton would deal with the former Juventus man, Puel jokingly answered: "I think he is the price of my team or my squad. But I don't give an opinion on their squad.
"I don't prepare my team to play against one player.
"I prepare my team to play against players of (Manchester) United and every opponent we face this season.
"I want my team to make good decisions. It is not a good idea to prepare a team for just one player. It is important to bring a collective answer for their team."
Puel saw reason for optimism after his first league game in charge at the weekend, when Saints recovered from a disappointing first-half performance to claim a 1-1 draw against Watford on the back of Nathan Redmond's debut strike.
"I say it was interesting to see my team with a different philosophy of the strong, physical, long-ball style of Watford," Puel said.
"It was difficult for us. I didn't think it was possible to play with this philosophy.
"But in the second half, we can see that it is better to play our style of football. With the profile of our players, it is important to keep possession of the ball. You lose two points but it was encouraging for the future."
Despite spending most of his managerial career in his native France, Puel's record of developing youth saw him billed as a like-for-like replacement for Ronald Koeman and the Frenchman was complementary of his players.
"It is very interesting to train with these players because they have genuine qualities, they listen," he said.
"We made progress in each one of the friendly games. You can see during the first training session, the quality is there.
"But is important, for the future, to work step by step. I have a good feeling with this club."
PA.
Join our new commenting forum
Join thought-provoking conversations, follow other Independent readers and see their replies